Binance Review 2022
Binance Facts & Figures

Binance is one of the leading online crypto exchanges offering Bitcoin.
Instruments
Cryptos
Demo Account
No
Min. Deposit
$0
Payments
Wire Transfer, Visa, Mastercard, Google Pay, ADVcash, ACH Transfer
Min. Trade
$10
Regulated By
FCA
MetaTrader 4
No
MetaTrader 5
No
cTrader
No
DMA Account
No
ECN Account
No
Social Trading
No
Copy Trading
No
Auto Trading
No
Signals Service
No
Mobile Apps
Yes
Islamic Account
No
Cryptocurrency

Buy and sell an extensive list of leading and emerging crypto coins at Binance.

Coins
DOGE, VET, USDT, BTC, BNB, ETH, VTHO, ADA, ONE, SOL, NEO, LINK, XLM, NANO, LTC, BUSD, HBAR, ALGO, MANA, ZIL, ENJ, BCH, MATIC, EGLD, HNT, EOS, QTUM, RVN, DAI, IOTA, ONT, STORJ, UNI, ETC, BAND, OMG, XTZ, USDC, ATOM, DASH, ICX, BAT, MKR, OXT, ZEC, ZEN, ZRX, COMP, WAVES, KNC, REP, PAXG, FIL, WBTC, THETA, SHIB
Spreads
Variable fees with account tiers
Risk Warning – Your Capital is at risk
Traders can buy, sell and manage crypto assets for investments on the Binance exchange. Our review focuses on its UK offering and explores trading fees, its mobile app, FCA regulation and digital wallet. We also assess Binance's range of markets from crypto futures and options to leveraged Bitcoin tokens. Find out whether to open a Binance trading account today.
About Binance
Binance is one of the world's leading online cryptocurrency exchanges, available in many jurisdictions including in the UK, Uganda, US, and Nigeria.
The platform was founded in Shanghai, China by owner Changpeng Zhao, who has a personal net worth of more than $2b. The company moved its servers and headquarters to Japan ahead of the Chinese government's ban on crypto trading in September 2017. In March 2018, Binance Europe Services Limited moved its headquarters to Malta.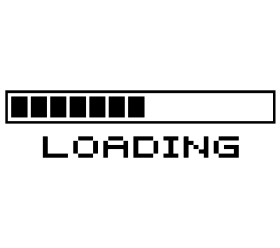 In summer 2020, the exchange announced the launch of Binance UK, designed for retail and institutional investors. It is operated by Binance Markets Limited whose registered address is in London. Binance UK is regulated by the Financial Conduct Authority (FCA).
Potential customers should be aware that individuals dealing in crypto assets may not be exempt from income and capital gains tax.
Products
Binance offers more than 150 different coins and trading markets:
BTC – Bitcoin
BNB – Binance's own cryptocurrency
Alts – Cryptocurrencies other than BTC
Fiat – Government-backed currencies such as GBP
ETFs – All traded against Tether (USDT)
The cryptocurrencies on offer can be viewed under the Zones group. This listing contains all cryptos offered by Binance, including Monero (XMR), Neo (NEO), and Ripple (XRP). Within the Zones group is also the Innovation Zone, allowing users to trade new and potentially higher risk tokens, and DeFi (decentralised finance) listings such as Sushi Swap.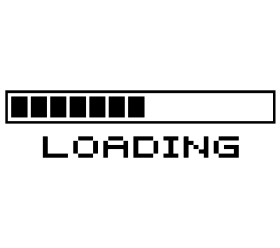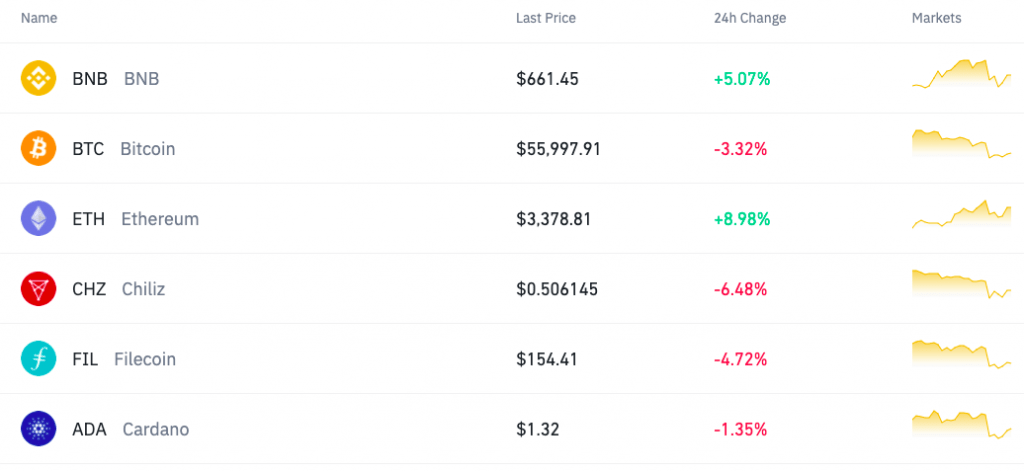 Note, Nano and Quant are not currently available at Binance. However, the broker often announces new coins and crypto listings.
Derivatives
The spot market, where users can exchange one crypto for another, also includes leveraged tokens which represent various perpetual contract positions with variable leverage between 1:1.25 and 1:4.
The futures markets include:
USDT-margined – perpetual futures, e.g. XRP/USDT
USD Coin-margined – perpetual and quarterly futures, e.g. BTC/USD Quarterly1225
The firm also offers options, which follow the Binance Futures BTC/USDT perpetual contract asset.
Binance Trading
The Binance platform allows investors to refine strategies using historical trading data. The modern interface makes for a user-friendly trading experience with a modest collection of analysis tools and features. The platform is free to use and can be accessed through major web browsers.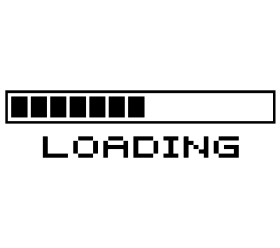 Unlike many traditional brokers, Binance offers five crypto trading methods to suit a variety of experience levels and strategy preferences:
Convert & OTC Portal
Binance's 'Convert' is its most basic and simple trading method. It allows customers to convert one type of coin to another based on real-time exchange rates. Using the portal means customers don't need to be concerned with order book and trading fees. The over-the-counter (OTC) trading desk allows users to exchange large quantities of crypto in one transaction. There is no separate wallet for OTC trades so settlements go directly into your selected Binance account.
Classic & Advanced
With these trading platforms, the name says it all. Binance's Classic interface is simple and easy-to-use, containing less technical information. It is likely better for novice traders. The Advanced interface provides extensive market data and price charts and users have full access to all trading tools.
Margin
Customer can increase their profits by trading with up to 1:125 leverage. The P&L (PnL) analysis tab allows users to calculate margin, profit, and loss using the Futures calculator. There is also the Isolated Margin mode which only allocates a percentage of the trader's total margin balance to a single position. This is done to modulate risk.
Peer-2-Peer
Binance peer-to-peer (P2P) allows users to buy and sell crypto with zero fees. P2P gives traders the freedom to define how they want to be paid. They place orders in local currency and Binance will hold the asset until payment is received and both the buyer and seller finalises the deal. There are more than 150 payment methods, including bank transfer, cash, and PayPal.
Stock Token Trading
Tokens are pegged to the performance of the respective underlying stock and represent a share in a corporation. If its price increases, the price of the stock token is expected to rise accordingly. The same would apply if the price of the underlying fell.
Order Information
The broker offers several different order types:
Limit order
Market order
Stop-limit order
Stop-market order
Binance limit orders are placed on the order book but are not executed until the limit price is reached. Traders can also view up to three months of trade history in the Orders tab.
Binance Finance
Binance Earn
Binance Earn acts more like a savings account and is separate from the broker's trading offerings. Its products include:
Flexible savings – customers can earn interest on deposited funds
Dual savings – customers can achieve a greater return if the value of funds increases over time
Staking – customers can gain rewards by keeping cryptocurrency (specifically Proof of Stake coins) in an appropriate wallet for a period of time. Binance launched ETH (Ethereum) 2.0 staking which supports yield farming
Launchpool – customers can farm new token rewards in exchange for crypto tokens like BNB
Binance Pool
Binance Pool is a platform that provides services to help improve the income of miners. It focuses specifically on Proof of Work and Proof of Stake tokens.
Binance Card
Binance has developed its own Visa Card which allows holders to convert and spend cryptocurrencies at more than 60 million different merchants around the world in the same way they would with a regular debit card. Holders can also get up to 8% cashback on eligible purchases. The Binance Visa Card was made available to customers in the UK in August 2020.
Launchpad
Binance's Launchpad is an exclusive token launch platform. The advisory service helps teams on how to best issue and launch their token to a large user base. The goal is to allow project teams to focus on project development and continue building cryptos. Projects launched on Launchpad are listed with "world-class liquidity" in multiple trading pairs.
Crypto Loans
Binance allows its clients to secure a loan, using their crypto assets as collateral. Loan terms range from 7 days to 180 days.
Liquid Swap
Binance Liquid Swap allows customers to trade instantly and pool tokens to earn rewards. Traders can either contribute to or use the pool to swap two tokens/fiat assets.
Binance Chain
Binance Chain is a blockchain software system for trading digital assets. Customers can use the system via the Explorer function. The system allows clients to take advantage of the fast trading performance offered on Binance DEX, the decentralised exchange feature built on top of the Chain.
The Smart Chain was launched in September 2020. It is a parallel blockchain that enables the creation of smart contracts. Traders can choose to store their funds in either the Trust Wallet or Binance Chain wallet.
Binance often utilises the Testnet blockchain used by developers for testing. The broker also offers a Futures Testnet specifically for paper trading as a form of demo environment.
Mobile App
The Binance mobile app allows users to trade anytime, anywhere, giving investors increased accessibility and flexibility. The app is available to download for iPhone and Android either from the website or by scanning the QR code listed on the website. The desktop app is available for various systems, including Windows, macOS, and Linux, downloadable from the Binance website.
Binance API
Users can connect to Binance servers through the Binance API to automatically trade futures and other instruments via several programming languages such as Python. Users can also access historical cryptocurrency data using the API. Setting up an account is free but you will need to create an API key on Binance. All official Binance API documentation is available to view on GitHub.
It is worth noting that customers are not able to use the MetaTrader 4 (MT4) platform within the Binance transfer network, even with the API.
Additional Features
The broker provides other initiatives as well as its crypto exchange:
Binance Academy
The exchange provides its own Binance Academy, described as a one-stop guide to all things blockchain and crypto. The area on Binance's website aims to help users with all levels of experience by offering educational resources and research.
Market Maker Program
The Binance Market Maker Program gives fee reductions and higher API limits for liquidity providers.
Futures Leaderboard
Binance also has a Futures Leaderboard, displaying the performances of its top 500 investors based on their daily return on investment.
Insurance Fund
Finally, the exchange maintains an insurance fund for futures which collates the collateral from trader fees to cover its bankrupt customers' positions.
Fees
Binance fees are dependent on the trader's VIP level. VIP levels are determined by a client's 30-day exchange trading volume and their BNB balance which are automatically calculated daily at 00:00 UTC. Fees are lower as the VIP level increases. Fees begin at a maximum of 0.1% but are generally lower for 'maker' trades—trades placed on the order book—than for 'taker' trades.
The broker currently offers fee discounts of 25% off trading fees and 10% off USDT-margined futures for those users that pay with BNB, Binance's own coin. However, the rate varies.
Other fees include margin and futures charges. For margin fees, the daily interest rate for margin borrowing also reduces the client's VIP level and can vary between currencies. USDT-margined futures fees range between 0.04% and 0%, the highest for maker trades at the top VIP level. Quarterly and perpetual USD coin-margined futures fees also start at 0.04% but the top 5 VIP levels are granted a negative interest rate on maker trades.
Binance's referral program allows customers to invite their friends to use Binance using a referral code. Referees can earn up to 40% commission or 'kickback' every time their friend makes a trade on the platform.
Deposits & Withdrawals
Traders can deposit and withdraw an extensive range of coins or tokens with Binance. Fiat currencies, such as GBP, and cryptocurrencies like BTC do not incur deposit fees. Traders can deposit unlimited amounts of these currencies into their accounts.
Fiat currencies including GBP are also free to withdraw with no minimum limit. However, cryptocurrencies are not free to withdraw. Customers can expect to pay 0.0005 to withdraw Bitcoin with a minimum limit of 0.001.
Binance's Q&A section in the Support Centre provides detailed guidance on how to deposit and withdraw revenue, including to a UK bank account and the transfer times involved.
Pros
Binance is the largest cryptocurrency exchange currently in operation. It offers the following benefits:
Regulated in the UK by the FCA
Binance API offering for automated trading
Extensive variety of coins and derivatives available
Five trading methods for varying levels of experience and strategy preferences
Cons
Questions over security following 2019 hack
Money laundering investigation
Alternatives To Binance
Binance is regularly compared with other crypto exchanges such as Coinbase Pro and Kraken. While Coinbase is generally viewed as the more established exchange, Binance offers a greater variety of assets for trading. Kraken is regarded as an exchange better suited to beginner investors.
The following brokers are similar to Binance should you wish to choose an alternative:
Customer Support
Binance provides 24/7 customer support via its Support Centre. There is no contact number but users can input their email address or phone number to submit a support ticket in the chat which is available at the bottom right of the Binance website.
The Support Centre provides a full list of searchable FAQs, covering various topics including Account Functions, Deposit/Withdrawal, and Security to help with queries on how to delete your Binance account or if you have forgotten your password.
The exchange encourages its users to join the Binance Community on its various social media accounts, including Telegram (@BinanceExchange) and Twitter (@binance). The exchange also runs a YouTube channel, posting trading tutorials, and an active blog which is frequently updated with news, notifications, and announcements.
Security
Binance uses a two-factor authentication (2FA) feature—either Google Authenticator or SMS Authentication for secure login and withdrawals. Enabling 2FA adds an extra layer of protection to your account but can also be reset if it's not working or you get a new phone.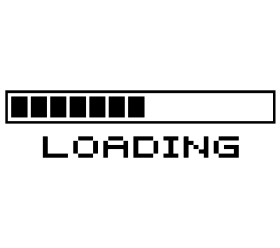 As part of its Know Your Customer (KYC) process, Binance provides three levels of identity verification—the more information you provide, the greater the quantity you can withdraw from your trading account:
Level 1 requires basic information, including an email and residential address
Level 2 requires address authentication by proving your address with a bank statement or utility bill
Level 3 is for larger sums where users must indicate the origins of their wealth through a Source of Wealth declaration form
For other transactions, such as clients wanting to use a Visa bank card to buy crypto, 3D-secure validation is utilised. Binance provides Security Guides and Tips through its Binance Academy. For example, it warns users not to call any phone number of someone claiming to be a Binance employee or from the support team.
However, Binance's security has been called into question in recent years. In 2019, hackers stole $40m worth of Bitcoin along with 2FA user codes and API tokens. In September 2020, the exchange was sued for alleged money laundering. Japanese crypto exchange, Zaif, claimed that Binance's weak KYC requirements facilitated the laundering of $60m stolen from its exchange. Zaif claimed $9.4m worth of BTC ended up in a single address belonging to Binance.
Should You Trade With Binance?
Binance is a leading online cryptocurrency exchange in the UK with zero to low fees on instruments. It offers a wide range of products and has something for traders of all levels. However, recent hacking scandals and accusations of money laundering do raise some concerns over security and integrity.
FAQ
Is Binance A Wallet?
Binance is an online exchange where customers can trade cryptocurrencies such as Bitcoin. It supports two types of wallets for holding cryptos: the Trust Wallet and the Binance Chain wallet.
How Do I Create A Binance Account?
Opening a Binance account is straightforward. Users can register online, following identity verification. Personal account holders can also register a business account by submitting corporate documents.
How Do I Create An API For Binance?
After having created a Binance account, head to API Management, create an API key, and make sure you have enabled two-factor authentication with an email address or phone number.
What Are The Alternatives To Binance?
How Do I Deposit On Binance?
From the client profile page, select Deposit and then pick a coin that you want to deposit – there's a selection of more than 150 cryptocurrencies.
Binance vs Other Brokers
If you want to compare Binance with other brokers, use the detailed comparisons below.
Binance vs
Binance is one of the leading online crypto exchanges offering Bitcoin.