Interactive Investor Review 2023

Interactive Investor is #13 in our rankings of UK brokers.
Interactive Investor Facts & Figures
Interactive Investor are a hugely respected, FCA-regulated investing firm. The trading platform is easy-to-use while the sign-up and deposit process is straightforward for new investors. ii also has a long track record and a string of industry awards under its belt.
Pros

FCA-regulated
No minimum deposit
40,000+ stocks and shares
Excellent market research
User-friendly investment app
Low fixed fees for large portfolios
Multiple payment methods including bank cards
Highly rated and trusted by 400,000 investors
Less than 1 minute average wait time for customer support

Cons

No free demo account
No copy trading tools

Awards

Investment Platform of the Year 2022
Best Low-cost SIPP 2022
Shareholder Rights Champion 2022
Best Low Cost Stockbroker 2022
Retail Investor Champion of the Year 2021
Best Low Cost Stockbroker 2021
Best Stocks and Shares ISA provider 2021
Best Stocks & Shares ISA Provider 2020
Best Stockbroker for International Dealing 2020

Instruments
Stocks, Funds, Trusts, ETFs, Bonds, Gilts, VCTs
Demo Account

No

Min. Deposit
£0
Payments
Min. Trade
£25
Regulated By
FCA
MetaTrader 4

No

MetaTrader 5

No

cTrader

No

DMA Account

No

ECN Account

No

Social Trading

No

Copy Trading

No

Auto Trading
Ready-Made Portfolios
Mobile Apps
iOS & Android
Islamic Account

No

Stocks
Invest in over 40,000 US, UK and international stocks from 17 leading exchanges. The selection of shares beats most competitors while prices are fixed and transparent.
Risk Warning – Your Capital is at risk
Interactive Investor (ii) provides award-winning wealth management and investment solutions for UK residents. The brand offers 40,000+ instruments including stocks, ETFs, and funds. There is also a choice of savings and trading accounts, from stocks and shares ISAs to pension profiles. This Interactive Investor review will assess the fees and charges, regular investing solutions, customer support options, and more. Our experts also explain how to open an account, trade shares on the platform, and withdraw money.
With low fees, an intuitive app and FCA oversight, Interactive Investor is a top-rated trading platform. The fixed charges for large holdings and selection of ISAs and SIPPs make ii the best pick for long-term investors.
Market Access
The product list at Interactive Investor is vast. With 40,000+ UK and global stocks and 1,000+ ETFs, it dwarfs the selection at competitors like Freetrade, which offers 6,000+ stocks and ETFs.
Available instruments:
Stocks – 40,000 stocks from 17 exchanges, including those listed on the FTSE 100, NASDAQ, and Dow Jones
Bonds & Gilts – Corporate and government bonds and fixed coupon gilts, including the 2.5% Index-Linked Treasury Stock 2024 and the 4.25% Treasury Gilt 2027
Trusts – 1,000+ structured trusts based on stock exchanges. This includes equity trusts and venture capital trusts (VCTs). Popular examples include the Scottish Mortgage Ord, Greencoat UK Wind and City of London Ord
ETFs – 1,000+ exchange-traded funds (ETFs) that track a basket of assets such as popular currencies or stocks. Leading examples include the iShares Core FTSE 100 ETF, Vanguard S&P 500 ETF, and WisdomTree FTSE 100 3x Daily Short ETP
Funds – 3,000 pooled investment funds structured as open-ended investment companies or unit trusts. Popular funds include the Royal London Short Term Money Mkt Y Acc, Vanguard Lifestrategy 80% Equity A Acc, and HSBC FTSE All-World Index C Acc
When we used Interactive Investor, we also appreciated the selection of pre-made portfolios and recommended fund lists, which provide suggestions to help you get started, without having to spend hours reviewing different products.
Note, Interactive Investor does not offer cryptocurrency.
Accounts
Interactive Investor offers four investment and savings solutions: personal pension plans, stocks & shares ISAs, general savings, and trading accounts. Products are tailored to different investment goals.
ISAs
Stocks & Shares ISA
A stocks and shares ISA is a tax-efficient account with an annual allowance of £20,000. There is no minimum funding requirement and any profits made from associated investments are exempt from capital gains and income tax.
A stocks & shares ISA is generally considered a medium to long-term investment solution, with returns expected after four to five years.
The Interactive Investor stocks and shares ISA offers full flexibility in terms of financial instruments. You can choose from ETFs, funds, stocks, and more. Alternatively, investment ideas and pre-selected portfolios are available, suitable for beginners.
While using Interactive Investor, we were pleased to see that withdrawals can be made at any time, though you may forfeit the tax benefits.
Note, there is no lifetime ISA available.
Junior ISA
The Junior ISA account also provides tax-efficient investments. The profile must be opened by a parent or guardian of a child under 18. There is a maximum annual allowance of £9,000 with no capital gains and income tax applicable.
All instruments are available to invest in, along with access to pre-built portfolios. Funds are available to the individual when they turn 18.
Cash Savings Account
The ii Cash Savings account is a standalone solution intended to hold your money in one place. You can transfer funds from over 25 UK banks and building societies.
Competitive interest rates are also available, improving over the long-term. Interactive Investor offers a 4.26% rate on savings held for 3+ years.
Note, there is a minimum savings limit of £10,000 and a maximum limit of £250,000.
Tax statements including capital gains tax reports are the client's responsibility.
Trading Account
The ii Trading Account is the best pick for individuals looking for investment flexibility and autonomy.
There are two types of plans available depending on the initial investment:
Investor Essentials Plan
For individuals investing up to £30,000.
Stocks and Shares ISA
Uncapped Trading Account
Invest as little as £25 per month
Investor Plan
For individuals investing over £30,000.
Junior ISA
Stocks and Shares ISA
One free monthly trade
Uncapped Trading Account
SIPP account (£10 additional)
Invest as little as £25 per month
Joint trading account options
The ii Trading Account essentially unlocks several sub-features under one profile, depending on investment value. Clients also have access to thousands of instruments, including stocks, ETFs and funds.
Note, you may be liable for taxes on any profits above £12,300 per year (exclusive of the ISA accounts).
There are no maximum investment limits and you are permitted to have several trading accounts open.
Clients can also instruct a Bed and ISA to transfer investments to a stocks and shares ISA.
SIPP
The Interactive Investor SIPP (Self-Invested Personal Pension) enables individuals to save and invest for retirement.
This account can be opened by anyone over 18 and you can start withdrawing 25% of your funds from the age of 55. Similar to the ISA profiles, SIPP accounts are liable for tax relief on contributions up to 100% of your salary (maximum £60,000). This includes no capital gains tax and exclusion from inheritance tax.
The brand also welcomes transfers from alternative providers for no fee, meaning you can combine existing savings into one pot.
How To Open An Interactive Investor Account
You can get started with an ii account relatively quickly. The registration process is straightforward and completed via an online application form.
Upon sign-up, you will be directed to either a SIPP, Trading, or ISA account. Then follow these steps:
Choose your expected investment size
Select a plan (compare features and trading fees)
Review the terms and conditions page and click 'Next'
Enter your personal details including tax information and current employment
Select 'Go to Step 3' and review the terms and conditions page
Click 'Agree & Continue'
Verify your identity by adding card details (must be registered to a UK bank and in your name)
Note, you will need your National Insurance number and bank card to hand.
Fees & Charges
Interactive Investor offers low-cost investing with a transparent pricing schedule.
The brand uses a monthly, subscription-based fee model, regardless of invested funds. With that said, some subscription plans are unavailable to those with larger account balances.
Importantly, fees are competitive vs other brands. The cheapest subscription is the Investor Essentials Plan at £4.99 per month for investments up to £30,000. This is cheaper than Vanguard, for example, with a 0.15% annual fee.
Investor Essentials Plan
£4.99 per month
Free regular investing
UK & US shares trading at £5.99
Dividend reinvestment fee £0.99
Account balance under £30,000
International shares trading at £19.99
Investor Plan
£9.99 per month
Free regular investing
First trade free per month
UK & US shares trading at £5.99
Dividend reinvestment fee £0.99
Add SIPP profile for £10 per month
International shares trading at £19.99
Super Investor Plan
£19.99 per month
Free regular investing
First two trades free per month
UK & US shares trading at £3.99
Dividend reinvestment fee £0.99
Add SIPP profile for £10 per month
International shares trading at £5.99
Pension Builder Plan
£12.99 per month
Free regular investing
All-inclusive SIPP profile
UK & US shares trading at £5.99
Dividend reinvestment fee £0.99
International shares trading at £19.99
Note, you can change between plans and there are no exit charges.
Fees will be taken by monthly direct debit or from funds held in a trading account.
Additional Charges
Aside from the subscription-based fees, there are some additional charges to be aware of:
Purchasing and selling US shares with a value of £100,000 – 0.04% of trade value
Purchasing and selling international shares with a value of £25,000 – 0.10% of trade value
Foreign exchange rates – Ranging between 0.25% and 1.5% dependent on transaction values
Purchasing and selling UK shares, funds, bonds, gilts, and ETFs with a value of £100,00 – £40 fee
UK investors can also benefit from interest payments on cash balances held in Trading, SIPP, and ISA accounts. Rates vary. Tax payments are the responsibility of individuals.
Interactive Investor Portfolios
Quick Start Funds
ii offers six 'quick start funds' which are pre-built portfolios varying by risk and style (active or passive). The options cover three funds from either Vanguard or Columbia Threadneedle.
The Vanguard fund portfolios are passively managed and are spread across various markets. The Columbia Threadneedle funds focus on a sustainability element and are actively managed by a fund administrator.
It was good to see that investments can be made via a one-off cash transaction or regular monthly investing.
ii Super 60
The Super 60 investment portfolio allows users to select trades based on personal interests and preferred investment styles.
You can filter a list of assets with a good track record as suggested by the Interactive Investor's financial analysts and partnership with Morningstar Manager Selection Services. Filters include dividend yield, asset group, and return period. Asset groups include equities, fixed-income products, and property.

ii Ace 40
Similar to the ii Super 60, Ace 40 enables retail investors to filter and select investment opportunities. The ii Ace 40 list constitutes more than 200 sustainable assets, including ETFs and funds that comply with the brand's ESG requirements.
Products are categorised into a useful 'ACE' (avoids, considers, and embraces) ranking which is a bespoke tool that helps investors choose companies that operate to high social and environmental standards. We also liked that you can also filter by asset group and investment category.
Model Portfolios
One of the simplest investment solutions to help you get started is the ii Model Portfolios. Chosen by the brand's third-party research partner, Morningstar, Interactive Investor offers five custom-built portfolios categorised by goals.
For example, the 'Low-Cost Income' profile has been created for retail investors looking for cheaper trading via an assortment of ten high-returning ETFs and tracker funds. Weightings are distributed between assets depending on historic yield and product costs.
Importantly, the programme is transparent with plenty of information regarding changes to portfolio weightings, allocation reviews, and opinions from the team's analysts.
Payment Methods
Deposits
You can fund your Interactive Investor account via debit card, bank wire transfer, or cheque. Monthly direct debits can also be set up, which are useful for making regular investments from salary payments.
Processing times and maximum limits apply. This includes a maximum deposit of £99,999 using a debit card and up to three working days for bank wire transfers.
How To Make A Deposit T0 ii
Login to your Interactive Investor account
Choose 'Cash & Transfers' from the menu and then 'Add Cash'
Link a debit card to your account (must be done for all new cards)
Enter the amount to deposit
Select the account for funds to be transferred
Click 'Add Cash' to confirm the transaction
Deposits made via debit card should be visible in your account instantly
How To Make Regular Investments
While using Interactive Investor, we also rated the 'Regular Investing' service which allows individuals to add to accounts each month, with a minimum transfer of £25.
This function is available for GBP-listed investments only or assets listed on the UK stock exchange.
To set it up:
Sign in to your ii account
Select the account you want to invest money in and click 'Edit Investments'
Here you can search for instruments and assets for the monthly payments to be invested
Enter the amount to transfer each month
Select 'Save Changes' to confirm
Withdrawals
Withdrawals from an Interactive Investor account can be made via bank wire transfer only.
Transactions are relatively quick, with funds sent to your linked bank account by the end of the following business day (if requested before 2 pm).
Urgent withdrawal requests can also be made (£15 fee), and money will be received in registered bank accounts by the end of the same day.
Aside from this, it is free to transfer out of an account. This is cheaper vs Interactive Brokers, which offers one free withdrawal per month followed by a £7 charge for subsequent wire transfer requests.
Trading Platform
The Interactive Investor platform is easy to navigate. The dashboard available from the secure login page provides a clear overview of your portfolio including all open investments. The main menu also provides access to all the frequently used functions such as 'Cash & Transfers' for payment management and 'Research' for company information and market news.
On the downside, the platform does not provide the in-depth analysis tools, indicators, and range of chart views that some active traders may need. The ii terminal is essentially quite basic, though there are plenty of trade ideas in the form of top 10 funds, lists of popular assets, and custom-built portfolios.
There are four order types; market, limit, fill or kill, and stop loss. The platform is also home to price alerts, custom watchlists, level 2 live pricing from Quotestream, Morningstar chart integration, and dividend payment history. You can also make all admin-related changes and access relevant forms from the platform.
Additionally, you can view fees associated with your Interactive Investor profile including ISA charges, current transfers in progress and dividend payments received.
How To Place A Trade
The process of buying and selling shares is straightforward, making Interactive Investor a good pick for beginners.
Log in to your ii account
Select your trading account
Choose 'Find & Invest' from the main menu and explore the asset list
Use the 'Buy' or 'Sell' icons to initiate a trade
Add the value to invest or the number of shares to purchase or sell
View the live market quote and select 'Place Order'
App Review
The Interactive Investor platform is also available as a mobile app. Free downloads of the app are provided for iOS and Android devices.
When we used the ii app, we liked the simplicity with clear navigation from a menu along the bottom and full portfolio overviews. We also rated the small-screen chart compatibility with all timeframes available.
Mobile users can deposit funds, open new trades and stay up to date with the latest news. Investors can also track trends and make amendments to existing positions while watchlist creation and custom alerts can be set up on mobile and tablet devices.
Tip: implement security features like face recognition or fingerprint login for extra safety.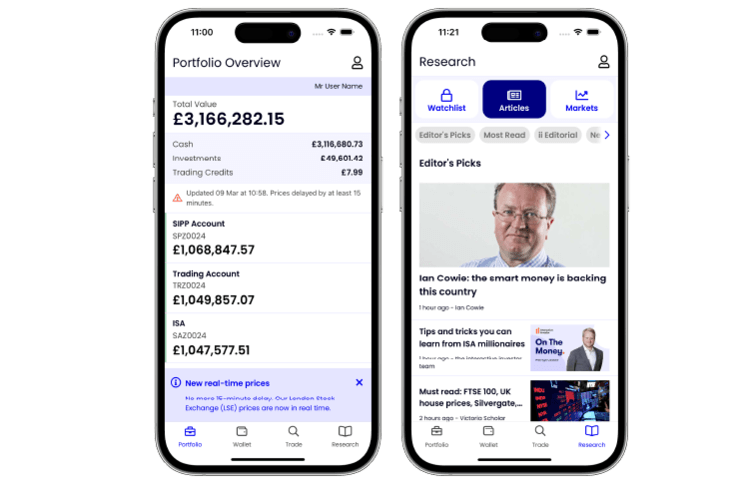 UK Regulation
Interactive Investor scores well in terms of regulation and reputation. The platform is authorised and regulated by the UK's Financial Conduct Authority (FCA).
Client funds are held separately from business money with appointed custodians, meaning they cannot be used in the case of insolvency or for administrative activities. Customers also have FSCS protection up to the value of £85,000, providing a secure deposit scheme. In addition, SIPP and ISA accounts benefit from negative cash balance protection.
The brand complies with regular auditing and account reconciliations to ensure all client accounts are safe. Additionally, ii participates in a third-party security check by Cyber Essentials Plus to ensure robust policies, practices and controls remain in place.
Demo Account
Whilst using Interactive Investor, we were disappointed to see that there is no demo account.
However, we are confident that the trading terminal and investment functions are simple enough for those new to trading. There is also plenty of step-by-step user guides for common queries, such as how to withdraw cash, dividend reinvestments, pension builders, and how to generate annual tax reports.
Customer Support
Interactive Investor fell down in our review when it came to customer service, with a fairly limited offering.
There is a good help centre covering topics such as how to close an Interactive Investor account, how to transfer existing ISAs, how to set a stop loss, secure account login options, plus dealing and drawdown charges. However, clients cannot access the live chat service until they open an account and there is no customer email address.
On a more positive note, a UK-based phone number is available with representatives accessible from 7:45 am to 5:30 pm (GMT), Monday to Friday. Their average hold time to access a customer service representative is less than one minute.
Telephone Contact Number UK – 0345 607 6001
Online Help Centre – Available from the 'Help & Learning' icon in the top menu
Registered Postal Address – Interactive Investor, 2nd Floor, One Embankment, Neville Street, Leeds, LS1 4DW
Education & Research
ii provides plenty of resources for registered customers. This includes educational content such as how to invest in the stock market and common phrases in the trading environment.
Integrated YouTube videos, articles, and fundamental ideas are also available. In addition, there is a podcast, newsletter subscription, trend reports, a glossary of key terms, and even a page for introducing children to the world of investments.
Company Details
Interactive Investor is an online investment service, founded in 1995.
Today, the company has over 400,000 registered customers and estimates that 1 in 5 UK share deals are transacted on the platform. The brand currently has over £50 billion in assets under administration (AUA).
Interactive Investor has been recognised with several awards including the Investment Platform of the Year 2022 by the Financial Times.
The abrdn acquisition of Interactive Investor was completed in May 2022, helping to grow the wealth management service proposition. abrdn has been providing services for 200+ years and is a FTSE 100-listed firm. The CEO remains Richard Wilson.
ii has London and Leeds offices and headquarters in Manchester.
Bonuses & Deals
Interactive Investor offers a refer-a-friend scheme with a £200 reward per referral. Funds will be added to existing trading accounts. Note that each referral must invest at least £10,000, however, they will benefit from a free first-year subscription plan.
There are also some additional offers including a £1,000 cashback reward for pension transfers from alternative providers and no SIPP account charges for the first six months after opening an account.
Always review eligibility requirements and terms before signing up.
Security
All Interactive Investor accounts are set up with 2FA (two-factor authentication) login. This provides an additional security step at sign-up.
A one-time, 24-digit recovery code must also be provided when logging in from a new device or requesting to make changes to a profile. In addition, we recommend integrating biometric verification when using the brand's mobile app.
Overall, our experts are confident that the company operates with the highest safety standards.
Should You Sign Up With Interactive Investor?
Interactive Investor is a one-stop solution for long-term investment goals. The brand offers a range of products including shares, ETFs, bonds and trusts. There is also a wealth of resources and pre-built trade ideas and portfolios, suitable for individuals with no previous trading knowledge. To round it off, the award-winning brand is regulated by the FCA, making it a trustworthy pick for UK investors.
 FAQs
What Is Interactive Investor?
Interactive Investor is a UK-based wealth management and investment service platform. It offers a wide range of accounts including pension builders, ISAs, and trading profiles. The brand also provides trading ideas and pre-built investment portfolios.
Does Interactive Investor Have An App?
Yes, Interactive Investor offers a free mobile app that can be downloaded to iOS and Android devices. Investors can manage portfolios, make deposits and withdraw money from the application.
Can I Buy Bitcoin On Interactive Investor?
No, Interactive Investor does not offer cryptocurrency investments, including Bitcoin. Instead, the firm offers shares, funds, trusts and ETFs via a range of investment accounts.
Is Interactive Investor Any Good?
Our experts were pleased with the products, resources, and customer safety provided by Interactive Investor. The monthly subscription model is also easy to understand and the firm provides access to more than 40,000 instruments. On the downside, the availability of investment insights and market analysis is lacking.
How Safe Is Interactive Investor?
Interactive Investor operates with a high standard of safety and security. This includes authorisation and regulation from the Financial Conduct Authority (FCA), customer funds held in segregated custodian accounts, and FSCS compensation in the case of business insolvency. The ii app also offers FaceID and TouchID for secure logins.
Does Interactive Investor Offer A Cash Or Lifetime ISA?
No, Interactive Investor does not currently offer a lifetime or cash ISA. Available solutions include a stocks and shares ISA, Junior ISA, SIPP, cash savings profile, and trading account.
Who Owns Interactive Investor?
Interactive Investor joined a global investment company, abrdn, following an acquisition in May 2022. It operates as a subsidiary though it has kept its brand name.
Does Interactive Investor Pay Interest On Cash?
Yes, Interactive Investor offers interest payments on cash balances. This includes payments of 1.10% on trading account cash balances up to £10,000 and 2.10% on values over £10,000.
Does Interactive Investor Pay Dividends?
Yes, Interactive Investor does pay dividends, though this is dependent on the company you are investing in. Eligibility details can be found in the 'company profile' section of the account dashboard. You can also set up dividend reinvesting for £0.99 per trade.
Is Interactive Investor Covered By The FSCS?
Yes, Interactive Investor customers can access up to £85,000 in compensation from the FSCS if the brand cannot fulfil its business activities or goes into administration.
What Are Trading Credits On Interactive Investor?
Interactive Investor trading credits can be used to settle trading fees or dividend reinvestment charges. Alternatively, they can be used when investing in shares, ETFs, funds, and trusts.
Monthly credits are available to Investor (£5.99 value) and Super Investor (£7.99 value) subscription holders only.
Article Sources
Interactive Investor FCA License
Compare Interactive Investor with Other Brokers
These brokers are the most similar to Interactive Investor:
IG Index - IG is an award-winning broker that has an excellent reputation globally. The brand offers spread betting, CFD and forex trading across a comprehensive suite of markets. IG is also multi-regulated, provides a great trading app and has 50 years experience.
Swissquote - Swissquote is a Switzerland-based bank and broker that offers online trading and investing. The company has a high safety score and is listed on the Swiss stock exchange. The firm offers a huge range of products, from stocks, ETFs, bonds and futures to 400+ forex and CFD assets. Hundreds of thousands of traders have opened an account with the multi-regulated brokerage. Clients can get started in three easy steps while 24/7 customer support is available to assist new users.
Interactive Brokers - Interactive Brokers is a leading global brokerage that provides access to a comprehensive offering of stocks as well as forex, futures, metals, bonds and cryptos. The firm has over 40 years experience in the online trading industry and is heavily regulated by SEC, FCA, IIROC, and SFC. Traders use the proprietary Trader Workstation and can access powerful tools and data feeds as well as comprehensive educational resources.
Interactive Investor Feature Comparison
Interactive Investor Compared With Similar Brokers
Interactive Investor
IG Index
Swissquote
Interactive Brokers
Rating
4.6
4.4
4
4.3
Markets
Stocks
Forex, Stocks, Commodities
Forex, Stocks, Commodities
Forex, Stocks, Commodities, Crypto
Minimum Deposit
£0
$0
$1000
$0
Minimum Trade
£25
0.01 Lots
0.01 Lots
$100
Demo Account
No
Yes
Yes
Yes
Regulators
FCA
FCA, ASIC, NFA, CFTC, DFSA, BaFin, MAS, FSCA
FCA, FINMA, DFSA, SFC
SEC, FCA, IIROC, SFC
Bonus
-
-
-
-
Education
Yes
Yes
No
No
Platforms
-
MT4
MT4, MT5
-
Leverage
-
1:30 (Retail), 1:222 (Pro)
1:30
1:50
Visit
Review
Interactive Investor
Review
IG Index
Review
Swissquote
Review
Interactive Brokers
Review
Trading Instruments Comparison
Comparison of Interactive Investor Trading Instruments

| | Interactive Investor | IG Index | Swissquote | Interactive Brokers |
| --- | --- | --- | --- | --- |
| CFD | No | Yes | Yes | Yes |
| Forex | No | Yes | Yes | Yes |
| Stocks | Yes | Yes | Yes | Yes |
| Crypto | No | No | No | Yes |
| Commodities | No | Yes | Yes | Yes |
| Oil | No | Yes | Yes | No |
| Gold | No | Yes | Yes | Yes |
| Copper | No | Yes | No | No |
| Silver | No | Yes | Yes | No |
| Corn | No | No | No | No |
| Futures | No | Yes | Yes | Yes |
| Options | No | Yes | Yes | Yes |
| ETFs | Yes | Yes | Yes | No |
| Bonds | Yes | Yes | Yes | Yes |
| Warrants | No | Yes | No | Yes |
| Spreadbetting | No | Yes | No | No |
| Volatility Index | No | Yes | No | No |
Interactive Investor vs Other Brokers
Compare Interactive Investor with any other broker by selecting the other broker below.
Popular Interactive Investor comparisons:
Interactive Investor are a hugely respected, FCA-regulated investing firm. The trading platform is easy-to-use while the sign-up and deposit process is straightforward for new investors. ii also has a long track record and a string of industry awards under its belt.