Nexo Review 2023

Nexo is #36 in our rankings of crypto brokers.
Nexo Facts & Figures
Nexo is a crypto trading platform that also acts as a gateway to DeFi crypto functions such as staking, borrowing and lending. The platform supports 60+ crypto tokens, which can be purchased with a fiat on-ramp and traded in 500+ market pairs. The exchange operates a zero-fee policy allowing a set number of completely free withdrawals per month and fee-free trading.
Pros

Convenient way to buy, stake, lend and borrow crypto through one platform
Allows users to borrow against their crypto holdings
2 factor authentication for added security
Advanced Nexo Pro trading platform
Referral program with $25 in BTC
Very affordable pricing structure
High-yield interest savings
OTC trading capabilities
Audited by Armanino
Earn NEXO tokens

Cons

Restrictions on using the native tokens for New York and Vermont US residents
High collateral requirement of 200% of the amount you wish to loan
Relatively small selection of crypto tokens which misses newer altcoins
Native tokens are required for maximum interest rates
Limited free cryptocurrency withdrawals
No crypto derivative trading

Instruments
Cryptos
Demo Account

Yes

Min. Deposit
$10
Payments
Min. Trade
$30
Regulated By
ASIC, FCEN
MetaTrader 4

No

MetaTrader 5

No

cTrader

No

DMA Account

No

ECN Account

No

Social Trading

No

Copy Trading

No

Mobile Apps
iOS & Android
Islamic Account

No

Cryptocurrency
Nexo traders can buy and sell 60+ cryptocurrencies using fiat, or trade between 500+ market pairs. The app functions as a crypto wallet, meaning that clients will own their own tokens but Nexo will have custody of them. Crypto assets can be transferred from the Nexo wallet. Fees are low and user security is high.
Coins

BTC
ETH
NEXO
USDT
USDC
AXS
RUNE
MATIC
DOT
APE
AVAX
KSM
ATOM
FTM
NEAR
BNB
ADA
SOL
XRP
LTC
LINK
BCH
TRX
XLM
EOS
PAXG
UNI
DOGE
MANA
SAND
GALA
SUSHI
AAVE
CRV
MKR
1INCH
DAI
USDP
TUSD

Spreads
N/A
Crypto Lending

Yes

Crypto Mining

No

Crypto Staking

Yes

Auto Market Maker

No
Risk Warning – Your Capital is at risk
Nexo is a key player in the decentralised finance (DeFi) space. The broker looks to capitalise on the mainstream emergence of cryptocurrency and blockchain technology, leading to useful financial products that exist outside traditional avenues. This 2023 broker review will explore Nexo's online wallet service and delve into the firm's lending, savings schemes, payment cards and more.
What Is Nexo?
Company Details
Released to the public in 2018, the Nexo platform was created to provide high-yield savings and accessible lending in the decentralised finance (DeFi) space. Co-founded by three experts in the FinTech field, the group used its experience to grow the broker and serve over 3 million active users worldwide.
Financial Services
Nexo offers several distinct services to its clients. The first is a savings program, in which either crypto or fiat currency is held in fixed-term savings accounts that earn interest. The firm also offers crypto and fiat loans, using your crypto wallet as collateral.
Clients can also review the advantages of the Nexo debit card, which offers zero fees for forex payments. Finally, the company operates a traditional, centralised crypto exchange that allows clients to trade on 100+ crypto and fiat pairs.
Nexo Earn
One of the most appealing prospects to Nexo clients is its Earn service. Similarly to traditional banks providing interest to those who lock away funds in a savings account, crypto tokens can be staked with the broker to earn often significant passive returns.
Many that believe in the fundamentals and long-term value of a coin are happy to stake their wallet holdings over extended periods to accumulate interest. This process is called yield farming and is offered by Nexo to all clients.
After furnishing their wallet with supported tokens, traders can choose between locking their tokens into either a fixed-term or flexible contract. Nexo offers up to 18% APR for staking, with zero fees on these earnings and daily payouts.
29 digital assets are supported in the Earn program, including fiat currency staking for USD, GBP and EUR. However, these must be converted to digital form, becoming USDX, GBPX and EURX, though there are no fees for this transaction.
Interest Rates
While the advertised 18% interest rate for staking seems highly lucrative, clients must adhere to several conditions to unlock the highest available interest levels. This rate is also only given on selected tokens; Nexo investors earn a maximum of 8% interest on Bitcoin (BTC) and Ethereum (ETH).
Another stipulation is the term of the staking. Fixed-term interest will usually pay higher than flexible-term and additional rates are often available for longer staking periods. The trade-off is that with fixed-term Earn contracts, your tokens are locked and cannot be traded. Stablecoins such as USDT and USDC, in addition to Dogecoin, are unfortunately not eligible for fixed-term staking.
Payments in-kind (through the same coin that is staked) will be 2% lower than potential interest when paid via Nexo's local token. Nexo also assigns clients an account level based on the percentage of Nexo tokens in their wallet balance, with coins, such as XLM and XRP, earning additional interest at higher levels.
Nexo Lending
Nexo also offers a borrowing service, allowing clients to apply for loans, using their crypto holdings as collateral. With APR as low as 0% for some loans and scaling to a maximum of 13.9%, borrowing from Nexo is an appealing prospect for many. Minimum loan amounts are $500 for fiat currency or $50 for stablecoins, while the maximum loan offered is $2,000,000 or equivalent. Various verification protocols are enforced to unlock borrowing capabilities, with more stringent measures introduced for higher loan amounts.
Clients can opt to receive their borrowed funds in either fiat or stablecoin form, supporting GBP, EUR, USD, USDT and over 40 more cash options. More than 25 crypto tokens can be used as collateral, although the specific LTV value varies with each token. The highest LTV values are achieved by offering stablecoins for collateral, with clients able to borrow up to 90% of their surety, while volatile altcoins like XLM and XRP are worth significantly less.
NFT Lending Desk
Nexo also offers clients the option of using NFTs as collateral for loans, unlocking up to 20% of market value for online artwork. Currently, the platform only supports NFTs from the CryptoPunks and Bored Ape Yacht Club collection but this service is in its infancy and the company plans to add more NFT support later down the line.
Pros Of Nexo Lending
The lending scheme offers several distinct advantages over traditional programs offered by banks and financial service providers. Firstly, applicants are not judged on their credit score and the loan has no subsequent effect on their score. Applications are typically approved within minutes and funds are available within 24 hours.
Payers of UK tax, indeed taxpayers around the world. may also be interested in the tax benefits of a Nexo loan, which allow clients to release value from their crypto holdings without paying capital gains tax.
Cons Of Nexo Lending
When offering crypto tokens as collateral, your loan amount will be affected by changes in the market value of that specific token. A fall in the value of a collateral coin may lead to higher interest, as the amount you are borrowing will be a higher LTV rate than before.
Loanees are also vulnerable to collateral depreciation, which can activate margin calls and require more collateral to be added. Nexo has a system in place that will notify you of the need for further collateral before automatically transferring additional funds from your savings wallet. However, needing to significantly add to your collateral pool mid-loan can be costly, especially with the unpredictable nature of the crypto market.
Nexo Card
Nexo also offers a Mastercard credit card to account holders, enabling them to pay at over 40 million locations around the world. The benefits of the card include up to 2% cashback with eligible purchases and the ability to pay in a multitude of local currencies with no exchange fees up to €20,000 or equivalent.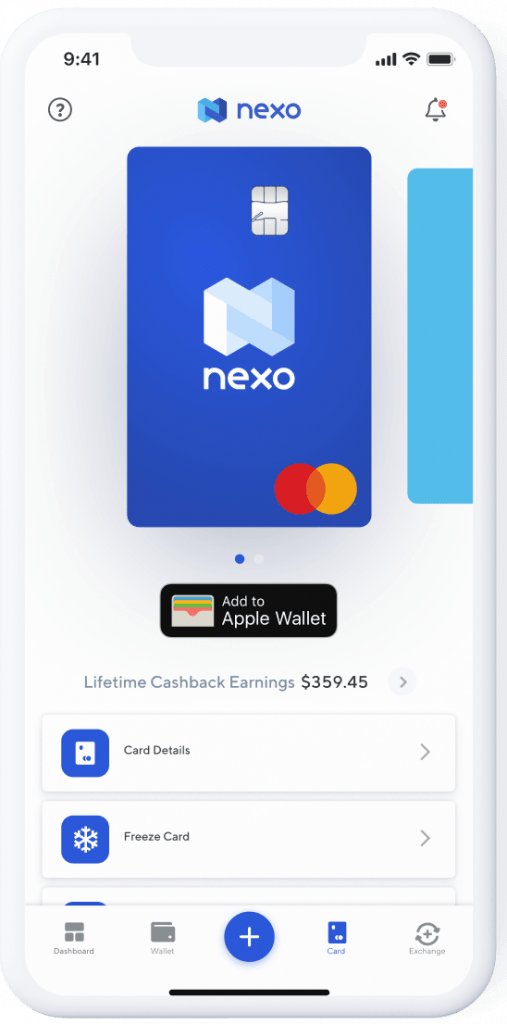 As an extension of its lending service, using the card deducts funds from the available balance of a linked Nexo account, though repayment can be via fiat currency or a user-selected crypto token balance. Rates as low as 0% APR are offered to eligible clients that fund their purchases within the allotted time frame.
The Nexo Exchange
In addition to these DeFi financial services, Nexo also operates a traditional crypto exchange, facilitating easy trading of token pairs. Boasting a smart-routing system that connects to ten leading exchanges for top prices and liquidity, the firm supports over 175 market pairs.
Through its loyalty program, traders can earn up to 0.5% cashback on each transaction up to a monthly trading volume of $100,000. This produces a total rebate of $500. Purchases can also be made with leverage, using the same financing system as the lending options.
Traders can access up to 1:3 leverage on their purchases using the Nexo booster function, which raises the available leverage rates in exchange for flat fees of up to 3%.
Prime Brokerage
Traditionally, many companies and hedge funds have looked to prime brokerages for wealth management and large-scale securities lending. Nexo aims to bring these facilities to the DeFi space through its own prime brokerage. For firms or wealthy individuals looking to diversify their capital into the crypto space, the platform offers a bespoke service with one-to-one guidance and support from its team of industry experts.
Assets
Nexo offers 22 cryptocurrencies and three digital fiat currencies on its platform. The token offerings include crypto frontrunners BTC and ETH, stablecoins such as USDT and DAI and altcoins like XRP and XLM. The three digital fiat currencies are GBPX, USDX and EURX.
Clients can trade these pairs on the Nexo exchange in over 175 market pair variants and utilise leverage rates of up to 1:3 when purchasing coins. The platform does not support derivatives like options and CFDs, so clients cannot take bearish positions on the crypto markets.
Nexo Token
The crypto asset that may have the greatest impact on a client's experience is the company's proprietary coin: the Nexo token. As with coins like BNB and CRO, a platform rewards users that hold a certain amount of its token with special benefits. The tokens can also be purchased as a standalone investment or to trade with. The rate for 1 Nexo token to USD has grown rapidly since late 2020 and current values can be found online.
Nexo token holders can also take part in a periodic governance vote, with options for the future direction the platform mooted for traders to decide on. Recently, the customer base voted to transition the 2021 dividend payment to daily payouts, with this being the preferred distribution mode going forward.
Account Levels
Nexo offers four different account levels, entitling clients to significant benefits the higher they go. Often referred to as its loyalty program, the levels are decided based on the percentage allocation of Nexo tokens in a traders' wallet:
Base Level – To qualify for the base level, traders do not need to hold any Nexo tokens.
Silver – Silver level clients hold between 1% and 4% of their overall portfolio balance in Nexo tokens.
Gold – This level is unlocked by allocating between 5% and 9% of your wallet value to Nexo tokens.
Platinum – Platinum is the highest account level Nexo offers, offered in exchange for a Nexo token portfolio holding of 10% or more.
The advantages of higher account levels apply across many of the platform's services.
Achieving a higher loyalty program ranking increases yields on crypto savings by up to 2%. Silver level and above also unlocks the "earn in Nexo tokens" feature, which allows traders to receive interest in the platform's native token for additional value. Through this option, silver clients earn 0.25% more, Gold users make an additional 1% and Platinum members add a significant 2% of interest.
Borrowing interest rates are also affected by account level. Base level account holders will pay up to 13.9% APR, Silver tier clients up to 12.9%, Gold level members 8.9% and Platinum clients 6.9%. Gold and Platinum members can unlock even lower rates when borrowing at a rate of less than 20% LTV, with 0% and 1.9% APR charged respectively in this scenario.
Additional benefits of a higher loyalty level tier are a greater number of free crypto withdrawals per month. While base tier traders only get one free monthly withdrawal, having to pay withdrawal fees on other transactions, the Silver level offers two, Gold provides three and Platinum earns traders up to five.
Fees
Nexo proudly advertises its zero fees policy, which involves no costs for loans, using its card or saving with the Earn system. While the exchange does not charge commissions, some users have complained about high spreads when swapping tokens. Therefore, those primarily using the platform for swapping tokens may find more cost-effective options elsewhere.
Payment Methods
Deposits and withdrawals on the Nexo platform can be made in fiat currency or through crypto token transfer from another wallet or exchange.
Fiat transfer methods include credit and debit cards, as well as several bank transfer methods. Deposit times are usually around one working day, though card payments will often be far quicker. Fiat withdrawal time can be slightly longer, at up to three working days.
Another way of topping up your account balance is by transferring crypto from an existing wallet. While most of Nexo's supported cryptos can be added in this way, some so-called limited assets, such as SOL, AVAX and LUNA, cannot be used for a deposit.
Withdrawals can also be made in crypto, though Nexo will charge clients for exceeding a monthly limit of withdrawals, depending on their account level. Both deposit and withdrawal times to a crypto wallet will often be faster than for fiat currency.
Transaction Fees
There are no deposit fees for fiat deposits and withdrawals, with the digital token equivalent of GBP, USD and EUR always swapped one for one. Nexo withdrawal fees will only apply for crypto withdrawals once your monthly allowance is exceeded.
Funding Restrictions
Minimum deposits and withdrawal amounts for fiat currency are $10 or equivalent and there is no account minimum.
While adding crypto to your wallet is unrestricted, the platform has minimum withdrawal amounts for crypto transfers that vary per token but can exceed $50 for some coins.
Mobile App
Nexo has developed a mobile trading application to work on both Android (APK) and Apple (iOS) devices. The app seamlessly integrates with your account and provides fast access to credit card management. The wallet feature also facilitates on-the-go monitoring of account balance, displaying the value of your credit line and savings balance wherever you are. With the same functionality as the web platform, you can use the mobile app to distribute existing assets or add new funds.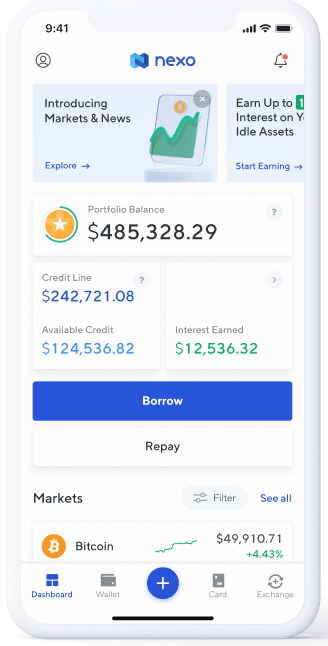 You can find the wallet app on both the Google Play Store and Apple App Store for secure download.
Nexo Advantages
Accessible loans with no consideration of credit score
High-yield savings up to 18% APR
2% cashback credit card
High-level security
Leveraged tokens
Low-cost model
NFT collateral
Nexo Drawbacks
High spreads
Reliance on Nexo token
Limited range of cryptos
Restricted crypto withdrawals
Crypto can be unreliable collateral
Trading Hours
The Nexo platform runs 24/7 alongside the perpetual crypto markets. However, some services like loans may be limited to certain working hours if manual identity verification is required.
Regulation & Security
Nexo is registered with several regulators, including the ASIC, the Hong Kong companies registry and FINTRAC. This is quite competitive for a crypto exchange and DeFi services firm, as many avoid external regulation.
In terms of account and fund security, Nexo boasts military-level protection for its storage servers and top-tier cyber security protection. Funds are insured for up to $375 million and regular audits are conducted by an independent body to ensure client confidence.
Two-factor authentication (2FA) is also facilitated to maximise account security, though there have been some complaints of 2FA not working.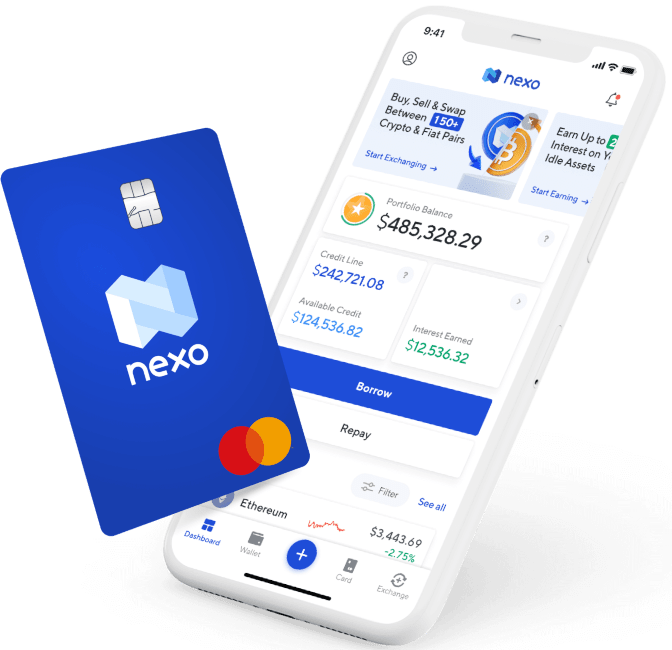 Customer Support
Whether you are struggling with an unexpected error or want more information about the platform and its services, having a knowledgeable and dependable support team is the sign of a good company.
To this end, Nexo has produced a well-populated blog to provide clients with help on FAQs, such as how to conduct a 2FA reset or the minimum withdrawal amounts for each specific crypto token.
For more specific guidance, the Nexo customer support team is available 24/7 to help with any queries. Those seeking assistance can generate a ticket through the help centre on the main website and an agent will get in touch to offer support.
Nexo Verdict
Nexo is a competitive firm operating within the DeFi world, offering unique, useful financial services to help you get the most from your crypto investments. The firm boasts an array of lending, staking and borrowing features that can be used for more than 25 major tokens. However, the platform does push clients into purchasing its local crypto (NEXO) for better pricing and rewards.
FAQ
Does Nexo Accept UK Clients?
Nexo accepts clients from around the world and supports deposits in over 200 regional currencies.
What Do Nexo Token Holders Vote On?
Nexo token holders can take part in governance votes on issues proposed by the platform. A recent vote was on whether interest should be paid daily or through a yearly dividend.
What Are The Nexo XRP Interest Rates?
Nexo members can earn up to 8% APR on XRP. While there is no XRP interest calculator, this rate is affected by your account level and whether you wish to be paid in local tokens or in-kind.
Is Nexo UK FCA Regulated?
Nexo does not hold a UK regulatory licence but can still be used by UK residents.
What Is The Nexo Token Value?
The Nexo token is just like any other crypto coin and does not have a fixed value. The historical and latest token price can be found on the broker's website or other crypto information sites.
Compare Nexo with Other Brokers
These brokers are the most similar to Nexo:
Swissquote - Swissquote is a Switzerland-based bank and broker that offers online trading and investing. The company has a high safety score and is listed on the Swiss stock exchange. The firm offers a huge range of products, from stocks, ETFs, bonds and futures to 400+ forex and CFD assets. Hundreds of thousands of traders have opened an account with the multi-regulated brokerage. Clients can get started in three easy steps while 24/7 customer support is available to assist new users.
IG Index - IG is an award-winning broker that has an excellent reputation globally. The brand offers spread betting, CFD and forex trading across a comprehensive suite of markets. IG is also multi-regulated, provides a great trading app and has 50 years experience.
Pepperstone - Pepperstone is a leading online broker with over 400,000 clients in more than 175 countries. The top-rated brokerage offers excellent market access, industry-leading platforms in MT4, MT5, TradingView and cTrader, plus low fees with no hidden charges. Pepperstone is also heavily regulated with a high trust score, holding licenses with reputable bodies, including the FCA, ASIC, DFSA, and CySEC.
Nexo Feature Comparison
Nexo Compared With Similar Brokers
Nexo
Swissquote
IG Index
Pepperstone
Rating
3.9
4
4.4
4.8
Markets
Crypto
Forex, Stocks, Commodities
Forex, Stocks, Commodities
Forex, Stocks, Commodities, Crypto
Minimum Deposit
$10
$1000
$0
$0
Minimum Trade
$30
0.01 Lots
0.01 Lots
0.01 Lots
Demo Account
Yes
Yes
Yes
Yes
Regulators
ASIC, FCEN
FCA, FINMA, DFSA, SFC
FCA, ASIC, NFA, CFTC, DFSA, BaFin, MAS, FSCA
FCA, ASIC, CySEC, DFSA, CMA, BaFin, SCB
Bonus
-
-
-
-
Education
No
No
Yes
Yes
Platforms
-
MT4, MT5
MT4
MT4, MT5, cTrader
Leverage
-
1:30
1:30 (Retail), 1:222 (Pro)
1:30 (Retail), 1:500 (Pro)
Visit
Review
Nexo
Review
Swissquote
Review
IG Index
Review
Pepperstone
Review
Trading Instruments Comparison
Comparison of Nexo Trading Instruments

| | Nexo | Swissquote | IG Index | Pepperstone |
| --- | --- | --- | --- | --- |
| CFD | No | Yes | Yes | Yes |
| Forex | No | Yes | Yes | Yes |
| Stocks | No | Yes | Yes | Yes |
| Crypto | Yes | No | No | Yes |
| Commodities | No | Yes | Yes | Yes |
| Oil | No | Yes | Yes | Yes |
| Gold | No | Yes | Yes | Yes |
| Copper | No | No | Yes | Yes |
| Silver | No | Yes | Yes | Yes |
| Corn | No | No | No | Yes |
| Futures | No | Yes | Yes | No |
| Options | No | Yes | Yes | No |
| ETFs | No | Yes | Yes | Yes |
| Bonds | No | Yes | Yes | No |
| Warrants | No | No | Yes | No |
| Spreadbetting | No | No | Yes | Yes |
| Volatility Index | No | No | Yes | Yes |
Nexo vs Other Brokers
Compare Nexo with any other broker by selecting the other broker below.
Popular Nexo comparisons:
Nexo is a crypto trading platform that also acts as a gateway to DeFi crypto functions such as staking, borrowing and lending. The platform supports 60+ crypto tokens, which can be purchased with a fiat on-ramp and traded in 500+ market pairs. The exchange operates a zero-fee policy allowing a set number of completely free withdrawals per month and fee-free trading.