Investing in Gold Bullion
What is Gold Bullion?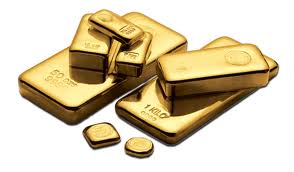 Bullion is a standard form of gold, with a recognised purity and weight. It can be bought as bullion bars or bullion coins, though the purchaser will pay a small premium over the cash price of gold on the international gold markets.
Gold bullion bars are the most common way of investing in bullion, and the standard investment size bar is the London Good Delivery (LGD) bar. These are the bars that most people associate with gold investment: the ones that are kept in vaults at places like Fort Knox and immortalised in films such as The Italian Job and Goldfinger.
At around 400 troy ounces of gold, however, LGD bars are a little out of the reach of the smaller, private investor. So to cater to this demand, there are smaller standard bars of 99.5% pure gold. These come in sizes ranging from 1 ounce to 100 ounces.
Genuine Gold Bars
All bullion bars come stamped with a serial number, the mark of the refiner, confirmation of purity, and commonly the year of manufacture. Investors should never buy bullion bars that do not conform to these basic standards.
How to Buy Gold Bullion
Bars and coins are now available from a wide range of outlets. Increasingly over the last few years, bars have been produced to be sold by banks for investment purposes. The London Bullion Market Association produces a list of accredited gold bar manufacturers' names those producers whose bars are recognised as being produced to investment grade standard.
An investor can buy gold in the form of bullion from national mints, accredited dealers of national mints, or international gold dealers. Increasingly, these international gold dealers are to be found online, and part of the explosion in the gold market has been encouraged by the new accessibility to gold that the internet has fostered.
Choosing a Dealer
As with any big ticket purchase, it is important to ensure that you select the right source of your gold. You should always make sure that the dealer or broker you use has a good reputation. Ask other investors, search forums on the internet, and request information from the dealer or broker directly before parting with your money.
The World Gold Council produces a list of gold dealers in over 25 countries that might help you to choose a dealer. This list is customisable, and the results are viewable as you drill down using selection criteria that includes the country where you wish to purchase, the type of gold you want to invest in and the services that the dealer provides. Importantly, these dealers have not paid to be included on the list, though they do have to pass an application process.
Similarly, if you wish to deal online and internationally, then the selection criteria will be almost identical. Of course cost is a factor – particularly premiums charged and postage if accepting physical delivery – but other areas to bear in mind is the level of service you require and the product range available. Does the dealer offer the bullion product you want? Does he offer delivery and/ or storage facilities? What about insurance, and customer service facilities? You should make a list of what you want your broker/ dealer to offer, and then research accordingly.
Storing gold – what are the options?
If you buy gold bullion and accept delivery, then you will need to store that gold. This might be in the home, in a safe for example, or in the vault or safety deposit box of a bank or dedicated gold storage facility.
Storing your gold incurs costs that need to be considered. There will be the cost of the safe, and installation, and then there's insurance to think about. There will also be transportation or postage costs upon purchase and sale.
If you use a safety deposit box, then you'll be subject to transportation costs and the risk of transporting your gold (theft or loss), as well as a rental fee perhaps in the hundreds each year.
As can be seen, there are many problems associated with taking physical delivery of gold and then self–storage. This is why buyers are increasingly using dealers that offer their own storage facilities, which are often cheaper than available to a retail investor because such dealers pass on to their customers the institutional storage rates that they pay.
Dealers which Store Gold on your Behalf
For the investor who wishes to buy through a dealer that stores his gold for him, such dealers offer two types of account.
The first of these is the unallocated account. Within this category there are two sub-categories, one where the gold you have bought is pooled with the gold of other investors. In such an account the investment is backed by the physical gold, though that gold is not held in the investor's name but rather for 'his benefit', but he will be charged storage costs.
The other type of unallocated account allows the dealer to use the gold for other purposes, such as lending to gold bar manufacturers. It would not be typical practice to be charged for storage in such an account as this.
Then there is the allocated account, where the gold the investor has bought is held separately and in his name. He will have the gold certificated number, serial number, weight and purity assigned to his account. If an investor were to visit the storage facility and held this type of account, he could walk up to the dealer's gold and pick out his actual bullion bar. Storage would be charged, and may be a little higher than for unallocated account holders, but still cheaper than the charges levied by a bank for a single account holder.
Selling Gold Bullion
When it comes to selling, an investor has to remember that to do so will also incur charges. The price received will suffer a discount from the cash gold price, in the same way that he was charged a premium when he first bought his gold. Then there will be postage or transportation costs, and perhaps even other brokerage fees.
The investor who has bought online through a recognised and reputable dealer, and then has used its storage facilities, will usually find that selling his gold is as easy as buying in the first instance. There will still be a discount to the cash price, but there will not be physical delivery charges to pay and storage costs disappear when the gold is sold.
In Conclusion
Whatever your preference for gold bullion investment, whether coins or bars, whether direct dealership, remote, or online, the most important thing to remember is to research the prospective dealer thoroughly before making your final decision. Making a list of your selection criteria will help in this process, as will internet searches and speaking to other investors and even the dealers themselves.
Being aware of the problems and costs involved with bullion purchase, storage, and sale will also focus your mind. This will ensure that you are not only aware of the real costs of investing in bullion, but also the profit potential.
Remember to make sure your bars are the genuine article, with all the necessary stamped markings, and keep all certification documentation. Just like antiques or memorabilia is easier to sell with provenance, so too is gold.
Going through this whole process in a structured manner will help you to select the right investment for you, and the dealer best positioned to work with. And as the relationship with your dealer is likely to be a long one, the importance of this cannot be underestimated.