The World Gold Council
'Our mission is to stimulate and sustain demand for gold and to create enduring value.'
The World Gold Council

Founded in 1987, the World Gold Council (WGC) aims to represent the gold industry and aid investors, industries, and governments with respect to uses and advantages of gold. It is headquartered in London, but also has offices in New York, Hong Kong, Tokyo, and Beijing amongst other locations.
Environmental Issues
The WGC promotes sustainable models for mining and exploration. It works with the leading gold mining companies regarding the management of local environmental concerns, and becomes involved in the integration of mine projects into communities.
Governments and Industry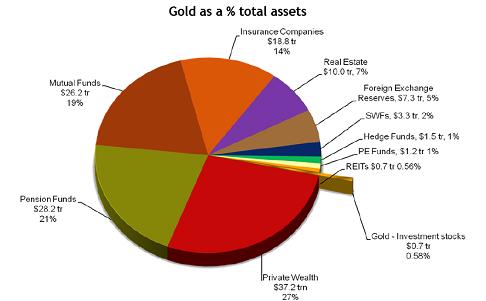 The WGC advices policy makers and law makers on all matters pertaining to gold: whether that is investment, consumer, or industrial. It is often involved in the discussions of reserve asset managers at central bank level, examining optimal allocation of reserves and providing deep level analysis and bespoke training workshops.
It also produces commissioned research for governments and central banks which is then used in assessment and implementation of laws and regulations. This includes investor relations and investment law work aiming to put gold on a level playing field with other investment instruments worldwide.
Finally, because of its standing with governmental and law making bodies, the WGC is able to produce the most up-to-date information on the world's governments' gold reserves.
The WGC actively promotes gold as component commodity in technological advances, and is the authority of choice for discovery of innovative uses for gold. Again it partners with leading industry bodies and companies to produce high level research and development of applications for gold. The WGC site includes an 'interactive town' which gives an insight into the wide use of gold all around us.
The WGC also produces a quarterly gold bulletin aimed at the scientific community. This is an open access publication, and is written with the support of an international advisory panel with the aim of bringing ground breaking scientific advances and technology uses of gold to a wider audience.
The WGC works with universities, leading manufacturers and start-up companies to help drive gold in the technology field, as well as partnering with Springer to publish the Gold Bulletin.
Education and Information
In its work with industry, governments, and investment bodies, the WGC commissions and conducts extensive research. Being at the heart of the gold industry, it has access to information that many others don't. Its reputation in this area continues to grow, and all of the research it produces is available on its site, though much requires WGC subscription and is locked by password.
The WGC has teams covering all concerns for the gold market, and has worked hard in promoting gold as an investment asset:
It helped produce gold ETFs, and actively supports many in their investment aims.
It has also partnered with China's largest commercial bank, ICBC, to create new investment products for the growing investor market in the country.
In India, it has partnered with the Indian Post Office and Reliance Capital to bring easier access to gold as an investment asset.
Investment Partners
The WGC has partnered with several advisory and dealing companies around the world, with the objective of better informing and educating investors and then making gold investment more accessible to all. These partners include market leaders such as BullionVault and State Street Global Advisors.
The WGC website includes a mine of historic and current information, news and views, as well as research on specific themes. Serious gold investors, or those exploring gold as an investment for the first time will find the site incomparable for in depth industry research and analysis.
In Conclusion
The World Gold Council website is easy to navigate and has a clean professional look. It covers more than the average gold site, and is clearly designed to educate and inform about gold: one of the WGC's chief aims.
The information available from the WGC, and its depth of research, is hard to beat.
Once registered on site, access to its research reports and studies is via downloadable pdf files. Registration is a simple process, and takes just a couple of minutes. Best of all, it's free.
For any investor considering gold as a speculative or hedging investment, for governmental advisors and industry leaders, the site should be on the bookmark bar.