Compare the Best UK Gold Dealers 2012/13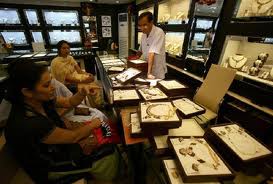 To buy and sell gold, it's important to have access to a dealer that is right for you. There are many different criteria to use when selecting your broker, and the importance placed on each will depend upon your individual circumstances. For example, do you want a wide range of products, or are you only concerned about trading bullion at the best possible price? Will you require physical delivery of your gold, or do you prefer to store in an allocated account for ease and convenience?
There are so many gold dealers available on the high street that it would be impossible to review every single one, and if buying or selling gold through an individual behind a counter is what your circumstances desire, then we would recommend you conduct your own research into your local brokers before doing so.
Here we look at some of the options open to you in today's market for those investors wishing to trade online. Some of these dealers have been established for a long time, whilst others have risen up the ranks in a relatively short period.
Range of Products
There are several dealers who offer a range of products. Tax Free Gold offer a wide range, from bars, coins from around the world, and CGT free products, as do Bullion By Post. The largest range of products, though, is offered by the oldest established firm that we looked at, Baird and Co, who extend their products out to include rings and certain jewellery.
Meanwhile, the narrowest ranges are offered by BullionVault and GoldMoney, both relatively new dealers who deal exclusively in gold bullion investment.
Hours of Service
Tax Free Gold allows customers into its premises in Blackpool during business hours of 10am to 5pm, but only by appointment. Registered users of its site have the same business hours in which to conduct any buying and selling of gold. Baird and Co offer similar trading hours, whilst BullionVault and GoldMoney operate 24 hours per day.
Margins
Whilst margins on gold are only part of the pricing conundrum, they are a major part. Some dealers make their margins known in an open manner, whilst others hide behind the spread of price. For example, on the day we compared gold prices, we looked at the £ price of a gram of gold. GoldMoney were offering a gram at £34.60, £20 cheaper than Tax Free Gold, the most expensive at £54. In fact Tax Free Gold's premiums are up to 50% on smaller gold purchases. However, GoldMoney does allow dealing in nine currencies, where most others only allow a maximum of three currencies (Sterling, Dollars, and Euros).
Bullion By Post's cost on a 1 gram was a middle of the road £43.
BullionVault allows customers to interact on its screen dealing system, and this brings spreads seriously lower. In fact, the average spread on the screen for its bullion gold was just $5 between bid and offer, or 0.15% either side of the spot price of gold.
Postage Costs
For those that want gold delivered for self-storage, Bullion By Post offer next day delivery at no cost within the UK. That's an unbeatable offer.
Tax Free Gold offers delivery at £8, while Baird and Co's charges range between £7.50 and £25 depending upon the amount of gold bought.
BullionVault and GoldMoney will deliver gold, but both aim their offerings at those investors who wish to store their gold with the dealer.
Storage Costs
Most of the dealers discussed offer allocated accounts – where gold is kept in safe storage in named accounts – though fee levels differ markedly. Baird and Co offer an allocated account with what it terms a 'small charge'. This charge works out at £60 per kilo per annum, with a minimum of £175 per annum. Compare that with the 0.18% per annum charge levied by GoldMoney and it works out about the same, though the minimum rate with GoldMoney is only around £64. As a kilo of gold currently costs around £34,000, then for smaller investors GoldMoney is the cheaper option.
The cheapest allocated account, however, is found at BullionVault, which has a charge of 0.12% per annum, with a minimum of $4 (around £2.50) per month.
Website
The quality of websites varies considerably. The Tax Free Gold site has a huge amount of information about individual products, the gold market, and gold history, but is difficult to navigate and looks almost as if it has been printed on an exercise book.
Baird and Co's site is more upmarket, with a black background and a simple navigation bar. The information about the company and its products is easy to get to, and is written in plain English. It is a site that will appeal to many, but particularly customers of a certain age.
GoldMoney is a site made for easy purchase of investment gold. Prices can be easily displayed in the currency of choice, and one-click dealing allows almost immediate dealing into your account. Sales of gold, however, have to be made from your account screen.
BullionVault's site and dealing screen is made for those that actively deal in gold. Not only can a one-click trade be executed, but dealers can actively participate in forming the price by entering buy and sell orders, too. This is the reason that margins are so low at the company. The screen makes you feel like you are part of the market itself, with price changes occurring real time.
Overall
There are pros and cons to all the dealers that we have looked at here. If you want to choose a dealer with the longest track record and a wide range of products, then Baird and Co might be favourite. At the other end of the scale, if you want the excitement of entering your own orders in an active gold market with very low storage costs, then you might decide to open an account with BullionVault.
We've only discussed a few of the factors that might help make your mind up. Service levels, online help, and speed of payment might be other things you want to consider before taking the plunge. During the course of your own research into the gold dealers that would you're your investment style best, remember this: they want your business. Why not open an account – free and with no need to fund – and start your research by gaining full access to each dealer's offering, without obligation?