UK Forex Brokers
Compare the Best UK Forex Brokers
For our full top list of Best Forex Brokers click here!  
The best UK forex accounts are those opened and operated with brokers that provide the best trading conditions for traders within the United Kingdom. They are not only meant for UK citizens, but can be enjoyed by most people across the world if they meet the verification requirements. What are the characteristics of the best UK forex accounts?
1)    The best UK forex accounts are those on which trading can be conducted on a wide array of financial assets. These are accounts that recognize that currencies have correlations with several instruments in different asset classes apart from forex, and that these correlations can be traded for some good money. As such, traders are given a wide choice in terms of the currency assets they can trade. This is typified by Saxo bank which provides trading in 160 forex pairs.
2)    The best UK accounts are those that cater to all categories of traders. There are traders who can afford $50,000 to trade retail forex. There are some who will be hard pressed coming up with five hundred pounds. So do you lock these guys out like the CFTC did in the US with its new margin regulations? It is only fair to allow the low income guys a chance at the big time, taking care to protect them with appropriate regulations that will confine them to the risk they can handle and not locking them out entirely.
3)    The best UK forex accounts are those which conform to the regulatory framework of the Financial Services Authority (FSA). One component of the FSA regulatory framework is the requirement of brokers to ensure that trading capital in UK forex accounts are held in segregated accounts so that any untoward events such as bankruptcies do not affect clients' funds.
4)    The best UK forex accounts are those that have access to solid news reports on which traders can make trading decisions. Even without access to premium news subscription, the news tab on the trader's platform should be able to deliver top quality news releases.
Some providers of the best UK forex accounts are listed below.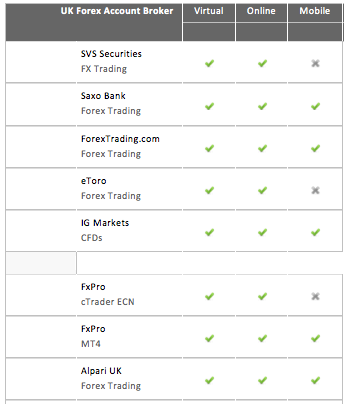 The listed UK forex account providers have been selected based on some of these parameters. Here is what it will take to maintain a UK forex account with these providers.
Alpari UK
Whenever a mention is made of UK forex account providers, Alpari UK is on the list. It has come to be known as the flagship UK forex account provider. Over the years, Alpari UK has expanded the UK forex account types it provides its clients. Now there are micro accounts and special accounts that can be used to exclusively trade other asset classes apart from forex. Another feature of the UK forex account provided by Alpari UK is the capacity of traders to trade micro-lots, especially when using the micro UK forex account. This account can be opened with a minimum account opening balance of $300. However, opening a UK forex account with Alpari UK is a very stringent process, requiring notarization of documents to be presented for account verification.
Saxo Bank
This investment bank is another provider of UK forex accounts. An advantage of using Saxo bank is that traders can get access to an ECN UK forex account. Banks are usually the liquidity providers in an Electronic Communication Network (ECN) environment. However, this account is not for low capital trading. Traders need at least $20,000 to open a UK forex account with Saxo Bank. But if you can afford it, you will enjoy the trading environment. With up to 160 forex pairs up for trading, a UK forex account with Saxo bank is a great place to trade currencies.
FxPro UK
Opening a UK forex account with FxPro UK affords the forex trader one huge advantage: the ability to trade forex on all the smartphone brands available. So whether you own an iPhone or an Android device or even the Blackberry devices, you can use your FxPro UK forex account on any of these devices. Traders can also choose between web-based platforms, the ever popular MT4 retail forex platform or the mobile platforms to trade.
IG Markets
IG Markets has a version of their PureDeal forex/CFD platform built specifically for iPad users. If you have always wanted to be able to trade your UK forex account on your sleek tablet device, IG Markets should come up on your radar.
These brokers listed above provide traders with the best UK forex account trading conditions. With an extensive regulatory framework to protect traders, intending traders can open UK forex account, put money in them and trade with peace of mind, knowing that such funds are very safe and neatly tucked away from the prowling eyes of scammers.