Uphold Review 2023

Uphold is #5 in our rankings of crypto brokers.
Uphold Facts & Figures
Uphold is a digital asset platform offering a range of services, from crypto trading and staking to payment cards that provides rewards and easy multi-currency payments. The company was established in 2015 and has enabled $4+ billion in transactions. Uphold is now active in 180+ countries and deals in 200+ crypto and fiat currencies.
Pros

My tests show that fees are competitive with 26 underlying platforms helping to source the best prices
I have noticed that Uphold is often one of the first platforms to list new crypto tokens
Crypto staking is available on 30+ tokens with above-average rates up to 16%
I am reassured that Uphold is 100% reserved, helping to protect client funds
Over 250 cryptos are available including major tokens like Bitcoin and Ethereum
I think the app is extremely easy to use with a slick design and navigation
UK users can get the Uphold card with up to 2% cashback in XRP
Two-step authentication bolsters user security

Cons

The charting analysis features on the platform trail specialist exchanges
I find the customer service slow with limited contact options
There is a 2.49% fee if you want to use debit or credit cards
Uphold operates with limited regulatory oversight

Instruments
Cryptos
Demo Account

Yes

Min. Deposit
$0
Payments
Min. Trade
$1
MetaTrader 4

No

MetaTrader 5

No

cTrader

No

DMA Account

No

ECN Account

No

Social Trading

No

Copy Trading

No

Auto Trading
Automated crypto trading bots
Mobile Apps
iOS & Android
Islamic Account

No

Commodities

Platinum
Gold
Silver
Palladium
Precious Metals

Cryptocurrency
I found that you can buy and sell 250+ crypto assets with fiat currencies or in crypto pairs using the straightforward mobile app or through Uphold's browser-based account homepage. This is significantly more than many rivals. You can also earn up to 16% APY by staking one or more out of 32 valid tokens, or send tokens to an external wallet.
Coins

BTC
BTCO
AAVE
ALCX
DYDX
INH
XYO
API3
GHST
LSK
AUDIO
GLMR
NMR
CAKE
GODS
REQ
CHR
TRB
DAO
ROOK
XRP
ETH
BAT
ADA
ALGO
ATOM
AVAX
AXS
BCH
BAL
BTG
CSPR
COMP
CRV
DASH
DCR
DGB
DOGE
DOT
EGLD
ENJ
EOS
FIL
FLOW
FTM
GRT
HBAR
HNT
IOTA
LINKLTC
LUNA
MATIC
MKR
NANO
NEO
OMG
OXT
RUNE
SAND
SNX
SOL
SRM
THETA
TRAC
TRX
VET
WBTC
UNI
UPBTC
UPCO2
UPT
XCH
XLM
XTZ
ZIL
ZRX
AR
SPELL
CVX
SHIB
MANA
NEAR
MOVR
NU
QNT
1INCH
BNT
SGB
RAY
LRC
KP3R
SKL
KNC
SUKU
GALA
APE

Spreads
Up to 1.5%
Crypto Lending

No

Crypto Mining

No

Crypto Staking

Yes

Auto Market Maker

No
Risk Warning – Your Capital is at risk
Uphold is a digital asset trading platform and exchange that allows investors to speculate on the DeFi markets with altcoins, stablecoins and fiat money. The broker also offers staking pools, where investors can earn a steady yield on their uninvested cryptocurrencies. This 2023 broker review of Uphold will explore its trading platform, markets, fees and more. Find out whether to sign up with Uphold.
Company History & Overview
Despite only being launched in 2015, Uphold already has over 10 million users and serves more than 184 countries, which shows it has become a sizeable force in the crypto trading industry. To emphasise the point, the platform's current daily transaction volume is over £28 billion.
Simon McLoughlin is the CEO and other senior employees can be found on the website. Uphold Europe Ltd's headquarters are based in London.
The firm is regulated by the Financial Conduct Authority (FCA) but does not receive the same protections as the more traditional brokers. Our experts go into more detail on that further on.
Trading Platform
There is only one investment platform available on Uphold. It is a basic in-house software package that is simple and intuitive but lacks the advanced features and technical analysis tools that more experienced traders may decide is a necessary prerequisite.
Trades can be opened in a single click and there are two main order types, in addition to standard repeat and limit orders. Repeat orders do exactly what they say: repeat the same order at set intervals for a given length of time. These orders are typically used as part of a dollar-cost averaging strategy.
Limit orders allow you to buy or sell an asset at a specified price or better. This means that you do not have to invest as much time actively monitoring the market.
Uphold lets its clients place up to 50 limit orders using the same amount of capital. For example, if you put £1,000 on each of BTC, XRP and ETH (all as linked limit orders) and you only had £1,000 capital in total, if the limit order for BTC was satisfied first the others would automatically fail.
Markets
Uphold is perfect for those wanting access to the more obscure altcoins in addition to the major cryptocurrencies like Bitcoin and Ethereum. There are over 160 cryptocurrencies and stablecoins, as well as three national currencies (GBP, EUR and USD). Examples of the cryptocurrencies and tokens available for trading are as follows:
BTC
XRP
ETH
ADA
DOT
UNI
AAVE
The Uphold trading platform does not offer stock trading, commodities or NFTs to UK customers.
Staking
Staking pools are common in proof-of-stake blockchains, where investors can lend their funds to other users and earn rewards. Investors on Uphold can earn up to 25% by staking crypto, although the crypto market is very volatile and these rates are highly exposed to changes in supply and demand. Slashing penalties are an inherent risk with staking that investors also need to be mindful of. The staking rewards are credited weekly on a Thursday.
Fees
There is zero commission when trading crypto pairs on Uphold, although there is a buy-sell spread, charged in USD. For Bitcoin, the buy spread is 0.85% and the sell spread is 1%. For altcoins, spreads are generally higher. For example, the NEM buy and sell spreads are both 1.25%. Fiat currencies on the other hand have smaller spreads. GBP has a buy-and-sell spread of 0.2%, charged in USD.
Peer-to-peer (P2P) transactions are free if over $100, though the above conversion fees apply if transferring fiat money and you want the recipient to get crypto. P2P transactions involving a transfer from one crypto to another will constitute two separate transactions (one from the original crypto to fiat money and one from fiat money to the new crypto).
A $0.99 fee is charged on transactions between assets where the amount is below $100. There are three exceptions: transactions made using the Uphold Debit Card, an exchange of BAT from a Brave Browser-linked account to fiat or an automated transaction (recurring or limit orders).
Note that some deposit and withdrawal methods have a fee attached (explained in more detail further on) and network fees may be applicable for crypto withdrawals, which are passed on to the Uphold client.
When staking, there is usually a 15% fee on any rewards but a current promotion has waived this fee for a temporary period.
Uphold Leverage
There is no leverage or margin trading on Uphold, meaning investors are unable to gain additional exposure for a given amount of capital. That said, the ability to implement up to 50 limit orders simultaneously with a given amount of capital is an innovative way of making your money go further (although this is not classed as trading on the margin).
Mobile Trading
Uphold offers a mobile app that is available on Apple (iOS) and Android (APK) devices. A review of the app found that it has all the main tools available on the web platform, including the ability to make trades, monitor the market and transfer funds from wallets. Like the web platform, the mobile app is intuitive and perfect for beginners or those who enjoy trading on the go.
Payment Methods
Deposits
The following deposit options are available to Uphold customers:
Apple Pay – 2.49% fee per deposit. £10 minimum deposit and £500 per day or £10,000 per month maximum limits
Google Pay – 2.49% fee per deposit. £10 minimum deposit and £500 per day or £10,000 per month maximum limits
Debit Card – 2.49% fee per deposit. £10 minimum deposit for non-US customers, as well as a £500 per day and £10,000 per month maximum deposit
Crypto Wallet – no fees or minimum deposit
Bank Transfer – no fees or minimum deposit
Note that credit cards are not supported in the UK or Europe.
Withdrawals
Withdrawals are free when making a UK bank transfer (£10 minimum and £25,000 maximum withdrawal). For crypto withdrawals, there are usually fees (or network fees that are passed on) and minimum withdrawal amounts:
LTC – 0.003 LTC withdrawal fee and 0.25 LTC minimum withdrawal
BTG – 0.0003 BTG withdrawal fee and 0.0001 BTG minimum withdrawal
BTC – 0.0003 BTC withdrawal fee and 0.00001 BTC minimum withdrawal
BCH – 0.0003 BCH withdrawal fee and 0.00001 BCH minimum withdrawal
Those trading on Uphold are not subject to any limits on crypto withdrawals. Processing times vary, particularly when withdrawing crypto as efficiency is dependent on blockchain traffic.
Uphold Demo Account
Although there is no official demo account, the Sandbox Environment can be used to test strategies using virtual BTC funds. However, the Sandbox Environment is mainly designed for testing applications built on top of the Uphold platform. Applications can be connected using an API.
Bonuses & Promotions
The only promotion currently advertised on Uphold is a 0% staking commission. This is a lucrative offer as the usual staking reward fee is a hefty 15%.
Regulation
Our team found the crypto exchange to be regulated by the FCA as an EMD Agent of an Electronic Money Issuer. Although the FCA is a reputable regulatory authority trusted by brokerages and trading platforms around the world, it is important to note that Uphold's regulatory status does not bring with it protection under the UK Financial Services Compensation Scheme or the UK Financial Ombudsman Service.
Account Types
Only individual and business account types are available on Uphold. Retail traders, therefore, do not get a choice of account type, although this does keep things simple and makes the fee structure less complex. The key difference between an individual and a business account is that the fees charged depend on the volume traded for a business account.
How To Invest On Uphold
1) Open An Account
A trading account can be opened with Uphold in fewer than three minutes. In addition to some personal details, investors will need to provide basic financial information, such as salary and type of employment. Your email address will also need to be verified by clicking a link sent to it. Once complete, your login details should be ready to use to sign in.
2) Complete Verification
Before you can deposit funds and begin trading, investors will need to verify their identity. This involves providing your address, a valid form of a photo ID and a selfie.
3) Deposit Funds
The next step is to deposit funds, which can be done using a debit card, Apple Pay, Google Pay, bank transfer or a crypto wallet. Payment methods can be added on both the mobile app and web platform. Clients will also need to decide what type of wallet they wish to store their cryptocurrency in (hot or cold). There are many external providers but a review of Uphold's own wallets found that they have options for multiple cryptos (including Bitcoin, Ethereum, Ripple, Litecoin and Bitcoin Cash). Around 90% of the firm's crypto is held in cold storage and Uphold stores the security keys.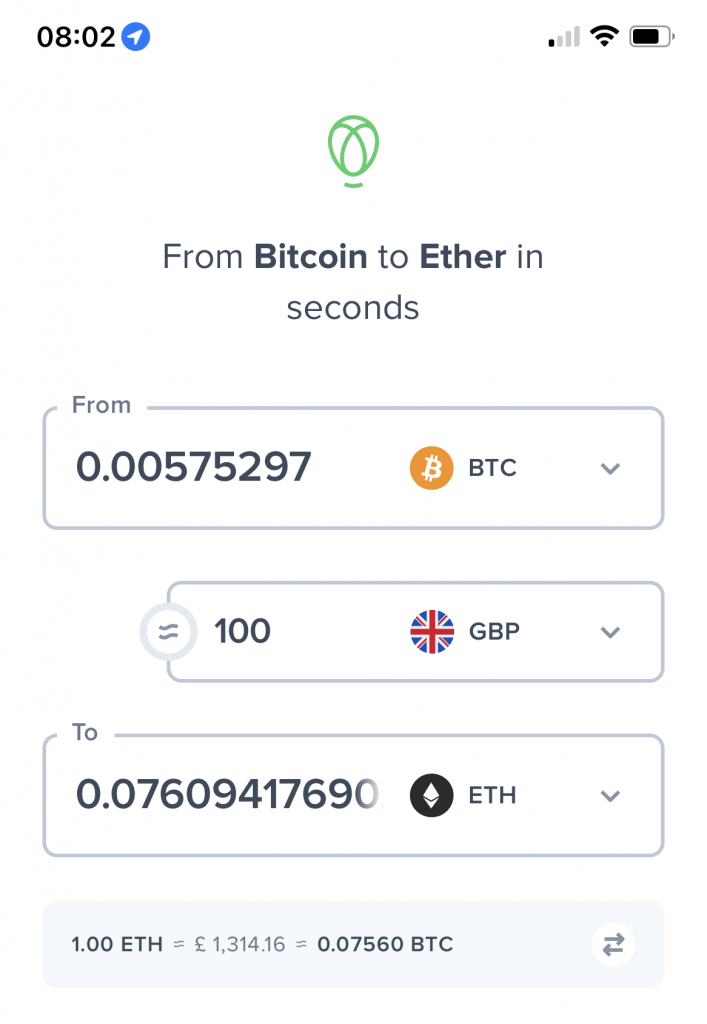 4) Open A Position Or Stake Crypto
Trading can be done in just a few clicks. Although there are limited advanced technical analysis features (important for short-term strategies like day trading and swing trading), the newsletter and blog both provide useful insight into the market. Make use of limit orders and, if appropriate, repeat orders. Although this is not fully automated trading through a bot, it does reduce the input required from the investor. Those wanting to invest less time in the markets or who have uninvested crypto may want to stake their tokens and earn a steady interest.
Benefits Of Uphold
When we used Uphold, we found several key advantages:
FCA-regulated
Zero commission
Intuitive platform
High staking yields
Simple sign-up process
Good staking commission bonus
Drawbacks Of Uphold
While using Uphold, our experts also found several disadvantages:
No FSCS protection
Customer support is limited
Spreads can be high on altcoins
Limited technical analysis tools
Additional Features
Investors seeking market insight and analysis should sign-up for Uphold's daily newsletter. Whether you are unable to allocate the time needed to keep checking the market or you are afraid you may have missed something, the newsletter is a good way around these problems.
The website's blog section covers topics such as the Ethereum merge and there is also a separate news section, which pulls content from other media outlets. Beginners may find the 'cryptionary' useful, which is essentially a glossary of trading terms related to the world of cryptocurrency.
Investors implementing a dollar-cost averaging strategy will find a calculator available on the exchange's website that shows how much your crypto holdings would have grown (or shrunk) in a given period – all you have to do is enter the size of your deposits and the time intervals. It can also help show the potential of this strategy to new investors.
Trading Hours
The crypto market is open 24/7. One of its main strengths is that it is decentralised and not controlled by any particular institution or government. A natural result of this is that there are no opening or closing times on Uphold for UK or international customers.
Customer Support
Technical issues like if trading has been halted or any general enquiries about the platform can require human assistance. Unfortunately, customer support at Uphold is limited. There is no contact number, live chat or email. The only way for clients to get in touch with the broker is through an online contact form. The FAQs partly compensate for this.
Security
Uphold never lends out your money and has a current reserve status of 102.2%. That said, customer funds are not protected by the FSCS, meaning investor deposits could be at risk in the event of insolvency.
The trading platform has adopted a range of measures to protect against malicious attacks including encryption, the 24/7 Uphold Securities Operation Centre and routine security audits. The bug bounty program can reward investors for identifying a vulnerability in the system, thereby incentivising users to make reports so that the platform's security is strengthened.
2-factor authentication can be activated for personal account security. For card transactions, Uphold is certified to PCI/DSS requirements to ensure payments are completed safely.
Should You Trade With Uphold?
Although the spreads at Uphold are not insignificant, zero commission on crypto investing will certainly appeal to many clients, as will the high potential staking rewards on offer. However, the strongest aspect of this firm is its simplicity and the ease with which you can trade almost 'anything to anything' within the world of cryptocurrencies.
FAQ
Is Uphold A Trading Platform?
Yes. Uphold is a cryptocurrency trading platform with its approach being that investors should be able to trade 'anything to anything'.
Is XRP Still Trading On Uphold?
Yes. XRP is available with the Uphold exchange for investors to buy and sell.
What Is An Altcoin On Uphold?
Altcoin is a combination of the words 'alternative' and 'coin'. The term is usually used to refer to all cryptocurrencies that are not Bitcoin.
Is Uphold A Brokerage Account?
Uphold is a trading platform that can also be classed as an exchange or a firm that offers broker services. It allows users to trade and invest in cryptocurrencies and DeFi products.
Which Is Better For Uphold: A Cold Wallet Or A Hot Wallet?
Both cold and hot wallets have their pros and cons. The main benefit of a cold wallet is its security as the funds are stored offline. While hot wallets are less secure, they are usually more easily accessible.
Compare Uphold with Other Brokers
These brokers are the most similar to Uphold:
IG Index - IG is an award-winning broker that has an excellent reputation globally. The brand offers spread betting, CFD and forex trading across a comprehensive suite of markets. IG is also multi-regulated, provides a great trading app and has 50 years experience.
Swissquote - Swissquote is a Switzerland-based bank and broker that offers online trading and investing. The company has a high safety score and is listed on the Swiss stock exchange. The firm offers a huge range of products, from stocks, ETFs, bonds and futures to 400+ forex and CFD assets. Hundreds of thousands of traders have opened an account with the multi-regulated brokerage. Clients can get started in three easy steps while 24/7 customer support is available to assist new users.
Pepperstone - Pepperstone is a leading online broker with over 400,000 clients in more than 175 countries. The top-rated brokerage offers excellent market access, industry-leading platforms in MT4, MT5, TradingView and cTrader, plus low fees with no hidden charges. Pepperstone is also heavily regulated with a high trust score, holding licenses with reputable bodies, including the FCA, ASIC, DFSA, and CySEC.
Uphold Feature Comparison
Uphold Compared With Similar Brokers
Uphold
IG Index
Swissquote
Pepperstone
Rating
3.4
4.4
4
4.8
Markets
Commodities, Crypto
Forex, Stocks, Commodities
Forex, Stocks, Commodities
Forex, Stocks, Commodities, Crypto
Minimum Deposit
$0
$0
$1000
$0
Minimum Trade
$1
0.01 Lots
0.01 Lots
0.01 Lots
Demo Account
Yes
Yes
Yes
Yes
Regulators
-
FCA, ASIC, NFA, CFTC, DFSA, BaFin, MAS, FSCA
FCA, FINMA, DFSA, SFC
FCA, ASIC, CySEC, DFSA, CMA, BaFin, SCB
Bonus
-
-
-
-
Education
No
Yes
No
Yes
Platforms
-
MT4
MT4, MT5
MT4, MT5, cTrader
Leverage
-
1:30 (Retail), 1:222 (Pro)
1:30
1:30 (Retail), 1:500 (Pro)
Visit
Review
Uphold
Review
IG Index
Review
Swissquote
Review
Pepperstone
Review
Trading Instruments Comparison
Comparison of Uphold Trading Instruments

| | Uphold | IG Index | Swissquote | Pepperstone |
| --- | --- | --- | --- | --- |
| CFD | No | Yes | Yes | Yes |
| Forex | No | Yes | Yes | Yes |
| Stocks | No | Yes | Yes | Yes |
| Crypto | Yes | No | No | Yes |
| Commodities | Yes | Yes | Yes | Yes |
| Oil | No | Yes | Yes | Yes |
| Gold | Yes | Yes | Yes | Yes |
| Copper | No | Yes | No | Yes |
| Silver | Yes | Yes | Yes | Yes |
| Corn | No | No | No | Yes |
| Futures | No | Yes | Yes | No |
| Options | No | Yes | Yes | No |
| ETFs | No | Yes | Yes | Yes |
| Bonds | No | Yes | Yes | No |
| Warrants | No | Yes | No | No |
| Spreadbetting | No | Yes | No | Yes |
| Volatility Index | No | Yes | No | Yes |
Uphold vs Other Brokers
Compare Uphold with any other broker by selecting the other broker below.
Popular Uphold comparisons:
Uphold is a digital asset platform offering a range of services, from crypto trading and staking to payment cards that provides rewards and easy multi-currency payments. The company was established in 2015 and has enabled $4+ billion in transactions. Uphold is now active in 180+ countries and deals in 200+ crypto and fiat currencies.