Bitcoin Binary Options
Bitcoin binary options combine two financial components that have grown in popularity in the last decade. They offer portfolio diversification from more common trading assets and good returns for a low amount of capital. Of course, there are benefits and drawbacks to this style of investing, and profitability can vary based on your strategy. Use this detailed guide to learn how to trade bitcoin binary options. We also list the top BTC binary options brokers in 2023.
Bitcoin Binary Options Brokers
Pocket Option offers short term binary options on a user-friendly platform with competitive payouts of 90%+. Over 130 assets are available with fee-free deposits and withdrawals. Joining bonuses are also available to new users.

Crypto Coins


IQCent offers binary options on forex, stocks, cryptocurrencies and commodities with high payouts up to 98%. The broker uses a proprietary platform with advanced analysis tools and traders can choose contract timeframes ranging from 5 seconds to months, appealing to both short and long term traders.

Crypto Coins


Videforex binary options are available from 20% payouts on crypto up to 98% payouts on less volatile assets, beating many competitors. A wide range of contract lengths are also supported from 5 seconds up to 1 month. New users will appreciate the welcome deposit bonus.

Crypto Coins


BTC
ETH
QUANT
UNI
SOL
BNB
DOGE
XRP
XMR
MATIC
USDT

Dukascopy offers binary options on currency pairs, stocks and indices, alongside powerful trading tools and market insights. User gets flexible contract sizes and deposits are protected by EU law, though the $1000 starting investment is higher than alternatives.

Crypto Coins


BTC
ETH
LTC
BCH
XLM
DSH
EOS
TRX
ADA
UNI
LNK
MAT
AVE
MKR
CMP
ENJ
YFI
BAT

AZAforex offers binary options with time-dependent payouts that can be taken out on any asset included as a CFD or spot instrument. Over 50 binary options are available with a $1 minimum stake and payouts up to 190%.

Crypto Coins


BTC
BCH
DASH
ETH
LTC
USDC
USDT
XMR
XRP

Focus Option offers binary options trading on 140+ instruments including forex, cryptocurrencies, commodities, indices and company shares. Contracts include 30 seconds, 1 min, 2 mins, 5 mins, 15 mins, 30 mins, 1 hr, end of day, and long-term contracts up to 30 days. Decent payouts typically climb to 95%. The browser-based platform is beginner-friendly with sophisticated analysis tools.

Crypto Coins


BTC
ETH
XRP
USDT
BTC
LTC
ADA
AAVE
ATOM
DOGE
KSM
CRO
THETA
LINK
YFI
YCC
MATIC
RUNE
SOL
MANA
MIOTA
XMONEY
XMR
SUSHI
BAT

CloseOption offers binary options trading on 30+ fiat and digital currencies through an easy-to-use web-based platform. 15 contract timeframes are available from 30 seconds to 1 month, suiting both short-term and long-term traders. New users also get a joining gift.

Crypto Coins


World Forex offers binary options where you simply decide the stake, price direction and contract timeframe. The payouts are high at up to 100% on American contracts and 85% on European, which also offers a partial refund to traders who close contracts before expiry.

Crypto Coins


BTC
DSH
LTC
ETH
ZEC
XRP
BCH
XMR
EOS
NEO

GC Option offers beginner-friendly binary options with 86% payouts and opportunities on forex, metals and cryptocurrencies. The broker stands out for its market-leading trading software and access to short-term opportunities with contracts spanning 60 seconds to 48 hours.

Crypto Coins


RaceOption offers 100+ binaries with decent payouts up to 95% and ultra-fast expiries from 5 seconds. With a $250 minimum deposit, clients can enjoy free deposits, fast withdrawals and a range of trading bonuses.

Crypto Coins


BinaryCent provides binary options trading on a range of markets through a slick proprietary platform. Traders can invest as little as $0.10 per trade and earn payouts up to 95%, and these are excellent terms that accommodate casual and low-capital traders while allowing profit opportunities.

Crypto Coins


ZEC
XRP
XMR
SAN
OMG
LTC
BTC
IOT
ETH
ETC
EOS
DSH
Bitcoin Binary Options Explained
Before learning how to trade binary options in bitcoin, it's important that you understand how the key components of bitcoin and binary options trading function individually.
Bitcoin
Today, bitcoin (BTC) is recognised as the first major cryptocurrency to be traded on a large scale. Bitcoin was born as a data set housed on a blockchain. Blockchains are the basis for all the crypto coins currently traded and are essentially an encrypted transaction log that is highly secure. All trades are verified by users also known as miners who earn bitcoin for validating the encrypted transactions. As an alternative to bitcoin mining, a more common way to earn bitcoin is to trade the coin.
As with all cryptocurrencies, bitcoin is volatile in nature and its price can fluctuate significantly. When it comes to binary options vs bitcoin, binary options can offer a more stable and manageable style of trading than simply purchasing the bitcoin asset itself.
Binary Options
Binary options operate on a simple yes or no proposition. The components of binary options such as expiry times, profits and costs are all fixed, which means that there is no scope for incremental gains or losses.
Binary options are available on many different asset types including crypto, stocks, commodities, forex and many other financial instruments.
In a typical binary options trade, the investor will enter an agreement with the broker that an asset will reach a certain price. The trader can buy either 'call' or 'put' options depending on whether they believe the asset will rise or fall. If the investor's judgment was right, then their trade will close 'in the money' and they receive a payout.
Bitcoin Binary Options Example
In bitcoin binary options trading, BTC is the underlying asset. Trading the asset is a "bet" on whether or not bitcoin's market price will increase or decrease by the time of expiry. The timeframe for expiry can range from short-term periods such as 30 seconds all the way up to several weeks, which would be more aligned with swing trading.
Below is a worked example:
A new crypto investor believes that bitcoin is overpriced and the value of the token will fall from its open price of $50,0000 down beyond $45,000 before the end of the day. Therefore, the trader buys 10 'put' bitcoin binary options which cost $10 per option, making a total investment of $100 due to expire at 11 pm. At the time of expiry, bitcoin is trading at $44,999 and the investor receives a payout as the trade has finished 'in the money.'
When trading bitcoin binary options, brokers are essentially acting as bookmakers and trading this asset class is betting against the bookmaker. All brokers need to make a profit to stay in business, and therefore a solid success rate is required to offset the chances of losses.
Using Bitcoin Binary Options To Hedge
Bitcoin binary options can also be used to hedge positions on other binary options or different asset classes. Traders can buy bitcoin binary options which will expire in the money if the price of an asset moves in the opposite direction of their other position.
For example, a trader may buy some 'call' bitcoin binary options when they have a short position on BTC itself. If the price of the coin falls then the trader is in the money with the short and out of the money with the options.
Conversely, if the price of the cryptocurrency rises, then the trader is in the money with the binary options and out of money on the short.
In both scenarios, the outcomes have been hedged to reduce the impact of any loss. Note, brokers may not permit traders to enter into contradicting positions, so investors may need to open accounts on several platforms.
Benefits of Bitcoin Binary Options Trading
There are several advantages to trading bitcoin binary options:
Easy To Track – Bitcoin binary options are restricted to a yes/no outcome, which means that there is no need for traders to regularly monitor their position.
24-hour Trading – Bitcoin and other cryptocurrencies are available to trade at all times. Similarly, most broker's bitcoin binary options platforms will be open to trade at any hour.
Various Timeframes – Investors can choose the expiration time and date of the option they wish to buy from the broker. Traders can adapt the binary option to suit their style and time commitments.
Small Investment Requirement – When you buy bitcoin binary options instead of buying bitcoin itself, the financial commitment is much lower. Rather than having to buy large amounts of a volatile asset, with binary options the trader simply pays a small premium on each trade.
Known Risk – If a binary options trade expires unsuccessfully, the losses are limited to the premium paid on the option. Unlike other asset classes, there is no risk of a margin call. Importantly, traders cannot lose more than what they paid for the option.
Drawbacks of Bitcoin Binary Options Trading
There are also some disadvantages to trading bitcoin binary options:
Limited Number Of Brokers – Not all brokers offer bitcoin binary options. Therefore, some investors may have to sign up to multiple brokerages if they wish to build a diverse portfolio.
Fixed Profits – The gains that can be realised from bitcoin binary options are fixed. The payout will never exceed what the trader agreed with the broker when buying the option. Unlike other asset classes, there are no incremental gains if the price goes higher than the expiration value.
High Risks – bitcoin binary options payout rates can vary depending on which broker you trade with. Low payout rates such as 60% or less mean that traders would need to have a high success rate in order to make bitcoin binary options trading viable. Some of the top bitcoin binary options brokers will offer much higher payouts, however the likelihood of a trader winning such bets is significantly lower.
How to Start Bitcoin Binary Options Trading
1. Choose a Broker
Some traders may already have signed up with a broker that offers bitcoin binary options. If not, there are some key factors to consider:
Deposit & Withdrawal Methods
The best brokers offer a range of deposit and withdrawal methods that are affordable, secure and processed quickly. Most bitcoin binary options deposits and withdrawals can be made via debit cards, PayPal and many other forms of payment. Some brokers will even accept bitcoin itself.
Fees
High fees or charges can severely impact your profit margins. Most brokers will be transparent about their fee structure and what charges apply. You should consult the brokerage's website before signing up, or ask any questions you have via the live chat service. Alternatively, see our broker reviews where we break down premiums and account charges.
Security & Regulation
When investing personal capital, ensuring that your funds are protected and secure is essential. Be wary of fraudulent companies pretending to be brokers that steal the deposits of bitcoin binary options traders. To protect yourself, be sure to verify that the broker is genuine by reading reviews or checking whether the broker is regulated by a reputable body such as the FCA.
Note, the UK regulator has clamped down on binary options trading platforms so investors may need to sign up with an offshore provider.
Other Features
Certain crypto binary options brokers will offer additional features like demo accounts, trading signals, educational resources, bonuses and other asset classes. Most brokers will provide this information on their website, and you should compare a few different providers to find the right provider for your needs.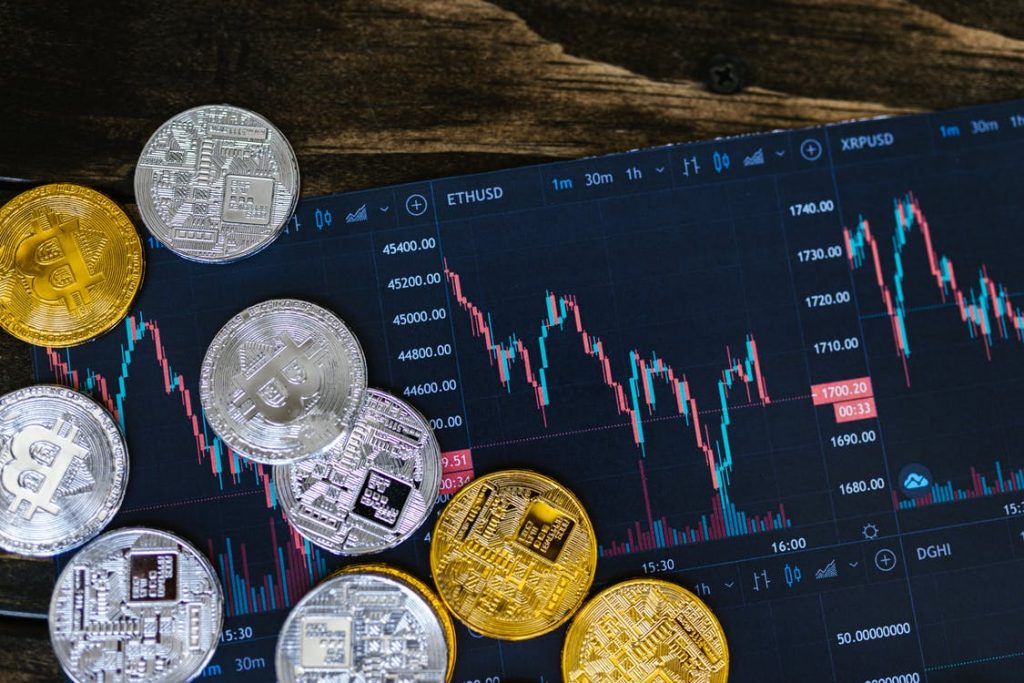 2. Fund Your Account
Once you've signed up with your chosen broker, it's important to be prepared with funds in your account. Like all cryptocurrencies, bitcoin is a volatile asset and you may need to move quickly to capitalise on sudden price movements.
3. Choose a Strategy
There are a variety of different contracts that traders can enter with brokers when trading bitcoin binary options. These include:
Touch/No Touch – If bitcoin reaches a certain price before the expiry time, then the trade is closed out immediately and the trader receives a payout.
Under/Over – This is the most common binary options contract: the trader's bet with the broker is based on whether bitcoin's price will be under or over a certain price at the expiration date.
Boundary Options – The trader and the broker agree on a price range, and a bet is made on whether or not the trader thinks that bitcoin's price will expire inside or outside of the range. Boundary options are also known as "in/out" or "tunnel" options.
Ladder – With this binary option, the price of bitcoin must hit multiple incremental strike prices which are increasing or decreasing in value. Because of the price targets that must be reached, the payout on these contracts is typically higher than other contract options.
Note, not many bitcoin binary options brokers will offer all of these contracts. 
4. Enter The Market
Once you have funded your account and chosen your strategy, you are ready to trade. All strategies should be supported by your research and technical analysis. Being up to date with the latest market developments and bitcoin news stories will aid your decision-making process significantly. You should also implement risk management techniques in order to limit your potential losses and trade responsibly.
Should You Trade Bitcoin Binary Options?
Bitcoin binary options offer a unique and diverse way to trade cryptocurrency. Trading bitcoin binary options is easy to understand, highly accessible, and does not require a significant financial investment. While traditional bitcoin trading is risky due to the volatility of the asset, binary options are fixed to a time-limited yes or no outcome which helps to reduce the risk for investors.
FAQ
What Are Bitcoin Binary Options?
Bitcoin binary options combine cryptocurrency trading with binary options bets. Traders enter a contract with the broker which sets out whether or not the trader believes the price of bitcoin will reach a certain price by an agreed expiry date.
Which Are The Best Bitcoin Binary Options Platforms?
Are Bitcoin Binary Options A Good Investment?
The payouts offered by brokers on bitcoin binary options investments can often be as low as 70%. The returns are not particularly lucrative if the likelihood of the trade expiring in the money is also very high. That being said, traders with strong bitcoin market experience may see good returns.
Is Bitcoin Binary Options Trading Safe?
Some traders have reported being scammed out of their deposits by fraudulent platforms. Traders should always read reviews before committing funds. See our list of trusted bitcoin binary options brokers to get started.