Tepid Jobs Report Reduces Likelihood of Fed Rate Hike
September 13, 2016
Tepid Jobs Report Reduces Likelihood of Fed Rate Hike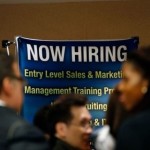 Following a lackluster job creation report issued by the US Department of Labor on Friday, many analysts now believe that an interest rate hike on the part of the Federal Reserve has become less likely. The potential rate hike was believed to be a likely outcome of September's meeting of the Federal Reserve Board.
The report, which covered employment data for the month of August, showed that 151,000 jobs were added, excluding employment in the agricultural sector. Though still significant, this growth fell considerably behind the job creation seen in the previous two months. In June and July, more than 250,000 jobs were created per month, raising the 12 month average job creation rate to roughly 204,000 jobs per month. Hourly wage increases were also a lackluster metric within the Labor Department's report.
This may delay plans for an interest rate hike that has been discussed by the Federal Reserve Board. Though the US central bank has long discussed the need to return interest rates to a more normal level, it has also repeatedly put off such measures in response to tepid economic data, such as August's jobs report. Given the extreme caution that the Fed has taken with the concept of raising interest rates over the past two years, the introduction of the August jobs report may be enough to convince the US central bank to once again hold off on raising interest rates.
Despite this caution and the long-term application of low interest rates, both of which have been criticized by many economists, Federal Reserve Chairwoman Janet Yellen acknowledged in an address last month the need for interest rates to return to more normal levels. According to Yellen, if future Fed leaders kept interest rates at their artificially depressed levels for long enough, they could "encourage excessive risk-taking and so undermine financial stability." This statement echoes the concerns of many economists who have spoken out against global low and even negative interest rates as a factor that may contribute to future recessions.