Ferrari Stock Rallies After George Soros Buys
February 23, 2016
Ferrari Stock Rallies After George Soros Buys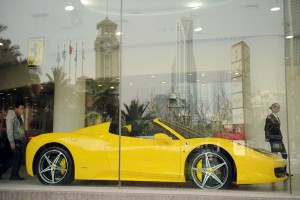 Stock in high-end Italian automaker Ferrari (RACE) rallied on Tuesday after a disclosure by hedge fund billionaire George Soros that he had purchased a significant stake in the company. Earlier in February, lackluster earnings reports for the fourth quarter had sent the stock to its lowest point yet at $34.03 per share.
Mr. Soros is known to have purchased a share of 0.45 percent interest in the luxury automobile manufacturer, a move that restored investor confidence and caused an 8 percent increase in stock prices. By the close of trading on Friday, shares of Ferrari had made up much of their lost ground, returning to $38.49 per share on the NYSE. This, however, was still far short of the initial price that shares commanded during the company's 2015 IPO. At that time, shares of Ferrari traded for $52 per share.
The reasons for the decrease and consistent analyst caution about the stock have been many. A major component of the concern over future Ferrari profitability is the fact that the company went public in the middle of an economic slowdown, a period in which luxury vehicle sales are unlikely to perform well. This was especially true in China, where Ferrari sales fell by more than 10 percent for the year in total. Increased competition from fellow Italian automaker Maserati, also a subsidiary of the Fiat Chrysler parent corporation, has caused sales projections for the 2016 year to be lower than originally expected at the time of Ferrari's IPO.
Even with Soros' new vote of confidence for the company, many analysts have remained cautious about the stock and its ability to produce results in the short to mid-term. Investment groups including Citigroup and Evercore ISI have maintained that the stock will likely not have large gains in 2016. For those who would consider investing in Ferrari in the current market, it is clearly a stock best thought of as a long-term holding. However, the purchase of a large number of shares by an investor as prominent and successful as Mr. Soros certainly indicates that the stock may have long-term potential for profit, even if it does not perform as well as originally expected in the immediate future. Overall, the current outlook for the stock seems to gear it best toward investors with a medium tolerance level for risk and a long-term outlook, as the company has proven its ability to cope with changing market conditions over the past several decades.