Binary Options Scams
Binary options scams catch out a long list of aspiring traders every year. It is all too easy to be drawn to attractive advertisements and trading systems promising large profits for a small capital outlay. In this article, we review common binary options trading scams in 2023. We also explain what you can do if you get scammed and share tips for avoiding fraudulent brokers.
See our list of trustworthy binary options brokers below to start trading today.
Binary Options Brokers UK
Pocket Option offers short term binary options on a user-friendly platform with competitive payouts of 90%+. Over 130 assets are available with fee-free deposits and withdrawals. Joining bonuses are also available to new users.

IQCent offers binary options on forex, stocks, cryptocurrencies and commodities with high payouts up to 98%. The broker uses a proprietary platform with advanced analysis tools and traders can choose contract timeframes ranging from 5 seconds to months, appealing to both short and long term traders.

Videforex binary options are available from 20% payouts on crypto up to 98% payouts on less volatile assets, beating many competitors. A wide range of contract lengths are also supported from 5 seconds up to 1 month. New users will appreciate the welcome deposit bonus.

Dukascopy offers binary options on currency pairs, stocks and indices, alongside powerful trading tools and market insights. User gets flexible contract sizes and deposits are protected by EU law, though the $1000 starting investment is higher than alternatives.

AZAforex offers binary options with time-dependent payouts that can be taken out on any asset included as a CFD or spot instrument. Over 50 binary options are available with a $1 minimum stake and payouts up to 190%.

Focus Option offers binary options trading on 140+ instruments including forex, cryptocurrencies, commodities, indices and company shares. Contracts include 30 seconds, 1 min, 2 mins, 5 mins, 15 mins, 30 mins, 1 hr, end of day, and long-term contracts up to 30 days. Decent payouts typically climb to 95%. The browser-based platform is beginner-friendly with sophisticated analysis tools.

CloseOption offers binary options trading on 30+ fiat and digital currencies through an easy-to-use web-based platform. 15 contract timeframes are available from 30 seconds to 1 month, suiting both short-term and long-term traders. New users also get a joining gift.

World Forex offers binary options where you simply decide the stake, price direction and contract timeframe. The payouts are high at up to 100% on American contracts and 85% on European, which also offers a partial refund to traders who close contracts before expiry.

GC Option offers beginner-friendly binary options with 86% payouts and opportunities on forex, metals and cryptocurrencies. The broker stands out for its market-leading trading software and access to short-term opportunities with contracts spanning 60 seconds to 48 hours.

RaceOption offers 100+ binaries with decent payouts up to 95% and ultra-fast expiries from 5 seconds. With a $250 minimum deposit, clients can enjoy free deposits, fast withdrawals and a range of trading bonuses.

BinaryCent provides binary options trading on a range of markets through a slick proprietary platform. Traders can invest as little as $0.10 per trade and earn payouts up to 95%, and these are excellent terms that accommodate casual and low-capital traders while allowing profit opportunities.
How Binary Options Scams Work
£87,000 is lost to victims of binary options scams every day in the UK, according to Action Fraud. Misleading trading systems often advertise themselves as a simple and low-risk method of getting rich quickly. With promises of regular profits, fraudulent platforms typically draw in customers via social media messaging, advertisements and cold calling.
It is, unfortunately, not difficult to find scammers abusing platforms such as Instagram, by showing off expensive cars and clothes and offering to teach people their trading secrets for a fee. In reality, they often just take the money and run.
Types Of Binary Options Scams
Portfolio Management
One of the more common types of binary options scams involves a supposed portfolio manager. Someone presenting themselves as a professional trader controls investments on your behalf. You may be asked to make a deposit to a broker who will then execute binary options trades, promising returns at a guaranteed rate.
You may even be shown doctored images to show how well your portfolio is doing and encouraging you to invest more. When clients request their funds to be withdrawn, however, the broker either avoids the request or does not respond at all.
TB Options Limited is an example of a binary options scam that fraudulently promised a portfolio management service. The brokerage offered to make investments on its clients' behalf after an initial investment of £5,000, yet never permitted withdrawals. Over the course of its operations, TB Options Limited scammed customers out of a staggering £475,000.
Hidden Fee Structures
Dubious online brokers, who offer binary options trading, present themselves as being safe and reliable, with a slick, professional website, but often the information on how fees are charged is hidden or not available at all. Additionally, there may be exceedingly high minimum withdrawal limits.
Hidden in the terms and conditions can also be clauses stating that clients can only transfer funds back to their bank account after generating a profit equal to 20 or 30 times the initial deposit.
Unrealistic Advertisements
Tantalising advertisements promote binary options trading scams on social media and online forums. You may be contacted on Instagram, Twitter, Facebook or other messaging sites with claims of guaranteed returns if you trade with a certain broker.
Be aware of any advertisement that includes the term 'no risk'  or 'free money' because no strategy or trade is ever without risk or totally free of charge. An example of this is Magnum Options, a fraudulent broker which contacted potential clients through social media with an advertised, impressive 81% return rate. But after depositing funds, clients were not allowed to process a withdrawal. In total, customer losses exceeded three-quarters of a million pounds.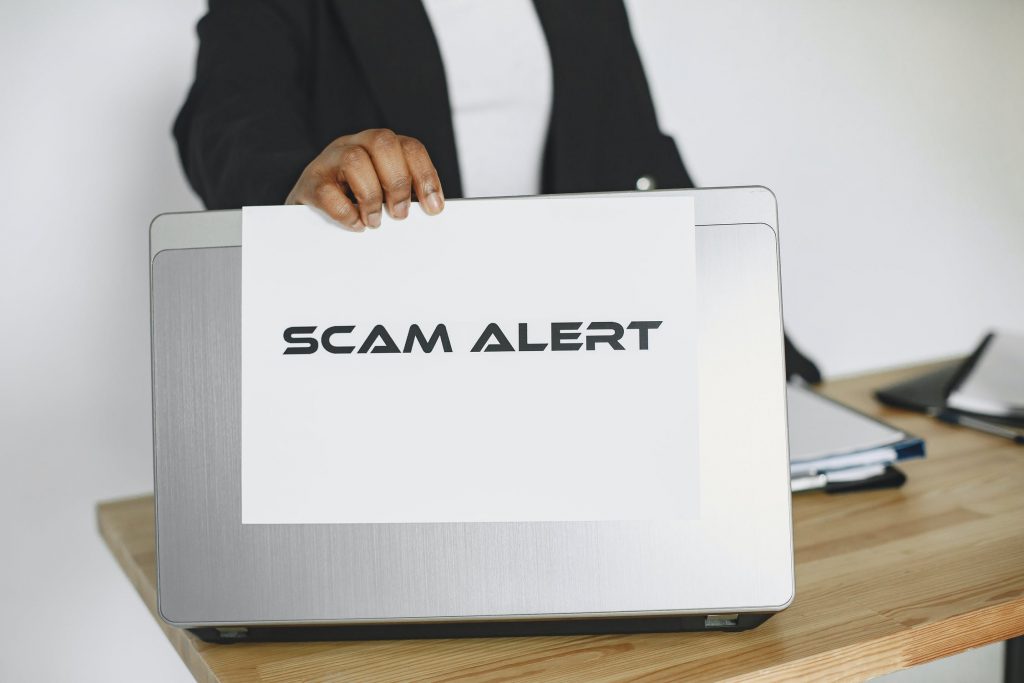 What To Do If You Fall Victim To A Scam
Be Prepared For Follow Ups
If you have been scammed, it is likely you will be targeted again. The first thing you should do is change your contact details, be it an email address or a phone number.
The fraudster will likely sell your contact information to other scammers so be cautious when receiving messages from unrecognised sources in the future. You could even be called by a binary options scammer offering to get your money back for a fee.
Claim A Chargeback
It is possible to genuinely recover funds lost to binary options scams. Websites such as MyChargeBack.com work alongside banks to see if lost capital can be reclaimed. Consultations are free and are a good way to see if you have a valid claim to a chargeback. Keep in mind, however, that not all banks permit chargebacks.
Alert The Authorities
If you are scammed, you should inform the relevant financial regulators. The Financial Conduct Authority (FCA) has several options for reporting scams, either via a contact form on its website or via a customer helpline. The number is 0800 111 6768.
You will be asked to provide information such as how you found out about the binary options scam, what the system involved, how much you have lost and any contact details. This can help the regulator shut down the scam site quickly and prevent other traders from falling victim.
You could also put messages on trading groups on social media to help investors avoid certain platforms and brokers.
Protecting Yourself From Binary Options Scams
Customer Reviews
Following an FCA ban on firms offering binary options to retail traders in 2019, UK investors must either use unregulated or offshore brokers. This means you cannot rely on licensing to verify if a brokerage can be trusted or not. With this in mind, read customer reviews and ratings on websites like TrustPilot or consult trading forums on Reddit.
You can also read reviews of brokers that offer binary options trading on our website. Each review includes details on available payment methods, a rating on trustworthiness and a general summary.
FCA Warning List
The FCA publishes a warning list on its website detailing firms that the regulator has investigated and found to have conducted scams. If you encounter a binary options broker that is included on this list, you should not use its services or make a deposit. If you are unsure about a certain platform or broker, you can contact the FCA to verify its legitimacy.

Avoid Contact From Questionable Sources
Binary options scams contact many of their victims through robot accounts on social media or by making cold calls. If you receive a message from unrecognised accounts or calls from unknown numbers discussing binary options trading, take extra care. It is rare that genuine brokers and platforms will reach out to traders if they have not already registered an account.
Read The Broker's Website
Certain aspects of a broker's website can be a clear giveaway of a scam. There may be indications that the page was hurriedly put together and, if it seems less than professional, then it is possible that the broker cannot be trusted to offer a genuine service.
Look out for:
Spelling mistakes or text that does not make sense.
Claims to hold a license with the FCA. No brokers regulated by the FCA can offer binaries to retail traders in the UK.
Registered addresses which are unrelated to a broker and which may be a domestic rather than a business setting.
Adopt Risk Management Strategies
If you plan to use a platform of which you are unsure, reduce your exposure by investing a small amount to start with. A common risk management approach is known as the 1% strategy and can help to mitigate the impact that binary options scams can have on your portfolio.
The premise is simple – risk no more than 1% of your total portfolio on a single trade.
Bottom Line On Binary Options Scams
Binary options scams may be all too common but following the tips provided here can go some way to helping you to avoid them. Choosing a broker is a task that should not be taken lightly so you need to do plenty of research into your available options before you start trading. Use our list of trusted and reliable brands to get started today.
New types of binary options trading scams are constantly popping up so be on your guard at all times. If you are unfortunately caught out by a binary options trade scam, let other investors and the authorities know so that the fraudulent broker can be stopped as soon as possible.
FAQ
Can I Recover My Funds Lost To Binary Options Scams?
It depends on your case and the bank you used to make a deposit. You can check with your bank either by reading its website or contacting its support team. Alternatively, you can have a free consultation with MyChargeBack.com. You may also want to avoid any binary options broker that demands deposits are made using cryptocurrency – this is a common red flag.
Are All Binary Options Scams?
Not all binary options platforms are scams – there are genuine and high-quality brokers offering binaries to clients. You do need to be careful, however, because UK laws mean that retail traders must use unregulated or brokers based in foreign countries.
Is There A Binary Options Scams List?
There is no exhaustive list as new binary options scams are created on a regular basis and it would be nigh impossible to keep across them all. When searching for brokers, read the FCA's warning list as well as lists provided by foreign regulators, such as the CySEC.
How Can I Avoid Binary Options Scams?
Trusting your instinct and ignoring hyperbolic adverts will help you stay safe from binary options scams. If you sense that a broker is unscrupulous or you feel uneasy about their services, it is better to be safe than sorry and avoid them.
Can I Trust Customer Reviews On Binary Options Scams?
Customer reviews are, by their very nature, people's opinions – to which they are entitled – but they should always be regarded carefully, and – where appropriate – with a healthy dose of cynicism. Binary options scammers have been known to write fake, positive reviews of websites to attract potential customers.
By the same token, disappointed traders may post negative reviews if they have had an unsuccessful trading session, rather than having a genuine complaint with a broker. Always try to read plenty of reviews to get a general feel about a broker and their service before committing your money.