Binary Options Double-Up Strategy
The binary options double-up strategy is a well-known system used by retail traders, offering increased payouts. This guide covers everything you need to know about the binary options double-up strategy, including definitions and detailed examples. Read on for tips on how to use the double-up strategy when trading binary options, as well as a list of the pros and cons of this particular trading tactic.
Top UK Binary Options Brokers
Pocket Option offers short term binary options on a user-friendly platform with competitive payouts of 90%+. Over 130 assets are available with fee-free deposits and withdrawals. Joining bonuses are also available to new users.

IQCent offers binary options on forex, stocks, cryptocurrencies and commodities with high payouts up to 98%. The broker uses a proprietary platform with advanced analysis tools and traders can choose contract timeframes ranging from 5 seconds to months, appealing to both short and long term traders.

Videforex binary options are available from 20% payouts on crypto up to 98% payouts on less volatile assets, beating many competitors. A wide range of contract lengths are also supported from 5 seconds up to 1 month. New users will appreciate the welcome deposit bonus.
How The Binary Options Double-Up Strategy Works
With the double-up strategy, a trader "doubles up" on an investment made in an open position. This means that if the trade succeeds, your profits will be doubled. However, if the trade loses, your losses are also doubled.
Although it takes less than 1 minute to explain, the binary options double-up strategy is not necessarily straightforward. And to ensure that your trades are profitable, it is key that this strategy is used when you are confident in the market trend.
Binary options brokers and websites can gain a lot by offering the double-up strategy, as it increases their trading volumes. As a result, many platforms provide the "double-up" option via a simple click of a button.
Implementing A Double-Up Binary Options Strategy
To use the binary options double-up strategy, follow these straightforward steps:
Choose A Broker
If you haven't already opened a trading account, this is the first step. When choosing a binary options broker, consider the following criteria:
Payouts: Look for binary options brokers with high payouts of 80%+ on the assets you wish to trade.
Tools: What kind of graphs, models, or charts does the broker use to forecast and represent data?
Mobile App: Some binary options brokers offer the option of a free mobile app on iOS for iPhones or APK for Android. These can be downloaded from the relevant app store.
Trustworthy: Whether the binary broker is secure and regulated depends on the jurisdiction in which it is located and user reviews. Also check for secure logins on trading platforms.
Customer service availability: The best brokers offer 24/7 or 24/5 support to answer any questions that you may have.
Fees: What fees does the binary options broker charge? This could include foreign exchange rate fees, withdrawal fees, and data subscriptions.
Markets: What variety of assets are available to trade with a binary options double-up strategy? This can include forex, stocks, indices, or 50+ cryptocurrencies like Bitcoin (BTC), Ripple (XRP), or KuCoin (KCS).
Note, the best brokers that support the binary options double-up strategy will also provide video tutorial downloads, training courses with investing ideas, market analysis, plus plans for getting started. They may also provide self-help tools where the meaning of indicators are explained, or overviews of specific markets are provided.
Alternatively, you can head online for a summary of the binary options double-up strategy, plus notes, quotes, books, and reports on specific assets.
Open A Position
Once you have opened an account, you will need to deposit funds to begin trading. You can also practice the binary options double-up strategy on a demo account without putting your capital at risk.
Make sure that you study graphs and use the tools provided by your broker, such as live signals. Once you are ready, open a position.
With binary options, you anticipate that the price will either increase or decrease within a certain time period. If you expect it to increase, press the "up" or similar button. If you expect it to decrease, press the "down" or similar button.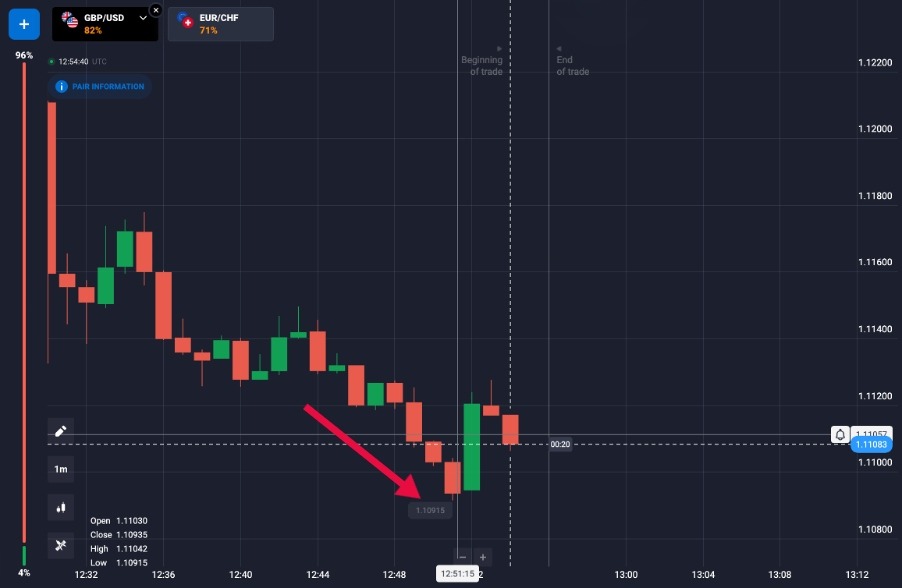 For example, the graph above illustrates the price trends of the major forex pair GBP/USD. The price looks to have reached the bottom of the trend curve. In this instance, the trader might anticipate an upwards movement in price in the short term. They would then open a long binary options position. The investment is £115 and is open for 3 minutes.
Before the trade starts, you have the freedom to determine how long the position is open (e.g. 5 minutes, 10 minutes etc) or at what time you want the position to be closed (e.g. 20:21, 20:18 etc).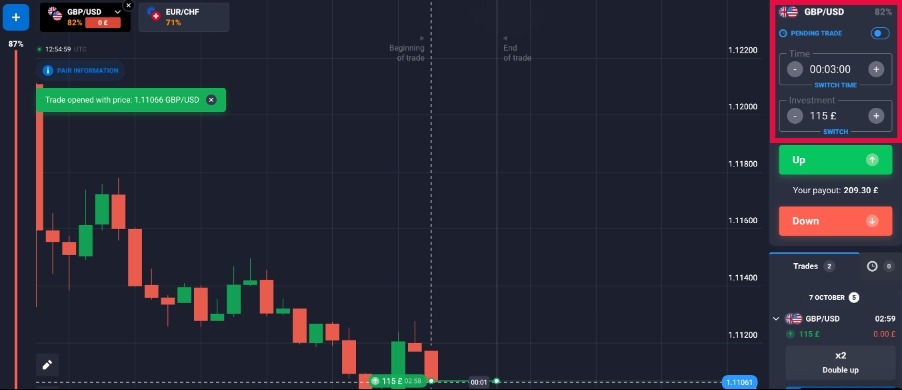 Double-Up
If there is sufficient time before the expiry and depending on the broker's trading model, the option to double-up may appear, available in the bottom right-hand corner of the platform below.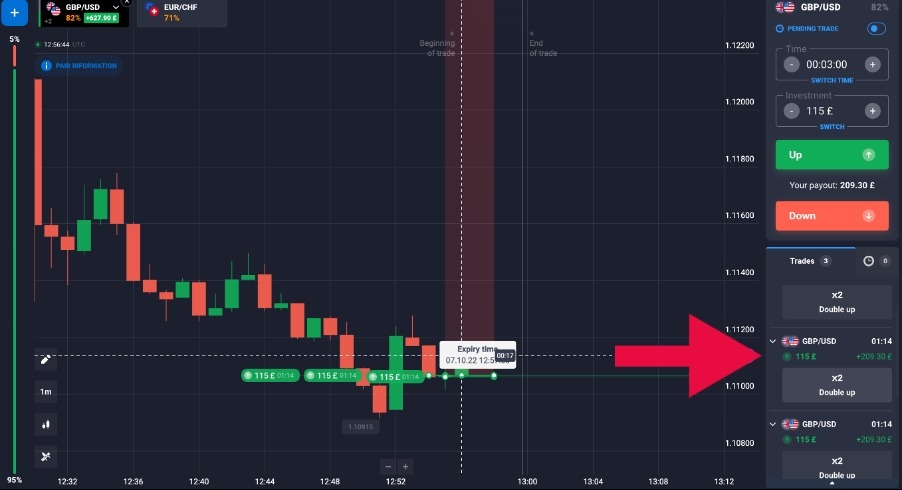 At expiry, the £115 investment increased to £209.30. The amount your profit doubles is determined by how many times you pressed the "double-up" option. Here, it was pressed 3 times, so the profit of £94.30 is tripled to £282.90.
Double-Up Strategy Vs. Martingale Strategy
It is common for traders to assume that the binary options double-up strategy is similar to the Martingale strategy. Both tactics involve doubling, or two simultaneous trades, at some point. However the intention of the double-up strategy is to maximise the profits of a single trade, which differs from the Martingale strategy.
With the Martingale strategy, your actions will vary depending on the performance of your previous trade. If your previous trade has been unsuccessful i.e. you made a loss, you would then "double-up" your stake for your next trade. The theory is that eventually, you might recoup your losses by doubling up each time. This is a highly risky trading strategy and not the same concept as the binary options double-up strategy outlined above.
Pros Of The Binary Options Double-Up Strategy
Can increase your profits significantly
Offered by several top binary options brokers
Free demo accounts can be used to compare results vs a test plan
Very simple to understand with reading in books and pdf tutorials available online
Cons Of The Binary Options Double-Up Strategy
Increases your potential losses significantly
Increases risk when trading binary options, which are already risky
Simplicity can mislead traders into thinking it is easy to make a profit
Bottom Line On The Binary Options Double-Up Strategy
The double-up strategy is a straightforward tactic used by some traders to maximise the potential profits of their trades. But when it comes to binary options trading, there is already a degree of risk involved due to the "yes or no" nature of each outcome. So, to make consistently profitable trades using the double-up strategy, you need to be confident when hitting the "Double-Up" button and follow sensible risk management strategies.
Use our list of the top binary options brokers for double-up trading to get started.
FAQ
What Binary Options Brokers Offer The Double-Up Strategy?
Several brokers that offer binary options trading also offer the double-up option. The prompt typically pops up 5-10 minutes before the trade is due to close. Pocket Option is an example of a top-rated broker that offers double-up binary options trading to UK customers.
How Can I Improve My Chances Of Making A Profit Using The Binary Options Double-Up Strategy?
Keep up to date with relevant news on anything that can impact the price of the asset you are trading. For example, COVID-19 uncertainties in 2019-2020 affected the price of many stocks and forex pairs. Anything that influences the market price is something to look out for.
If you are yet to open an account with a binary broker and do not have access to trend graphs, many charts and other useful tools are available on TradingView.
Where Can I Learn More About Binary Options Double-Up Trading?
Learning from binary options traders who use this method regularly is the best way to excel. Some traders make videos on YouTube or share Excel worksheets that include steps to help traders to use the binary options double-up strategy for the first time.
What Do I Do If The Binary Options Double-Up Strategy Is Not Working?
It is important to carry out market research before you use any trading strategy. You can also practise using the double-up strategy on a binary options demo account. If you feel like it does not match your trading style, then switch to a different binary options strategy.
Is It Risky To Use The Double-Up Binary Options Trading Strategy?
Yes, this strategy is risky because any loss that you make is also increased. Additionally, binary options trading is generally considered a high-risk, high-reward type of trading. Remember to carry out research and trade responsibly.