5 Best Books for Gold Investors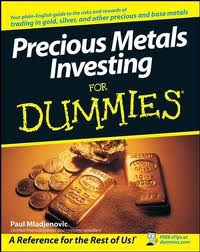 One thing that I've learnt throughout my life as a trader and investor is that there is always something new to learn. We learn by receiving information in one form or another: lessons at school for example, or by watching television documentaries, or listening to others. Of course, one of our biggest learning curves is learning from our mistakes.
Usually mistakes are costly, which is why we try to learn before we make them. A major aim of this website is to help investors old and new to avoid those common mistakes made by us all at some time in the past. But we only have a limited amount of time and space with which to work, and for some it is an arduous process to digest information 'off screen'. Even in this new and modern age, there is something about a book that perhaps cannot be replaced by screen reading.
You can pick up a book, and flip between its pages at any time you want. You can easily take it to the beach, or on a plane, or even read while sitting in a coffee shop. A book can be opened at the relevant page while you are watching the price of your investment and considering a trade on your PC. But best of all, a book will educate with every word, paragraph, and page.
Here we look at five books we believe will enhance any gold investor's bookshelf.
Top 5 Books for gold Investors
1. Precious Metals Investing For Dummies
Ok, so the first choice is not a book dedicated to gold, but it is a book that is great for the beginning to intermediate gold investor. You'll get tips on research, trading strategies, and advice on selecting brokers. Written in the 'Dummies' style, the book is packed with dos and don'ts, tips and tricks, easy to follow and to pick out selected passages quickly when you need them.
There's also a section on numismatic coins that slots in well with the books discussions on diversifying and maintaining a profitable metals portfolio.
A must have for the beginner.
2. The Goldwatcher: Demystifying Gold Investing
Published in 2008, this book is a little behind the history of the gold price, but it is a great read for those that want to gain a better understanding of the effects the world economy has on the value of gold. Written by John Katz and Frank Holmes, strategists and traders, the book is stuffed full of information which you'll want to return to time and again.
Katz's contribution is an unbiased description of the link between economic policies and events and the gold price making the reader better informed, and this means better investment decisions moving forward.
Holmes is clearly a gold bull, but that makes his words no less relevant. He discusses investing in gold stocks, the differences between different mining companies, and the risks and potential rewards. You'll discover what is meant by seasonality, volatility, and how gold mutual funds stack up.
Read this and your knowledge will be a golden attribute.
3. What to do with Granddaddy's Coins
This is a coin collector's guide that is simple to follow and enjoyable to read. Jeff Ambio takes the reader through the minefield of coin identification and valuation, handling and storage, and there's great advice that every beginning numismatist should follow when seeking out and speaking to specialist dealers.
An expert in his field, Ambio passes on the knowledge that he has accumulated over many years, and includes a list of coin values which will arm the buyer and seller equally well. Reading this guide will turn the non-collector into an authority on his coins overnight.
4. The ABC's of Gold Investing
Subtitled 'Protecting Your Wealth through Private Gold Ownership', this book is written by gold market expert and long term bull, Michael Kosares. He begins by giving the reader a background of gold history, before then walking him through the factors that affect the price of gold, and discussing the changing political and economic landscape.
Kosares writes with authority, and in a concise way that will appeal to newcomers and veteran investors. He lays out the case for buying and owning gold in an investment portfolio, and displays very well the qualities that make gold such a good hedge against inflation.
If you're thinking about buying gold, then this book will confirm the reasons to do so. And if you aren't considering such an investment, after reading The ABC's, then you will want to.
Investing in mining stocks can be a tricky business, but once you've read this little gem it will be less so. There are contributions from more than a dozen industry veterans, from hedge fund managers to newsletter writers, geologists and industry players, all with one thing in common: success in the industry.
The book is actually aimed at a wider audience than pure goldbugs, and covers the art and science of investing in junior mining companies that explore for practically any resource. You'll get detailed overviews of individual strategies, and how to implement them in your dealing.
Some of the sites that are referenced in the book are no longer available, but that doesn't detract from its quality and usefulness of advice. This isn't a book that will make you rush out and buy up as many junior mining stocks as possible, but if you are thinking about investing in the sector, then it is a book you should read before committing your hard earned cash.