Forex Trade Copier
Forex trade copier services let you mirror the positions and strategies of established FX investors. The user-friendly software is a great tool for beginners looking to learn from the best. Available as a free download or paid-for signals on your MT4 platform, it's important to find a system that's right for you. Our review explains how forex trade copier programs work and how to get started today.
Best Forex Copy Trading Brokers
Pepperstone offers ultra-low spreads from 0.0 pips on the Razor account and has an excellent selection of 60+ pairs. You can also trade currency indices, which aren't available at many alternatives. Forex lots start at 0.01.

Pepperstone Copy Trading

Pepperstone offers an impressive range of third-party platforms, including DupliTrade, a tool that allows investors to automatically replicate the trading activity of experts. Trading signals are also available, identifying potential entry and exit points.

XM offers ultra low spreads across a wide range of forex assets with no re-quotes or hidden charges. Forex can be traded 24/5 on desktop, web and mobile. Over 50 currency pairs are available including all majors.

XM Copy Trading

XM global offers a user-friendly copy trading service. Aspiring investors can copy the trades of strategy managers. Investors can find strategy managers by viewing performance metrics and can decide how much they want to invest. Strategy managers can earn 50% of profits.

Axi offers a great selection of 70+ major, minor and exotic currency pairs. There are no restrictions on trading strategies and the broker boasts impressive spreads by connecting to 20 liquidity sources.

Axi Copy Trading

After partnering with Pelican Trading, Axi has launched a user-friendly copy trading service that provides access to more than 30 products across popular financial markets.
What Is A Forex Trade Copier?
As the name suggests, forex trade copier programs directly replicate trades across live investing accounts. Software links the customer account to the master account. Services vary, but traders can typically choose between fully automated copy trading or they can opt to view market signals and manually decide how much to trade and what risk parameters to implement.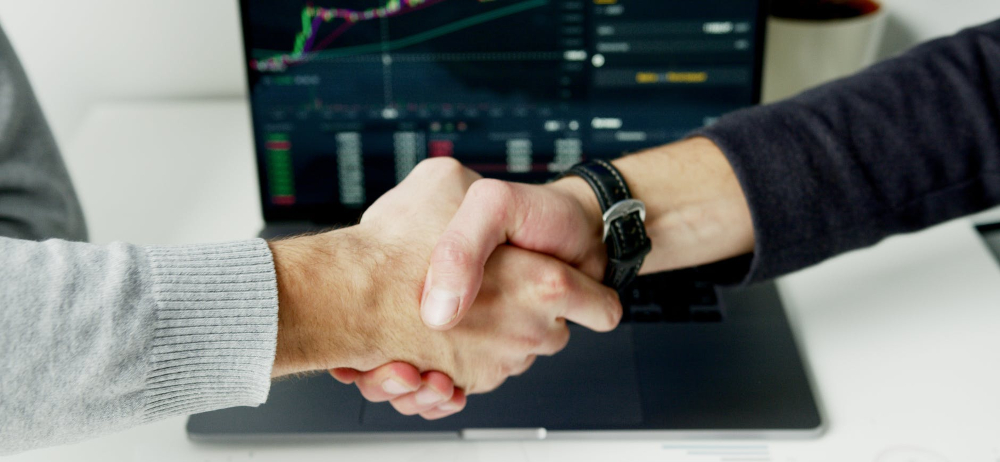 How Does A Forex Trade Copier Work?
After you sign up with a broker or provider, you can download the forex trade copier service to your platform. Whilst there are varying levels of automation, the basic premise is that positions and strategies on the master account will be mirrored on customer accounts. Clients typically choose how much capital they want to invest and which signals they want to copy. Depending on the software, customers may also be able to dictate leverage levels, lot sizes, plus stops and limits.
Pros Of Forex Trade Copiers
Reasons to get started with a forex trade copier service include:
Profits – Choose the right provider and you may see returns promptly. The best providers display the track record of master accounts. Of course, be wary that past performance is no guarantee of future profits.
Learning – If you are new to forex trading, the software can help you learn from experienced investors. With varying degrees of intervention, you can see how the experts forecast and react to the forex market. Even for experienced investors, it can be a good way to learn new strategies.
Time – Forex trade copiers can automate order execution so you don't need to spend hours analysing the markets. Instead, experts take care of that for you. This makes it popular among those looking to spend just a few hours a week forex trading.
Diversification – Forex trade copier services allow you to diversify your portfolio. Rather than focusing on major forex pairs, for example, you can speculate on exotic and emerging currencies, learning how different markets interact while spreading your total risk exposure.
Additional income – For experienced traders, selling signals and strategies can prove a lucrative way to bring in additional revenue. It's never been easier to set up as a master account and market your winning positions.
Cons Of Forex Trade Copiers
There are also a few drawbacks to consider before you sign up for a forex trade copier program:
Unpredictability – Even if you spend time choosing a successful account, there are no guarantees that every trade will return profits. Experienced traders encounter losses too and you need to consider whether you're prepared to ride the waves. This is why it's also important to monitor progress and take action if losses exceed your risk appetite.
Research – Finding the best forex trade copier service requires work. It's important to do your own due diligence, reading reviews and ensuring strategies align with your goals. Fortunately many services, including those on MT4, offer user-friendly charts and graphs that display success to date.
Costs – Depending on which service you pick, there may be fees to pay. These can come in the form of fixed commissions or a percentage of trading capital. Some platforms also charge additional fees. We'd also caution that using a free program download may not bring you the same returns as reputable and paid-for software.
No shortcuts – Forex trade copier systems are not 'get rich quick' schemes. Instead, they should be used as a learning tool or as a way to supplement your existing trading portfolio. They can be an excellent way to learn from experts, find out about new markets and hopefully generate profits in the process.
Getting Started
Find The Best Program
To choose the best forex trade copier program, read up on user reviews from other traders. Also choose a program that suits your investment goals and aligns with your risk appetite. For example, a more conservative investor may opt for a program with a lower average loss per trade while an aggressive trader may select a strategy with higher volatility.
The best forex trade copier services also assign risk scores to master accounts and flag those with a history of large losses. Note, always be wary of programs offering unrealistic profits – there are unregulated scams on the market.
Explore Demo Options
Once you've found a forex trade copier, see if you can demo their program free of charge. This will let you test the software and trial trade parameters along with risk management alerts and tools. Unfortunately some demo solutions come with limitations. For example, highly-rated options like Forex Trade Copier 2 & 3 limit the numbers of receivers available.
Monitor
Once you've found the right program and account, set your software to copy. You should then monitor progress, especially at the beginning. You can make tweaks to your trade parameters or withdraw your capital if it's not the right fit, noting even experienced traders encounter losses – it's better to judge performance over the longer term.
Forex Trade Copiers On MT4
Most forex trade copier programs are designed to integrate with MetaTrader 4 (MT4). They can be downloaded for free or bought from the MetaTrader marketplace. The FX Blue Trade Copier is among the best-rated programs. The list of copier programs available on the platform is constantly growing, with strategies to match varying needs.
Once signed up, investors can track progress from their trading terminal. For beginners, such software can be an excellent way to get familiar with the popular platform while learning about the forex market and different trading strategies.
Forex Trading Signals
For investors looking for more involvement manual forex trading signals could be a better fit. Rather than fully automated copier services, signals alert you to market opportunities with easy-to-digest information that you can choose to act on, including what position to take, how large to make the position, how much leverage to use, and where to place stop-loss and take-profit levels.
Final Word On Forex Trade Copier Software
Used correctly, forex trade copier software can benefit beginners. You can learn from the knowledge and skills of others, diversify your portfolio and save time. While some forex trade copier services charge fees or a percentage of trades, others can be downloaded for free. The key thing is to find a provider that aligns with your investment style and objectives.
FAQ
Can I Make Money Using A Forex Trade Copier?
Forex trade copiers can help generate returns. By automatically copying the trades of other investors, you can essentially piggyback on the success of others. With that said, the size of profits depends on the performance of the master account you are copying. Also, while profits can be made, so too can losses.
Are Forex Trade Copiers Suited To Beginners?
Yes, you don't need to have extensive knowledge to make use of forex copy trading services. In fact, for beginners, such programs are a great way to learn about forex pairs, trial different strategies and interact with established investors. They can be an excellent learning tool.
What Is The Best Forex Trade Copier Service?
How Do I Choose The Best Forex Trade Copier Program?
There is no one size fits all for forex trade copiers. Rather, you should consider the program that best meets your investment goals and risk requirements. It's also worth checking the track record of master accounts, as well as customer reviews and regulatory oversight.
Can I Use A Forex Trade Copier Program On MT4?
Most forex trade copier software is compatible with MT4, especially top-rated ones. Local or remote software is typically free to download, usually acting as a bolt-on to your trading platform that automatically duplicates positions taken by the master account.