Forex Scams
More than $6.6 trillion is traded each day in the forex market, attracting millions of aspiring investors. However, huge trading volumes have also attracted the attention of fraudulent providers looking to take advantage of unaware forex traders. This guide explains how popular forex scams work, from social media rackets to swindling brokers. We also share tips to help you avoid forex trading scams and keep your profits, finances, and personal information safe.
Trusted Forex Brokers
Trade 48 currency pairs with low spreads from 0.1 pips and leverage up to 1:30 (EU) and 1:500 (Global). Micro lot trading is also available and new currency traders can make near-instant deposits with no fees.

FXCC offers leading fees compared to alternatives with spreads as low as 0.0 pips and $0 commission. Over 70 currency pairs are also available, providing more opportunities than most competitors.

Pepperstone offers ultra-low spreads from 0.0 pips on the Razor account and has an excellent selection of 60+ pairs. You can also trade currency indices, which aren't available at many alternatives. Forex lots start at 0.01.
List of All Trusted Forex Brokers
How Forex Trading Scams Work
With forex trading dating back 500 years, scammers have had a long time to develop effective ways to prey on aspiring investors. While originally carried out face-to-face and then by telephone, today's most prolific forex investment scams are often found on social media platforms, from Instagram, Facebook and LinkedIn to WhatsApp and Reddit.
But regardless of the channel used, most forex trading scams fall into one of several categories:
Signal-seller scams: Individuals claiming to have expert knowledge, training and experience will sell forex signals that they claim will yield high returns. They may work in a group and leave each other positive reviews to hoodwink unknowing traders on social media channels. Once they have taken your money, they either provide fake signals or completely disappear.
Combined accounts: This is where the provider's funds and client capital is pooled together. Scammers will claim they have a vested interest in turning a profit because their own money is on the line, but often they provide limited transparency on the source of their capital and how much they have personally invested. This scam is often advertised on social media platforms but is coordinated and hosted on a fake brokerage website. This demonstrates the importance of opening forex trading accounts with FCA-regulated and trusted providers.
Bot scams: Automated trading can be legitimate but it also opens the doors to scammers looking to sell untested automatic trading services and investing systems, promising to generate a constant flow of profit. In reality, no trading strategy, whether executed manually or via an algorithm, will always generate returns.
Clone firms: Some fraudulent operators take on the identity of existing and trusted brokers. They use their own phone number and website, but take the address, registration number and branding of a well-known firm. This means when you open a forex account with what appears to be an FCA-regulated and trustworthy brokerage, your payment details could be stolen by scammers in South Africa, Kenya, Malaysia, or elsewhere in the world.
Selling personal data: Similarly, some websites pretending to be forex brokers aim to gather personal information about users, whether it be your email address, phone number, full name, or home address. They then sell this information to third parties. Traders can then become victims of cold calls, other phishing attempts, or even fraud and identity theft.
Pyramid or Ponzi schemes: This is where companies lure in new traders with the promise of high profits in return for a small initial investment and recommending other investors. However, eventually the company will run out of funds to lure in new traders, the scheme will collapse, and victims will be left out of pocket.
Misleading pricing: Most top-rated forex brokers offer similar spreads, give or take a couple of pips. So brokerages offering zero-pip spreads alongside no commission are probably too good to be true. FX traders may find there is a string of hidden fees and non-trading charges.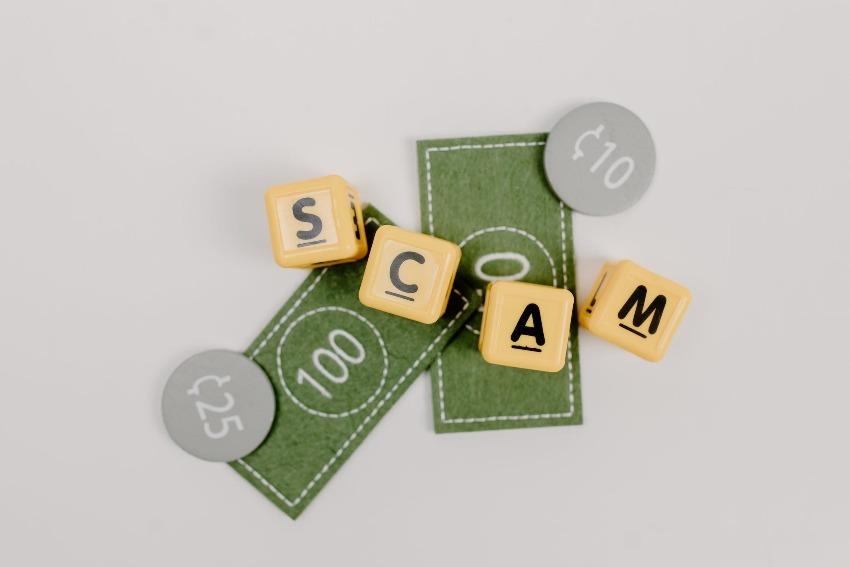 Famous Forex Trading Scams
Gurvin Singh Dyal
Gurvin Singh Dyal turned to social media to prey on his victims. Gurvin successfully used his Instagram page, where he garnered 125,000 online followers, to lure people into his forex trading pyramid scheme. He promoted a lavish lifestyle, promising others they could follow suit if they paid to access his forex trading course, as well as pay him to trade for them using his company – GS3 Trades.
Gurvin would add unsuspecting followers from his Instagram into WhatsApp group chats and ask for an initial investment of £1,000. He, with a group of other scammers, would have multiple group chats open simultaneously, and use initial investments to falsely generate profits, so clients would continue to invest large sums. Eventually, the value of apparent investments would depreciate dramatically, and through blackmail and fear-mongering, nobody could withdraw their money before losing it all. It was estimated by journalist Mobeen Azhar that a total of £3.8 million was lost by those scammed by Gurvin and peers.
Interestingly, GS3 Trading claimed to be regulated by the FCA, but was in fact operating through Infinox Capital, which is an offshore broker based in the Bahamas, and not subject to UK regulation. The FCA have included Gurvin Singh Dyal and those known to have worked with him on their official warning list.
Infinox Bahamas no longer accept UK clients or affiliates and denies Gurvin's claims. Infinox UK claimed in a statement that they were 'not complicit in the misleading or dishonest promotion of a scheme to draw consumers into investing into high-risk trading schemes outside the FCA's remit'.
Paazee Forex Trading
In 2011, two directors at a marketing firm were charged with fraud after cheating clients out of more than $108 million between July 2008 and September 2009. The two scammers used a mixture of a Ponzi scheme and selling false signals, promising clients unrealistic forex trading returns.
The two were sentenced to 27 years in prison and were fined upwards of $21 million.
Dunamiscoins Resources
This Ponzi scheme began at the beginning of 2019 and was stopped just before the start of 2020. Eight men lured individuals to pay a deposit with the promise of huge forex trading returns. Participants would gain 20% in interest, plus their initial deposit back, over 63 days.
According to a former employee who remained anonymous, the fraudulent company conned people out of more than £200,000 a day, hiring two private security guards from Active Security to move the stolen money between branches and banks.
All bank accounts held by the fraudulent company have since been frozen.
How To Avoid Forex Trading Scams
Here are some of our top tips to help you recognise and avoid forex trading scams:
Regulated brokers: The easiest way to make sure a forex broker is reliable and trustworthy is to check they are regulated by the Financial Conduct Authority (FCA).
Presence in the industry: Long-standing companies are less likely to scam you out of your money. They have a reputation to maintain and normally a large existing customer base.
Positive reviews: It's always worth looking at user reviews and ratings. Our experts have compared and ranked a wide selection of forex brokers. See our list of the best forex brokers.
Transparent pricing: Scam forex brokers can mislead traders with long-winded pricing policies and difficult-to-understand terminology. Trustworthy FX brokers, on the other hand, have a clear pricing schedule available on their website. Traders should be able to view spreads, commissions and overnight financing fees for each forex asset before opening an account.
Too good to be true: Forex trading is not a way to get rich quick. It requires diligence and hard work. If a company is giving wild promises that seem too good to be true, they probably are. Reliable brands, regulated by the FCA, will also state how many traders lose money on their website.
Bonuses: Be wary of welcome bonuses. The FCA has restricted the use of financial incentives, however, some offshore providers offer attractive no deposit bonus deals, for example. And whilst not always a scam, it is important to check bonus terms and conditions before signing up, especially withdrawal rules.
Use a demo account first:  A great way to ensure the forex broker or company you are considering investing with is legitimate is to open a free demo account first. Funded with virtual funds, prospective users can effectively try before they buy.
They approach you: Forex scammers will often direct message or even call potential victims. Trusted forex brokers will not send unsolicited messages and instead stick to traditional marketing, such as Google advertisements.
Bottom Line On Forex Trading Scams
Scammers exist in every industry, and forex trading is no different. However, as long as you take the necessary precautions and follow the tips on this page, you can start investing with peace of mind. And if you ever do find yourself a victim of a forex trading scam, make sure that you report the fraudulent firm to the FCA.
FAQ
What Do I Do If I've Been Scammed Trading Forex?
It is not always possible to get your money back. By the time you realise you have been scammed, the perpetrators will likely have disappeared with your money. However, it is important to report your case to the FCA to prevent scammers from preying on other traders. Sometimes the UK regulator and authorities can also help to get your funds back.
Is Forex Trading A Scam?
Forex trading itself is not a scam. Currency trading has been around for centuries and, if done correctly, can be lucrative. However, much like any other industry, some people see it as an opportunity to scam people out of their money. Make sure you sign up with a trusted forex broker to give yourself the best chance of success.
How Does A Forex Trading Pyramid Scheme Work?
With pyramid schemes, money is just being moved around – no real new money is being generated. You may 'gain' money, but this is just someone else's initial investment. Pyramid schemes often target forex traders on social media sites like Instagram, Facebook, WhatsApp, LinkedIn, and Reddit.
How Can I Tell If A Forex Broker Is A Clone Company?
Traders will often be sent either a direct link to a clone company's website or click on it from an advert online. You may also be given a fake number by someone who is trying to scam you over the phone. If a website looks suspicious, such as typos or formatting errors, it could be a scam. Google the name of the real broker, and check if the URL matches. You can also check the firm's licensing details on the FCA's official register.
Are All Forex Signal Sellers Scams?
Selling forex signals is a legitimate enterprise. And while some scams and fraudulent companies operate in the FX signals space, there are many reliable firms. Use our guide to forex signals to find a good provider.