Forex Trading vs Binary Options
Choosing between forex trading vs binary options can be a difficult decision if you're not familiar with their merits and limitations. Before we dive into a forex trading vs binary options comparison, we'll outline the definitions and differences of both, as well as trading systems, UK brokers, signals and more. Find out which one is better for you – binary options or forex trading.
What Is Forex Trading?
Forex (foreign exchange) is a global decentralised marketplace, whereby participants buy, sell and convert one currency into another at current or determined prices.
Currencies are traded against each other in exchange rate pairs. The most popular major currency pairs are EUR/USD (Euro vs US Dollar), USD/JPY (US Dollar vs Japanese Yen) and GBP/USD (British Pound vs US Dollar), though there are many other minor and exotic pairings.
With a daily trading volume of over $6.6 trillion, forex is the most liquid and popular financial market in the world. Forex is traded over-the-counter (OTC) 24 hours a day, 5 days a week, in major financial centres across almost every time zone.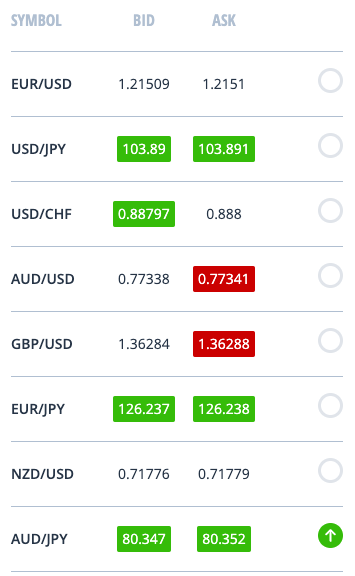 There are three main ways you can trade forex: the spot market, the futures market and the forwards market. The spot market is where currencies are exchanged on the spot according to the current price.
Futures and forwards markets do not trade actual currencies but instead deal in contracts with a set price and are settled in the future. Futures contracts are standardised, legally binding and traded on exchanges, whereas forwards contracts can be privately negotiated and are traded OTC.
Best Forex Brokers
Trade 48 currency pairs with low spreads from 0.1 pips and leverage up to 1:30 (EU) and 1:500 (Global). Micro lot trading is also available and new currency traders can make near-instant deposits with no fees.

FXCC offers leading fees compared to alternatives with spreads as low as 0.0 pips and $0 commission. Over 70 currency pairs are also available, providing more opportunities than most competitors.

Pepperstone offers ultra-low spreads from 0.0 pips on the Razor account and has an excellent selection of 60+ pairs. You can also trade currency indices, which aren't available at many alternatives. Forex lots start at 0.01.
What Are Binary Options?
Binary options involve taking a position on a price within a set time, based on a 'yes' or 'no' outcome. As such, binary options are also known as 'all or nothing' trades. You can trade binary options across a range of markets, including commodities, forex and stocks.
Binary options are fairly straightforward, as traders are shown the value of earnings up front. Traders receive a payout if their option expires 'within the money' but incur a 100% loss of the initial investment if it expires out of the money.
In contrast to forex, binary options can only be traded during normal trading hours and there is also no potential for leveraged investing. Profits and losses are also established up front with an assigned expiry time.
UK traders should note that some binary options brokers operate online scams. As such, the FCA takes a dim view on binary options investing.
Top Binary Options Brokers
Founded in 2017, Pocket Option is a binary options broker offering up/down contracts on forex, stocks and cryptocurrencies. With over 100,000 active users and a global reach, the brand has proven popular with budding traders. Pocket Option also supports dozens of payment methods and has a low minimum trade of just $1.

IQCent is an offshore binary options and CFD broker based in the Marshall Islands with 10+ payment methods and a low $50 starting deposit. With 100+ assets, around the clock trading and high payouts the brand is popular with aspiring traders.

Videforex offers access to stock, index, crypto, forex and commodities markets via binary options and CFDs. The proprietary platform, mobile app and integrated copy trading are user-friendly and will suit new and casual traders, and the market analysis tools and trading contests provide good ways to improve your trading skills.
Forex Trading Vs Binary Options: Considerations
When considering binary options vs forex trading, you should take into account your tolerance for risk, how much time you're willing to commit and what kind of trading strategy would suit you.
Risk Vs Reward
With forex trading vs binary options, there is a high degree of variability with FX because you are not only predicting the direction of the currency, but also how high or low it will go. With binary options, however, you only predict whether the value will go up or down. This means there is generally more risk and more time invested with forex, but a greater chance of reward too.
Control
When trading forex, there is no certainty around profit or loss, as opposed to binary options, whereby traders can predetermine these up-front. Binary options might therefore seem more inviting for beginners, but remember that you can mitigate your risks by using limits and stop loss orders.
Leverage
If leveraged trading is also attractive to you, then forex might be the better choice, though note leveraged trading is capped at 1:30 at UK-regulated brokers. FX also brings the promise of 24/5 market access, but there is a much smaller choice of instruments with forex trading vs binary options.
Brokers
Whichever you choose, there are a number of excellent choices for brokers out there, including Avatrade and FxPro for forex, and Binary.com or IQ Option for binary options.
It's also worth looking out for other sophisticated tools and features, including signals. Signals can be generated by an automated bot or a trading professional and will suggest the optimum conditions for entering a trade. Some of the best forex signal providers include MQL5 (used in MetaTrader 5) and eToro. Top binary options signal providers include SignalHive and SignalPush.
Forex Trading Vs Binary Options: Pros & Cons
We've covered the main considerations with binary options and forex, as well as their differences in trading strategy, but what are the respective benefits and risks?
Forex
Pros
Flexible trade duration with no expiry time
Higher rewards than binary options
Potential for leveraged trading
24/5 trading
Cons
Not as diverse as binary options
Riskier due to volatility
Profit & loss uncertain
Binary Options
Pros
Profits and losses pre-determined up-front
Not affected by volatility and low risk
Wide range of markets available
Cons
Can only be traded during normal trading hours
FCA regulator warns against binary options
No potential for leveraged trading
Rewards not as high as forex
Forex Trading Vs Binary Options: Verdict
Now that you're more familiar with the main differences, you should be able to consider whether binary options or forex trading would suit your requirements and strategy. Those with a higher appetite for risk and that can commit more time to trades may prefer forex trading. Traders seeking a more straightforward process with pre-determined parameters might favour binary options.
FAQs
What Is Forex Trading?
Foreign exchange (forex) is the most actively traded financial market in the world, with over $6.6 trillion traded each day. Forex trading involves the buying, selling and conversion of currency pairs such as EUR/USD, whereby participants speculate on whether the price will rise or fall, and by how much.
What Are Binary Options?
Binary options involve taking a position with a set price and time, based on a 'yes' or 'no' binary proposition. The trader profits if the price expires 'within the money' and loses out if it doesn't. Binary options traders speculate on whether the price will rise or fall, but not by how much.
What Is The Difference Between A Binary Options Trade Vs A Forex Trade?
A binary options trade could involve speculating on whether the price of a Google share will go up or down, with an expiry time in 1 hour. A forex trade could involve putting down a small margin of the total position value and speculating whether the price of the EUR/USD will go up or down.
Which Are The Best Binary Options And Forex Trading Brokers?
If you're seeking a good forex or binary options company to trade with, we've covered some available brokers above to help you decide. It's important to conduct some thorough research into the benefits and limitations of each before choosing.
Should I Trade Binary Options Or Forex?
Choosing between forex trading vs binary options will depend on your requirements and tolerance for risk. Binary options requires less time, offers more diversity across markets and generally involves a lower level of risk. Forex trading allows you to take leveraged positions 24/5 and can present better opportunities with market volatility.