What is a Premium Bond?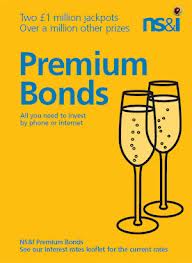 A premium bond is a loan note to the British government. When you buy a premium bond, you are lending the government £1, which it promises to repay you upon demand. In other words, you are guaranteed to get your capital back.
What interest rate is paid on premium bonds?
Premium bonds don't pay an interest rate, but rather they pay out prize money to the holders of bond numbers selected in a monthly draw. The top prize is £1 million and the lowest value prize is £25.
Each month all premium bonds that have been held for at least one full calendar month are entered into the draw, and winning numbers are picked out by a machine called the electronic random number indicator equipment, or ERNIE for short.
How much is paid out in winnings?
The amount that is paid out in winnings depends upon the prevailing interest rate: when interest rates are low, then the premium bond prize fund falls. If this pay-out didn't fall, then the government would be paying a higher rate on these borrowings than if it issued government bonds in the open market.
In 2012, the amount paid out from the prize fund equated to 1%.
However, the average pay-out is a lot less than 1%. With a top prize of £1 million, and thousands of prizes of £25, the average interest rate paid out is skewed upwards.
If I win, how am I taxed on my winnings?
There is no tax on winnings from premium bonds. This makes it a tax efficient form of saving.
However, if you die then the value of the premium bonds are added to your estate for inheritance tax purposes. They cannot be transferred in life or after death.
How do I know if I have won?
Prize winners are notified in writing each month. But on the NS & I website, you can also check the winning numbers from previous draws. Over time, people change addresses, get married, and die. There are tens of thousands of unclaimed premium bond prizes and these can be checked online.
How do I invest?
Firstly, you must be at least 16 years old to buy premium bonds (although accounts can be opened in a child's name by parents or grandparents). Application for premium bonds can be made either online, or by post, or by telephone. The process is straightforward, and application forms can either be downloaded from the NS&I website, or collected from the Post Office.
Payment for the bonds must be made either by cheque (postal application) or by bank debit card. They cannot be bought using a credit card.
Investments can be made either by lump sums or as regular savings paid by standing order from your bank account.
How much can I invest?
The maximum amount that you can invest is £30,000. The bonds have a par value of £1, and so for a maximum investment you receive 30,000 entries into each month's draw.
If you are investing a lump sum, then the minimum you can invest is £100, but if you are saving via a standing order each month, this minimum falls to £50.
How are winnings paid?
If you are lucky enough to win, then you will normally receive a warrant (like a cheque) through the post. However, it is more common for premium bond holders to elect to receive any winnings direct to their bank account. If choosing the latter payment method, then winners are sent an email confirming the win and payment.
For any prize higher than £5,000, you will be sent a claim form to fill in and claim your prize. If you are lucky enough to win the big prize, then a personal visit will be made to you to inform you of your win.
You may also elect to resave any winnings, buying more premium bonds until the maximum holding is reached.
What are the odds of winning?
If you have bought the maximum £30,000, and keep your bonds for 5 years then with average luck you should receive £1500 in winnings.
The odds of winning one of the £25 prizes are 1 in 24,000. The odds of winning the £1 million prize are 1 in over 43 billion per premium bond held! If you hold the maximum £30,000, the odds of winning the big prize are still 1 in 110,000!
So are Premium Bonds a good investment?
An investment in premium bonds gives you certainty of capital with the chance to win some big money. It is sometimes called the 'working man's lottery'. However, when compared to the National Lottery, the top prize is smaller and the odds of winning far larger (your chances of winning the jackpot on the National Lottery are only 14 million to 1!).
With a prize fund of 1.5% of the total funds held, premium bonds pay out a lower rate of interest overall than most high interest rate accounts. On top of this, because of the way that winnings are divided, the equivalent actual rate of interest received by most premium bond holders is even less (at around 1%).
But, winnings are tax free. For a higher rate taxpayer who wants security of investment, premium bonds offer a safe haven for short term lump sums.
If you too want the chance to win big money, whilst knowing your capital is safe, then premium bonds might be for you. However, as with all investments there is an investment risk. The risk with premium bonds is that your winnings will not keep up with inflation, and the purchasing power of your money will decrease over time.