PancakeSwap Review 2023

PancakeSwap is #84 in our rankings of crypto brokers.
PancakeSwap Facts & Figures
PancakeSwap is a decentralised cryptocurrency exchange with a large number of supported cryptos and additional services.
Instruments
Crypto
Demo Account

No

Min. Deposit
$1
Min. Trade
$1
MetaTrader 4

No

MetaTrader 5

No

cTrader

No

DMA Account

No

ECN Account

No

Social Trading

No

Copy Trading

No

Mobile Apps

No

Islamic Account

No

Cryptocurrency
PancakeSwap supports token trading and liquidity staking services for over 600 cryptocurrencies.
Coins

BNB
ALPACA
BELT
BTCB
BUNNY
BUSD
CAKE
EPS
ETH
NRV
SAFEMOON
TKO
USDT
VAI
WBNB
XVS
GCR

Spreads
N/A
Crypto Lending

No

Crypto Mining

No

Crypto Staking

No

Auto Market Maker

Yes
Risk Warning – Your Capital is at risk
PancakeSwap is a popular decentralised cryptocurrency exchange on the BNB Smart Chain. Three main functions are available; Trade, Earn and Win. There are several different ways to get involved with PancakeSwap such as joining liquidity pools, swapping tokens and yield farming, all with a gaming feel and a virtual world at your fingertips.
Our experts review all the available services from staking to yield farming and everything in between. We also give our opinion on fees, token listings, wallet security, plus better alternatives.
Our Take

PancakeSwap offers interesting crypto services including lotteries and NFTs, alongside its native token, CAKE
The brand offers competitive trading fees from 0.01%, alongside flexible routing options to suit different requirements
The lack of a mobile app limits accessibility and is a notable drawback compared to other DeFi exchanges
Services
Below we outline all the PancakeSwap trading services available to UK investors, which is extensive and varied when compared to OKX and Kraken.
Exchange
Trading/swapping on the PancakeSwap exchange is perhaps the most straightforward solution available. The good news is that all transactions are routed directly between user wallets, with no intermediary.
We thought the exchange was simple to use, though does not provide analysis tools or advanced functionality such as technical indicators. The charts/graphs are quite simplistic with four time frame views but no choice of chart type.
Having said that, there are no system download requirements, meaning you can start trading at PancakeSwap immediately. The exchange supports hundreds of tokens, with new coins introduced regularly. These include Bitcoin, Dogecoin, Gems, SafeMoon, HODL, and KuCoin. 
Swaps
Token swapping means you can exchange one digital currency coin for another via the liquidity pools on BNB Smart Chain, Ethereum, and Aptos. We found this very easy to activate, particularly as no account registration is required.
Trading fees will vary depending on the type of liquidity pool being used in the transaction, but we were pleased to see these are limited to four payment options; 0.01%, 0.05%, 0.25%, or 1%. We would recommend ensuring you are using the most updated v3 pools as we found prices the most competitive vs versions 1 and 2 (v1 and v2).
To get started:
Click 'Trade' from the header menu on the PancakeSwap website and then choose 'Swap'
Use the tool on the right to choose an originating token from the dropdown menu
Add the volume to swap
Select a token to exchange for
Review the price conversion and slippage tolerance
Click 'Connect Wallet' and choose the relevant brand (e.g. Coinbase Wallet or Ledger)
Connect with your wallet (i.e. the account holding the token) and initiate the transfer. Useful QR code integration is provided for the majority of wallet brands
Review the fees and swap details and select 'Swap' and then 'Confirm' on the following page to complete the transaction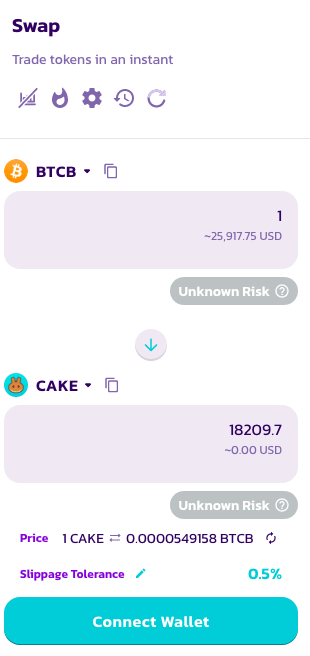 Note, we found that token swapping is only available if there is enough liquidity for the coins. It may be very costly if there is insufficient liquidity such as no other providers for the tokens involved in the transaction.
Liquidity Pools
Another way to earn at PancakeSwap is through providing market liquidity. Peer traders will pay a fee (ranging from 0.01% to 1%) when using the pool, and you will receive a split in return for your asset provision plus liquidity provider NFT tokens.
We were impressed with the flexibility in terms and token settings. You can maintain control of the price range your liquidity is used by setting minimum and maximum price limits. This means you will also get the competitive fee split at the asset price you have set.
Yield Farming
Our experts found PancakeSwap Yield Farming an interesting way to earn rewards, though the process is more complex vs swapping, therefore may not be suitable for beginners.
We liked that you can harvest CAKE tokens as well as Liquidity Provider tokens and farm-based rewards. These terms are very generous, and yield framers are rewarded competitively.
You must stake two tokens, and in exchange, you will receive a liquidity position NFT or LP tokens, to be staked in the farm to earn rewards. It is worth noting, we found farms will only accept liquidity positions from the relevant trading pair with a matching fee i.e. CAKE-BNB 0.01% farm will only accept CAKE-BNB 0.01% liquidity positions.
To get started:
First, you will need to find a farm (use the 'farms' page to filter the most popular or highest-earning farms)
Refer to the farm's relevant trading pair and fee rate
Click on your chosen farm from the list and select 'Connect Wallet' to add liquidity
Once connected, you will be able to view your potential position under the farm name
Select 'Stake' next to the position and you will have successfully entered a farm
When we reviewed the available farms, we did find the multiplier values vary considerably. This will impact your rewards so spend some time comparing the advantages of where you are going to add liquidity.
Syrup Pools
Similar to yield farming, PancakeSwap offers the Syrup Pool feature, which is unique for the CAKE token. You can participate in either fixed-term or flexible staking options.
We were pleased to see no deposit fees. Though we would say there is no superior option, fixed-term staking offers no performance fees, IFO public sale entry, and priority access to events. However, rewards are not released until the end of the time duration. We liked the widespread duration time of between one and 52 weeks.
IFO
Our experts rated the Initial Farm Offering (IFO) tool on PancakeSwap. Similar to an Initial Public Offering on the stock market, IFOs provide customers early access to new token listings. We found these events typically have a very short timeframe, often a maximum of two hours, which is quite limiting.
We did find that participation is only accepted if you have a PancakeSwap profile. This is different vs the majority of other services where no account is needed, and a fee of 1.5 CAKE apples to create an account.
The process does involve many steps, and you will need to add CAKE into the Syrup Pool to release iCAKE which determines your CAKE purchasing power in the IFO. There are then two types of sales:
Private Sale – No fees apply. Pre-determined maximum stake limits are provided, varying by event.
Public Sale – Fees apply, varying by event. You can stake as much CAKE to the IFO with your iCAKE balance as the maximum limit
Fees
We liked the simplicity of trading fees on PancakeSwap. Each completed transaction (swap) in Exchange v3 will incur a flat fee between 0.01% and 1% with up to 68% of the fee going to the liquidity providers.
When we compare PancakeSwap vs the fees on Uniswap for instance we found the brand charges a 0.3% flat fee per transaction, so by comparison, PancakeSwap can be more competitive on their lower tiers. The remaining PancakeSwap commission fee is split between CAKE token burns to maintain stability and the treasury.
For Exchange V2 liquidity pool trading, you will be liable for a 0.25% fixed fee, though a much lower percentage split is provided to liquidity providers (0.17%) vs v3.
We did like that there is a level of flexibility for retail investors, with customisation available to choose different liquidity sources and routing processes. For example, you can select the 'Split Routing' icon which will break down a position execution into multiple routes to achieve the best possible pricing. We felt assured that the order screen publishes all applicable fees before you execute a position.
 PancakeSwap Account
The good news is, you don't need to open a PancakeSwap account to access the majority of services. You can connect your existing wallet to trade, swap and purchase cryptocurrency without needing to register. Having said that, access to some facilities such as IFOs, and participation in some events do require sign-up.
We liked that you can personalise your profile. Note, a 1.5 CAKE fee applies to open an account.
To sign up:
Choose 'Your Profile' from the exchange menu
To complete step one choose an NFT bunny logo for your profile picture (additional 1 CAKE fee). Click 'Enable' to confirm your selection
Choose a collectable from the following screen and click 'Enable'. Once the page has loaded select 'Next Step'
Choose a social team to join and select 'Next Step'
Enter your profile name in the following screen, review the T&Cs, and select 'Confirm'
Click 'Complete Profile'. A message will be displayed on the following screen, choose 'Enable' and confirm the action in your wallet
Wait a few moments and approval of your profile creation will be displayed on the screen
Funding Methods
Your PancakeSwap account will be linked to a wallet. All external wallet brands are accepted, though it needs to support the BNB Smart Chain (BSC). Examples include Token Pocket, Coinbase Wallet, MetaMask, and SafePal.
As the native tokens of this chain are BEP20, you will need to purchase or convert alternative tokens to these coins and have them stored in your wallet.
Payment methods will therefore vary between the wallet you are using. You may be able to deposit with GBP and purchase cryptocurrency with fiat currency. Coinbase, for example, accepts several deposit options including bank wire transfer, PayPal, and card payments.
We liked that there are plenty of step-by-step user guides and tutorials to make this process seamless. Be sure to refer to the online support centre if you need help.
Mobile App
PancakeSwap does not offer a mobile app on iOS or Android devices, a disadvantage vs 1inch. Instead, you can use the terminal on PC devices, or use your mobile internet browser, though this may not be the most stable or safe option.
You can use your existing wallet apps to connect to your PancakeSwap account, including Trust Wallet, Ledger Nano, and MetaMask.
Regulation & Security
PancakeSwap is not regulated by any financial watchdog, though this is not uncommon in the cryptocurrency market. Even more so, trades are not settled directly by the brand, instead, these are facilitated on external blockchain networks, which are even more challenging for government oversight.
Having said this, PancakeSwap is regularly audited by a third-party company, CertiK. The company also prides itself on its open-source software options, meaning that all data is available publicly.
It is worth bearing in mind that the cryptocurrency market is prone to security breaches due to its predominately unregulated and new status. For example, our experts found the PancakeSwap server was hacked in 2021. The 'DNS' attack rerouted customers to a fake server platform. Luckily, there were no reports of financial losses and no evidence of smart contract hacking.
Leverage
Trading with leverage is permitted via perpetual swaps, a futures contract without a defined expiry time. Put simply, you can borrow funds from PancakeSwap, referenced as a 'multiplier' to boost your purchasing power.
For example, a 40x multiplier would mean a £1 investment would offer £40 in purchasing power using borrowed funds. We were offered very high leverage up to 1:200, which is fully flexible with one-point increments. We were also pleased to see an extensive instrument list for margin trading, including BTC/USDT, EUTHUSDT, and DOGEUSDT.
To get started:
Select 'Trade' from the website menu and then choose 'Perpetual' from the dropdown
Confirm and agree to the terms and conditions by selecting the tickbox. Click 'Continue'
Choose a pair to trade from the menu found in the top left of the chart
Select the '20x' icon found on the top right of the order window
Use the toggle icons to increase the leverage or slide the bunny icon
Choose the 'Connect Wallet' icon to stake your investment and open the position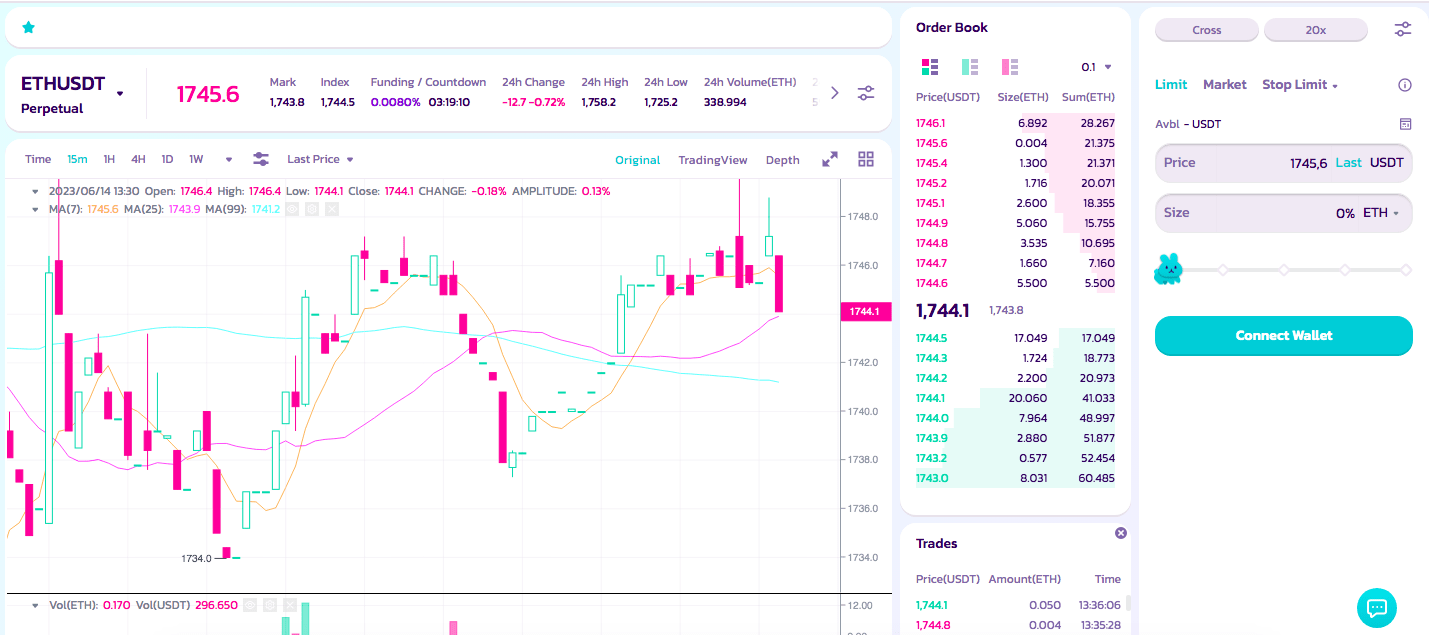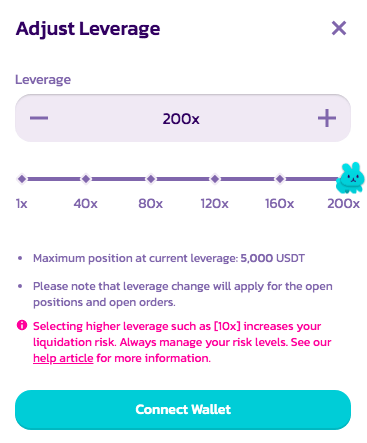 Win
When we used PancakeSwap, we were offered plenty of alternative methods to earn CAKE tokens, cash prices, and fee reduction rewards:
Lottery – A fun digit matching game, with a new prize draw every day. The total prize pool is split by the number of matched digits and if all six digits are matched, a 40% allocation of the total CAKE prize pot is distributed. Tickets are $5 value of CAKE.
Trading Reward – A reimbursement opportunity in the form of trading rebates, with up to 5% to be earned simply by investing. You can filter eligible tokens using the 'hot token list' category. Essentially the more volume you trade, the more compensation you will achieve
Our experts also found two other 'win' options, which are still in development mode: Prediction and Pottery. Similar to the Lottery, these look like fun methods to earn prizes.
We liked the look of the Prediction format, a simple 'yes' or 'no' game as to whether the price of BNB or CAKE will rise or fall in a given time period. PancakeSwap did not provide any release date information.
NFTs
Some investors will be pleased to see non-fungible tokens (NFTs) are part of the services offered by PancakeSwap. The NFT marketplace is simple to use and allows customers to buy and sell NFT products on the Binance Smart Chain.
We liked that you can filter by popular products and new collections, as well as view the latest market sentiment by item. There is a 2% platform fee for all NFT sales made using PancakeSwap. These charges are used to purchase and burn CAKE tokens.
Education
Whilst PancakeSwap does not offer a large online educational learning hub with integrated YouTube content, there is plenty of information available in the online help centre within the service categories. This includes keyword glossaries, plus guides and explanations of each service.
Within the 'Blog' section, you will find an 'academy' division that hosts detailed articles and user tools. We were a bit disappointed that there was no generic cryptocurrency information, instead, everything is very brand specific and tailored to using the exchange.
We did like the weekly contests, ideal for beginners, which test users' knowledge in return for the chance of winning prizes.
Customer Service
PancakeSwap does not offer any human-agent customer support options. We assume this is to maintain the anonymity of company creators and the development team. This means you will not find an email contact, telephone number, office address, or live chat function to use when you have a query. Still, it is a major drawback and red flag from a legitimacy and safety perspective.
However, you are not completely left on your own when trading with PancakeSwap. The exchange offers a comprehensive online help centre, with a catalogue of common questions and issues guidance such as how to join PancakeSwap, how to amend your manual gas limit, how to farm tokens, and how to connect an existing wallet.
The brand also publishes a troubleshooting page, with a list of undefined error codes and their meanings such as 'unsupported chain ID' or an 'insufficient output amount'.
We really liked the 'Guides' section, which can be accessed from the header of the PancakeSwap website. Here you can find several manuals from basic to advanced actions, such as how to use the price prediction function, stake in the syrup pools, or play the lottery.
PancakeSwap is also live on social media channels and community forums such as Telegram, Discord, Twitter, and Instagram.
Company Details & History
PancakeSwap was launched in September 2020, by a team of anonymous product developers. The decentralized finance (DeFi) platform has become a popular exchange since its establishment, built on an automated market marker (AMM) model. Simply explained, investors trade against a liquidity pool, meaning you can deposit the token into the 'pool' and withdraw a new token in exchange. There is no need for a centralised authority.
The brand has a native token, CAKE, which has grown in demand and is available on BNB Chain plus the Ethereum and Aptos networks. The token has a maximum supply of 750,000,000 with just over 204,000,000 currently in circulation.
Today, the brand has an impressive 1.5 million users, with $1.5 billion in value of transactions executed via the DeFi terminal. An average of 20 million individual trades are fulfilled per month.
Should You Trade With PancakeSwap?
PancakeSwap is a fun and fairly unique decentralised exchange, with plenty of methods to earn as well as trade cryptocurrencies. We liked that there are services suitable for all experience levels, from yield farming to lotteries.
However, it doesn't have a hack-free history. There is also limited login security such as KYC, plus very few details on the firm's owners and management team. As a result, consider more established brokers with crypto opportunities, such as FXCC and PrimeXBT.
FAQ
Is PancakeSwap Safe?
PancakeSwap is a non-custodial DEX, therefore it does not hold any customer assets. This means your capital is arguably safer vs using a centralised exchange. The brand is also regularly audited by third-party firms and does not require users to sign up to access the majority of services, so there is less risk of data leaks.
With that said, the PancakeSwap interface was hacked in 2021, even though no financial losses were reported. Our experts also always recommend caution when trading and investing with unregulated crypto firms, such as PancakeSwap.
Does PancakeSwap Have A Mobile App?
PancakeSwap does not have a bespoke mobile app, though you can still use the exchange on an iPhone or tablet device via your internet browser. This is a notable drawback when compared to exchanges that do offer excellent mobile apps, such as Gemini and KuCoin. With that said, you can connect your existing wallet apps to your PancakeSwap account.
Is PancakeSwap Legit?
Yes, PancakeSwap is a legitimate decentralised exchange on the BNB Smart Chain. The brand was established in 2020, though the developers remain anonymous. It allows users to trade crypto tokens alongside additional opportunities to earn money via liquidity pool staking and games.
Does PancakeSwap Have Low Fees?
PancakeSwap trading fees are competitive and transparent. All pricing information will be displayed on the order screen before trade execution. Each completed transaction (swap) in Exchange v3 will incur a flat fee between 0.01% and 1% with up to 68% of the fee going to the liquidity providers.
The exchange does not charge any deposit or withdrawal fees and there is no minimum initial payment required.
Is PancakeSwap Good For Beginners?
PancakeSwap will appeal to beginners, though trading cryptocurrency does not come without risks due to significant market volatility and bad actors in the industry. We would recommend using external educational content to bridge any gaps in your knowledge before using the services offered by PancakeSwap. Also invest with small amounts of capital when getting started.
Article Sources
PancakeSwap Hack, 2021 – Business Today
Compare PancakeSwap with Other Brokers
These brokers are the most similar to PancakeSwap:
IG Index - IG is an award-winning broker that has an excellent reputation globally. The brand offers spread betting, CFD and forex trading across a comprehensive suite of markets. IG is also multi-regulated, provides a great trading app and has 50 years experience.
FP Markets - FP Markets is an ASIC- and CySEC-regulated broker that offers forex and CFD trading on a broad range of assets through the MT4, MT5 and IRESS platforms. With trading available through standard and raw spread accounts on thousands of international stocks, forex, indices, commodities, cryptocurrencies, bonds and ETFs, this broker has some of the most comprehensive market coverage available. FP Markets also offers a full range of additional features, including educational resources and access to powerful software such as Autochartist.
Pepperstone - Pepperstone is a leading online broker with over 400,000 clients in more than 175 countries. The top-rated brokerage offers excellent market access, industry-leading platforms in MT4, MT5, TradingView and cTrader, plus low fees with no hidden charges. Pepperstone is also heavily regulated with a high trust score, holding licenses with reputable bodies, including the FCA, ASIC, DFSA, and CySEC.
PancakeSwap Feature Comparison
PancakeSwap Compared With Similar Brokers
PancakeSwap
IG Index
FP Markets
Pepperstone
Rating
1.3
4.4
4
4.8
Markets
Crypto
Forex, Stocks, Commodities
Forex, Stocks, Commodities, Crypto
Forex, Stocks, Commodities, Crypto
Minimum Deposit
$1
$0
$100
$0
Minimum Trade
$1
0.01 Lots
0.01 Lots
0.01 Lots
Demo Account
No
Yes
Yes
Yes
Regulators
-
FCA, ASIC, NFA, CFTC, DFSA, BaFin, MAS, FSCA
ASIC, CySEC, ESMA
FCA, ASIC, CySEC, DFSA, CMA, BaFin, SCB
Bonus
-
-
-
-
Education
No
Yes
Yes
Yes
Platforms
-
MT4
MT4, MT5, cTrader
MT4, MT5, cTrader
Leverage
-
1:30 (Retail), 1:222 (Pro)
1:30 (UK), 1:500 (Global)
1:30 (Retail), 1:500 (Pro)
Visit
Review
PancakeSwap
Review
IG Index
Review
FP Markets
Review
Pepperstone
Review
Trading Instruments Comparison
Comparison of PancakeSwap Trading Instruments

| | PancakeSwap | IG Index | FP Markets | Pepperstone |
| --- | --- | --- | --- | --- |
| CFD | No | Yes | Yes | Yes |
| Forex | No | Yes | Yes | Yes |
| Stocks | No | Yes | Yes | Yes |
| Crypto | Yes | No | Yes | Yes |
| Commodities | No | Yes | Yes | Yes |
| Oil | No | Yes | Yes | Yes |
| Gold | No | Yes | Yes | Yes |
| Copper | No | Yes | Yes | Yes |
| Silver | No | Yes | Yes | Yes |
| Corn | No | No | Yes | Yes |
| Futures | No | Yes | Yes | No |
| Options | No | Yes | No | No |
| ETFs | No | Yes | Yes | Yes |
| Bonds | No | Yes | Yes | No |
| Warrants | No | Yes | No | No |
| Spreadbetting | No | Yes | No | Yes |
| Volatility Index | No | Yes | Yes | Yes |
PancakeSwap vs Other Brokers
Compare PancakeSwap with any other broker by selecting the other broker below.
Popular PancakeSwap comparisons:
PancakeSwap is a decentralised cryptocurrency exchange with a large number of supported cryptos and additional services.