Nearly 2 of 5 London Properties Now Paid for in Cash
October 11, 2015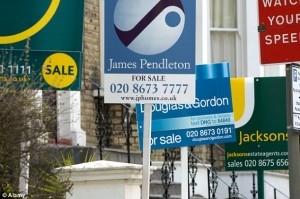 According to a recent report by Hamptons International, a leading European real estate brokerage service, nearly 40% of properties purchased in the city of London are now bought with cash, rather than credit. The report, detailing UK sales during the first quarter of this year, showed that a similar trend was common throughout both England and Wales, but was most pronounced in London. Britain's capital city is well known for its high priced real estate, having been listed by the UK newspaper The Telegraph as the third most expensive city in the world to purchase property in.
Part of the reason for this marked increase in cash sales, the report concluded, was the Mortgage Market Review, a set of rules introduced last year that established much stricter requirements for borrowers in Britain. The introduction of the Mortgage Market Review rules has made it harder for borrowers to qualify for a home loan, and therefore driven the number of cash sales up. Another contributing factor has been the use of personal wealth by older property investors to downsize into small properties. Interestingly, the report concluded that these buyers, though frequently buying with cash, often got the cash to invest in new properties by taking out new mortgages on those they already owned.
Overall, the report showed that home sales in England and Wales were still down by about one third from their highest point in early 2007. Despite this, the percentage of sales conducted as cash transactions has risen dramatically, going from 27% to 38% in the past three years alone.