GoldMadeSimple Review
August 28, 2012
Review of GoldMadeSimple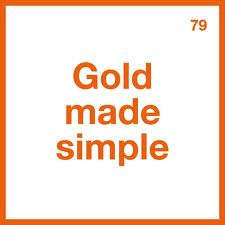 GoldMadeSimple, led by CEO Jason Cozens, is a relative newcomer to the gold investment market. Like other such online services, it is not regulated by the FSA as physical gold dealing is not regulated. GoldMadeSimple claims to offer the best gold prices in the UK today.
Investing in Gold through GoldMadeSimple
The company offers a number of routes into gold, from entry level 'gold grams' to investment whilst orders can also be placed for bars, coins, and funds. Bars can be purchased in sizes up to 12.5kg.
All products can be delivered to your home in the UK (for a charge of £15 up to 250 grams of gold), and internationally, though the charge for this has to be requested.
One neat product that GoldMadeSimple has which others don't is the ability to purchase gold within a Self Invested Personal Pension plan (SIPP). This means that a UK tax payer can get tax relief on his investment of up to 40%, though as with any pension plan in the UK that money cannot be accessed until the pension is accessed.
Gold grams are automatically vaulted, whilst other products can also be vaulted in allocated accounts. For those that want to then take delivery of their gold, a charge of £100 plus VAT is levied.
Coins available to purchase through GoldMadeSimple are bullion coins, and include sovereigns, Krugerrands, and Maple Leafs. Again, an investor can select to take delivery or store in the GoldMadeSimple vaults.
Currency of Dealing and Commission
All deals are struck in GBP, and all gold product prices are displayed in the British currency. This makes it hard when attempting to compare prices to the dollar price of cash gold on the international markets, particularly with GoldMadeSimple's commission structure.
GoldMadeSimple charges a flat fee at a percentage above the spot gold price, which is up to 2.5% for gold grams, reducing to 0.1% for the 12.5kg bar, though this rate has to be negotiated through direct contact with the company. Other margin rates above the spot price of gold include 12% for krugerrand coins, and 3.35% for a 500 gram bar.
When selling gold held in an allocated account at GoldMadeSimple, an investor is guaranteed to receive no less than 98% of the spot price at the time of sale. Cash is transferred to the investor's bank account within two business days.
Ease of Use
An account is opened easily online at GoldMadeSimple, and buying gold is also easy. An account can be opened without funding, though an investor is warned to over fund the account by 3% when buying gold to allow for any movement in the gold price. Money laundering documentation may be needed, but funding is possible by direct debit card or bank transfer (credit cards are not permitted).
An order can be placed without the funds being cleared, but will not be processed until the funds are cleared: this means that the price paid may be different to the price at the time the order was placed.
Dealing Times
Dealing is only possible during London business hours, 9am to 5pm.
Overall
Its business hours of 9am to 5pm London time are restrictive in a market that trades almost 24 hours per day, and the dealing facility, though easy to use with near one click functionality, would benefit from a dollar price shown. This would enable easier comparison to the gold spot price, and proper disclosure of commissions/ fees.
Talking about fees, the commission structure is a moving target, and whilst the company promises to match the cheapest price available elsewhere for a 12.5kg bar, at a value above £400,000 this is out of the reach of most investors. Besides which, contact has to be made with GoldMadeSimple representatives to benefit from lower fees and commissions and to negotiate the best price on the 12.5kg bars.
Its pension product is innovative, and for this it would probably be worth considering using.
On top of this, GoldMadeSimple does offer its own analysis of gold and gold products, as well as the economic environment, though these articles are clearly designed to persuade the investor to buy gold through the site.
In summary, GoldMadeSimple is a good entry level gold investment site, though more expensive than others. It is not until executing very large deals by retail investor standards that its price guarantee kicks in. Its analysis makes for good reading, but should be backed by independent research. Business hours are restrictive, and storage facilities, with once a month independent audit, are no more than on a par with similar offerings in the marketplace. Unless looking to buy gold into a SIPP, then BullionVault may be a better option.