Deutsche Bank stock keeps dropping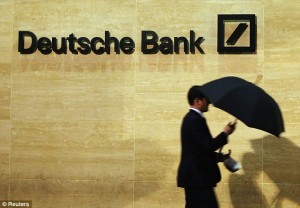 The Deutsche Bank stock is hitting record low levels, which had put the loop under the loop at numerous investment banks as an opportunity. However, as it seems it is predicted that the stock, although already at low price, will continue to drop.
About nine years ago the Deutsche Bank stock was at £75, and the business was blooming with a net profit at 4,5 billion GBP. Since then a lot has happened to the stock price, which is today at almost 13 GBP. Not only did the bank have big drops in their earnings, but they were also involved in numerous costly legal battles, which contributed to that the bank booked a loss of 4,8 billion GBP for 2015.
The CEO John Cryans, has made a massive clean-up in the company, which should give a positive effect to the company as well the stock price. At the moment the stock is traded at 30% of the banks net asset value, which should be an indication that the stock has good potential to rise the coming months.
Some of the reasons why we expect that the Deutsche Bank stock will continue drop is following:
Their core business, which is investment banking, is continue to lose money.
The bank has issues to penetrate into other areas in banking.
The bank has a lot of business in Asia, and with the dropping Chinese economy it will have a negative effect to the stock price.
The bank are increasing reserved money for legal fees and other expected to cost, which last year was set at 4,3 billion GBP.
The bank will have big issues to be bought by a competitor as most likely the German government would not approve the deal.