What are Junk Bonds?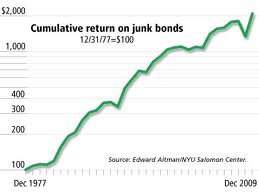 Junk bonds refer to fixed-income security debt instruments issued by entities whose credit ratings are below the BB credit rating or below investment grade. Junk bonds are also known as high-yield bonds, speculative bonds, or speculative grade bonds.
In order to understand why junk bonds are given their below investment grade ratings, we need to talk a little bit about credit ratings and how the credit rating agencies of Fitch, Moody and Standard & Poor's come up with their rating system.
Ratings agencies look at the credit-worthiness of a debt issuer and assess their cash flow, accountability and compliance to good business or governance practices to determine their ability to settle their debt obligations. It is on the basis of these parameters that debt instruments issued by these entities are graded on an investment scale. A table that shows the classification of bonds according to investment status is given further down this article.
The classification of a bond as a junk bond is therefore assigned when a company is having serious issues with cash flow, or when a government is not making enough revenue to take care of its debt obligations. If a country has mounting debt and seems unable to curtail it by paying off some of the debt or by eliminating the conditions that cause its debts to mount, it risks a situation where its credit rating could be cut down several notches in a progressive fashion. If the problem is severe enough, this could mean being assigned a junk bond status.
How Do I know If a Bond Being Sold to Me is a Junk Bond?
Junk bonds have been identified as low grade investment bonds. The ratings that identify a junk bond are given by credit rating agencies. There are three credit rating agencies: Fitch, Moody's and Standard and Poor's. While the nomenclature assigned to their various credit ratings are different, the connotations are generally the same and are understood as such by the financial markets.
| | | | |
| --- | --- | --- | --- |
| Fitch | Moody's | Standard & Poor's | Grade |
| AAA | Aaa | AAA | Investment |
| AA | Aa | AA | " |
| A | A | A | " |
| BBB | Baa | BBB | " |
| BB | Ba | BB | Junk |
| B | B | B | Junk |
| CCC | Caa | CCC | Junk |
| – | Ca | CC | Junk |
| – | | C | Junk |
| DDD, DD, D | C | D | Junk |
Why Do Junk Bonds Have High-Yields?
Why do junk bonds carry such high interest rates? It is really a question of being able to attract investments. Corporations and governments that have been classified as being below investment grade essentially have very limited options when it comes to increasing their revenues. Even when programs have been arranged to get these entities to cut expenditure as a way of balancing their budgets, there is a limit to what kind of spending can be cut. A government must always pay salaries to its workers. Even when salary cuts and pension cuts are made, payments must still be made and there is a limit to the cuts. A company facing financial trouble cannot lay off all its workers; essential staff must be kept and paid. So really, there is only one way of attracting more money to assist in bolstering the company's fortunes or enabling a government to function, and this is by taking loans from investors in the form of bonds. Due to the high risk of default, most investors would not ordinarily look at these bonds. So the bond issuers are forced to offer the increased interest rates as an incentive for investors to take up these instruments and somehow hope that the money realised from the bond sales can be used by the bond issuers to engineer a turnaround that would eventually put them in a position to repay this debt.
If Junk Bonds are Bad, Why Do People Buy Them?
Junk bonds were popularized in the 1980s by businessman and cancer-survivor, Michael Milken. He believed that the rewards to be earned from the high interest yields outweighed the risks of default on junk bonds, and he used a tactic of using funds obtained from the junk bond sales to finance hostile takeovers of companies, and then use the assets of the acquired company to pay off the interests and principals on the junk bonds, thus making money from the "bounce-backs" of these companies as well as the interest on these bonds. However, a conviction on securities fraud and insider trading, as well as the bankruptcy of the investment bank where Milken worked effectively put paid to the junk bond market. However during the hey days of the junk bond market, many investors including Michael Milken made a fortune trading these junk bonds.
Looking Forward
Junk bonds seem to have been awakened from their 20 year slumber by the rash of sovereign debt issues in several Eurozone countries. Greece and Spain have had trouble with paying off their sovereign debt and Greece has had to apply for bailout funds to settle its obligations. Presently, the status of its bonds has been cut to junk by all three rating agencies, and the yield spreads are about the highest in the Eurozone. Spain is teetering on the edge as its credit rating has been cut several notched by the ratings agencies. The recent announcement by the European Central Bank that it would participate in buying Eurobonds as a way of stabilizing the financial structure of the Eurozone, has buoyed confidence in the bond market.
So should a trader be trading junk bonds at this time? It will depend on the investor's risk appetite as well as the outlook of the company or government that has been assigned the junk status. For instance, if a company has the outlook of being rescued, it may be prudent to purchase amounts of the bond that the investor's risk appetite would allow, and wait for the process of recovery to be initiated. There are countries which have recovered from junk status and have moved to the point of paying off their debt obligations. Argentina is one such country. So considerations about the future of the bond issuer and the investor's risk appetite are two factors that would need to be considered before a junk bond investment is made.