Alcoa Struggles to Adjust to Commodities Slump
October 12, 2015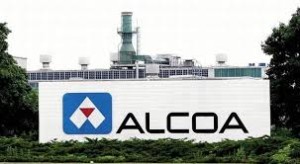 Alcoa, the world's third largest producer of aluminum, posted its third quarter report on Thursday. The report showed the lightweight metal giant posting a profit of $44 million, in sharp contrast to last year's third quarter profits of $149 million. Share value responded negatively on Friday, with shares of Alcoa declining throughout the day to close at $10.26, down from a closing price of $11.01 on Thursday afternoon. This is the latest sign that Alcoa, a perennial favorite of investors in commodities production markets, is struggling to adjust to the new market conditions caused by the slowdown of the Chinese economy and the subsequent fall in demand for raw materials.
Last month, Alcoa announced a plan to split its operations into two separate corporate entities. The first entity will handle the production and processing of raw aluminum from bauxite ore. The second, to be headed up by present Alcoa CEO Klaus Kleinfield, will focus on the production of aluminum parts for various industries. The parts business, which is geared more toward developed Western economies, is meant to allow for the continued success of Alcoa while demand for raw aluminum remains low.
The company, which has long prided itself on handling both ends of the aluminum business under one roof, has seen little investor enthusiasm for the new split tactic. While there is little doubt that the parts and technology business has an excellent chance of succeeding, it is generally thought that the split makes shares in the bauxite refinement business extremely risky. This is because, up until now, Alcoa's profits from the production of parts had been able to buffer the business as a whole from negative conditions in the commodities markets.