Forex Trading
Introduction to Forex Trading
What is Forex Trading?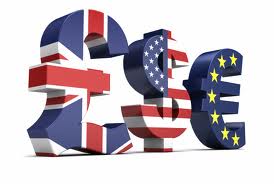 It is important to understand the basis of trading currencies as a way of knowing how the forex market works.
Beginners Guide to Trading Forex:
Understanding the Ins and Outs
Forex trading simply means the business of trying to make money from the differential in the exchange rates of one currency against another. Forex trading came about as a result of the process of floating exchange rates, which allow a currency's value to be determined by the forces of supply and demand. But was this always the situation? Let's delve a bit deeper into the history of the forex market.
Towards the end of the 19th century, paper notes began to replace older forms of currency that were in use at the time. By the time the Second World War was in progress, almost every country in the world had its own currency. Colonized territories assumed the currencies of their colonial masters. This war was principally fought by the Germans, Japanese and Italians on one hand, and the British-led Allied Forces on the other. America joined the parley after the Pearl Harbour bombing and so was relatively spared by the bruising economic effects of this war. By 1944, the economies of the principal actors in this war were on life support. To chart a course for the post-war era, an economic conference was convened in Bretton-Woods, USA in 1944. One of the outcomes of that meeting was that all global transactions and currencies were pegged to the currency of the relatively unaffected US economy, and in turn the US Dollar was pegged to a gold standard of $35 an ounce. Over the next 27 years, the value of this standard kept depreciating as the US grappled with the economic effects of the Vietnam war, leading the Nixon-led US government to abandon the gold standard. Other countries also unbundled their US Dollar peg and the era of global currency floatation was born.
It is the fact that most world currencies are now allowed to float and have their values determined on a minute-by-minute basis by market forces that has led to the concept of forex trading.
From 1971 to 1996, the trading of currencies was the exclusive preserve of institutional traders, made up of banks and high net-worth individuals who pooled money together into massive hedge funds. There was no place for individual traders because most could not afford the large capital outlay required to profit from minute price movements in the currency market. However, as the concept of margin and leveraging were developed and cheaper access to borrowed funds was made available, the forex market was deregulated in 1997 to allow for individual participation in the market. Since that landmark year, the daily turnover of the forex market has increased substantially to stand at about 4 trillion US dollars. This is a truly phenomenal amount of money floating around and if you have what it takes, you can grab your share by participating in the market.
Requirements for trading
To be able to participate in the forex market, a trader needs access to this huge virtual exchange. This he can do by obtaining a forex trading account with a broker licensed to provide this service, identification document such as an international passport, drivers' license and a utility bill or bank/credit card statement as proof of address. These documents are required for account activation.
Once the account has been activated, the trader can then use an acceptable means of transferring funds to his trading account domiciled with his broker in order to start trading. This can be done via a bank transfer, credit/debit card or any of the e-wallet services like Paypal, Moneybookers and Neteller. It is this money that will serve as the initial capital for buying and selling currencies for money.
Trading Process & Forex Brokers
This is the difficult part, as a trader needs to have the training required to know how to participate in the market and make accurate trading decisions. Traders may decide to attend courses, webinars and lectures or may decide to buy or subscribe to reading material for this purpose. Forex trading is not all about theory but is a very practical event, so brokers provide demo trading access for traders who want to practice forex trading and get a feel of what it feels like to trade currencies for money.
Now it is not all so easy and straightforward as it seems to be. There are many pitfalls that a trader must overcome. The number of scam brokers far outweighs the genuine ones, and there are many con artists who capitalize on the naivety of newbie traders to sell junk forex products to them. These junk products include defective expert advisors and trading systems that do not work.
If you wish to start trading forex today, we highly recommend you to take a look at our top-list, and as well read the forex brokers reviews to make sure you are choosing a broker that suits you. Below we have links to our brokers reviews for further information about each brand.